7 Best Ways to Make First Holi Celebrations Memorable for the Bride
By Get Your Venue | 19 Feb, 2020
Any festival right after marriage is special for the bride, groom, and relatives who love making every occasion special and spectacular for everyone. A new bride is made to feel welcome and happy at every step and what best way to make a festival memorable for her. While the bride is surely the centre of attraction and all fun and excitement is for her benefit, there are a few things that are expected of her. The bride who is soon going to celebrate the festival of colours, holi with her new family must behave properly and come across as an epitome of style, grace, and elegance. It will strengthen her bond with her new friends and family who are always going to give her example as the best "bride" in the family.
So, all newly wedded brides, here are the top 7 ways to celebrate the first holi with your family that gives you a chance to score brownie points.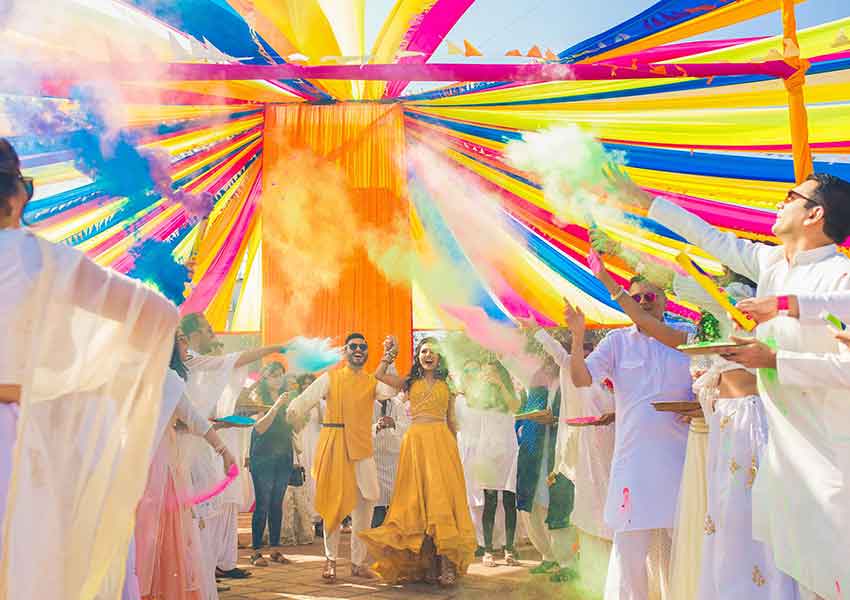 Fun and Excitement Galore
Holi is synonymous with a lot of fun, excitement, and exhilaration. Make this festival fun for everyone but after finding out how this celebrated in your new family. Some tips from your husband or brother or sister in law can help you decide the way this festival can be made more enjoyable. You will need to hold your horses if the festival is overshadowed because of some tragic incident. Use this time to strengthen your bond with your in-laws and know more about them.
Read: Holi Bash 2020- Delhi's Biggest Holi Party at Ambria Tivoli Pushpanjali
Get Ready for The Celebrations
If Holi is celebrated with great fanfare in your family, you need to be prepared to be a part of it. Sometimes, things get out of hand when everyone tries to smother the bride with colours, water balloons, and more. Don't wear anything blingy or gaudy. Instead, choose a simple, yet elegant but expendable dress. Your attire must give out a joyful vibe. Apply thick cream or oil on all exposed body parts and hair so that you don't look like a kaleidoscope of colour after Holi festivities are over. If your skin is highly sensitive, wear a protective moisturizer and lather it well so that you can avoid experiencing harmful effects of colour. Keep your hair properly tied up.
Be at your smiling and bubbly best
Since it is going to be your first holi with an entirely new set of people, you cannot go overboard with your excitement but shying away and staying behind all the time might not be taken well. New relatives, friends, and in-laws will be there to give their blessings and you can use this occasion to bond with them. Be at your best behavior and serve them with delectable holi delicacies.
Sing or Dance if asked
Holi is also one of the best times when relatives encourage the bride to have some fun and participate in revelries. They may insist on dancing and singing. If they are too insistent, choose a sensible song and dance to its tunes without showing off. Your graceful moves are sure going to win their hearts and they will appreciate your subtle way of enjoying festivities with them.
Party with your friends
If some of your friends missed attending your wedding, you can invite them over, introduce them to your new family, and make them feel pampered. Before inviting them, it is always better to find out if it is a strictly family affair. If friends are allowed, you can indulge in a little music and dancing with them. Do not forget to include your younger brothers-in-law and sisters-in-law and ensure everyone is having a fun time without feeling left out. Here, your hostess skills are going to be tested. So, you need to ensure that everyone at the party is having a good time.
Avoid or go easy on bubbly
Even if your in-laws are aware that you drink, it is better to avoid booze during the Holi party, especially if you find difficult to hold it. Since you are under intense observation from extended family and relatives, it is always better to be a little careful. If you are planning to indulge a bit, ensure that your husband knows about it and is close to you all the time. You would not want this occasion to embarrass yourself in front of others.
Also read this: Real Brides proves Minimalism Has a Magnetic Charm
Get Flirty With Your Hubby
Once holi celebrations are over, spend the rest of the day with your hubby and being a bit flirty with him is sure to be taken in good spirit. Surprise your husband with a private party or anything that makes him fall in love with you again. You can have a splash party on your private terrace or the bathroom and rub off each other's colour. It cannot be more romantic than this!
These seven ways can help you celebrate the first holi after the wedding in a special way and help you earn some highly deserved brownie points from your in-laws and loads of love from your soulmate.