Shloka Mehta & Akash Ambani's engagement – An in-depth look at the Ambanis' larger-than-life engagement night
By Get Your Venue | 04 Jul, 2018
What do you get when the wealthiest businessman in India and the top diamantaire decide to celebrate their children's engagement? A splendid, ravishing three days long extravaganza that is the dream of every to-be-wed couple. To call this gala a 'glam affair' would be putting it mildly! It was a massive celebration where no effort was spared, no expense avoided, and no detail over-looked. Here are all the juicy details about Shloka Mehta & Akash Ambani engagement night, which was preceded by a pre-engagement Mehendi and pre-engagement Sangeet.
A little background
       Earlier in March, Mukesh & Nita Ambani announced the engagement of their eldest son Akash and his childhood friend, Shloka, the youngest daughter of diamond magnate Russell Mehta & wife Mona Mehta. The two have been friends for a long time and even studied together at the Dhirubhai Ambani International School in Mumbai's BKC.
       Soon, the young couple exchanged rings at a sun-dappled beach-side party in Goa, in the presence of family and close friends. In early June, the Ambanis announced the engagement date – 30th June 2018, to friends & families.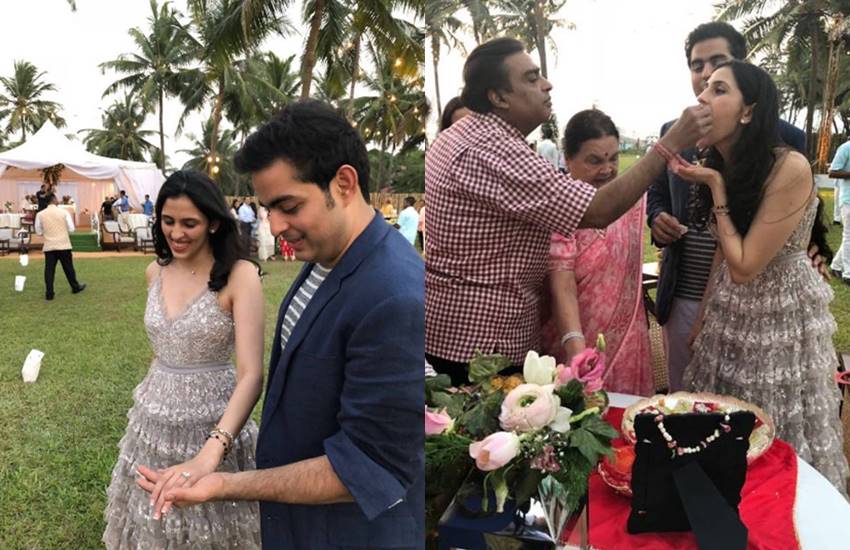 Ingenious invites
       The official 'Save The Date' invitation video was shared by Vogue India Magazine on Instagram. Playing the music of 'Shubhaarambh' from the film Kai Po Che, it featured Akash in a formal suit, and Shloka in a close-up shot, wearing a traditional lehenga. Formal invitations were later sent to guests.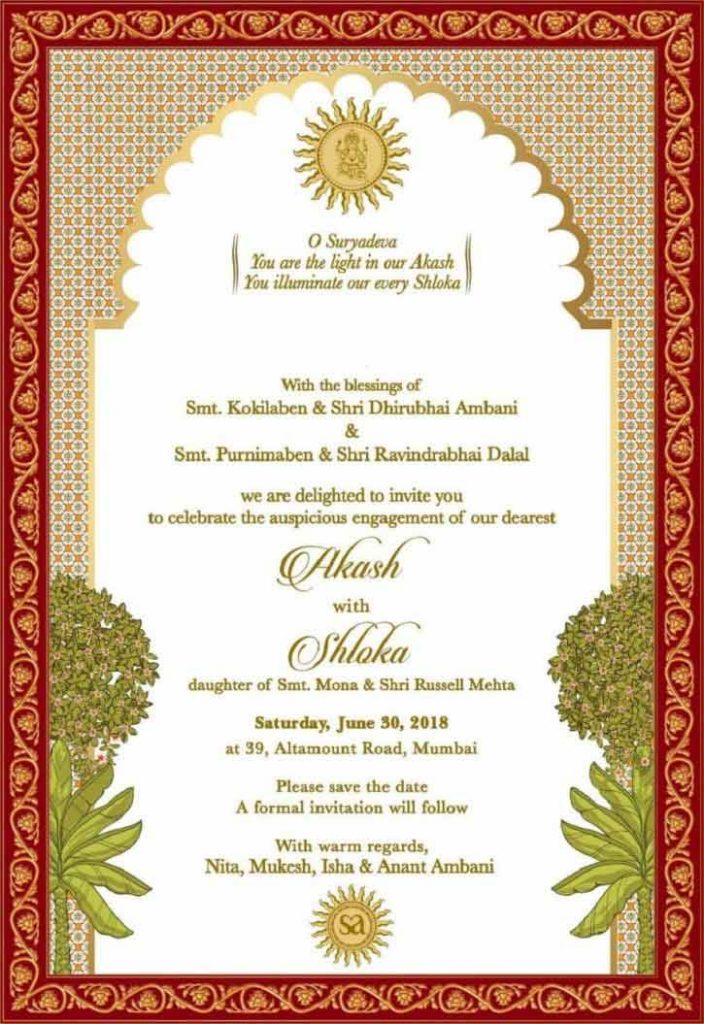 The invitation was an innovative, little package that included a box. It contained the invite card and a beautiful Ganesha temple. Yes, you read that correctly!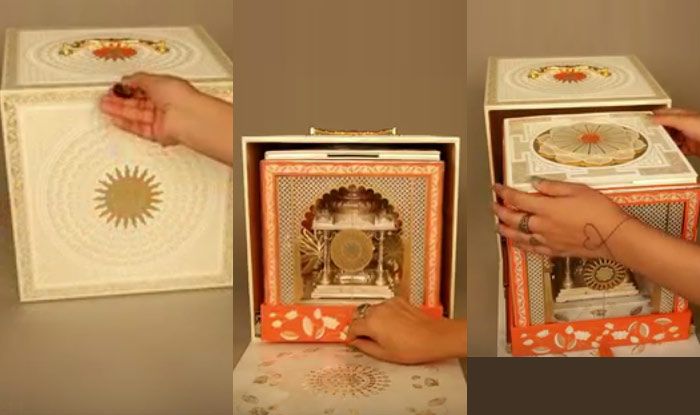 Fairytale-like decoration
       Why book any other venue, when you own one of the most expensive homes in the world? Antilia, the Ambanis' 27-storeyed South Mumbai mansion was the obvious choice for the event. To say that Antilia was elegantly decorated would be an understatement! The already-resplendent beauty of this palatial abode was aggrandized by California-based floral designer Karen Tran's decorations. Every nook, corner, and cranny was embellished in detail.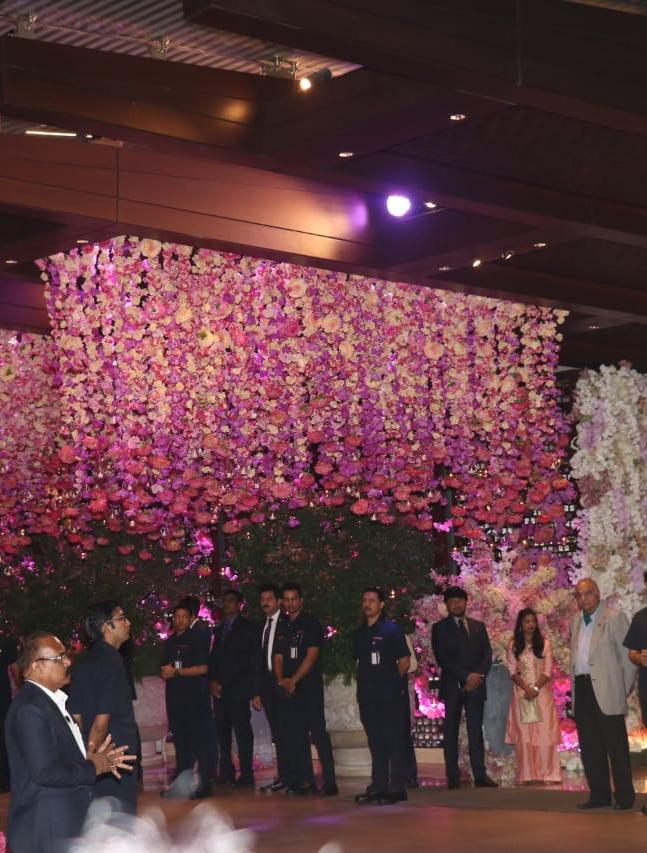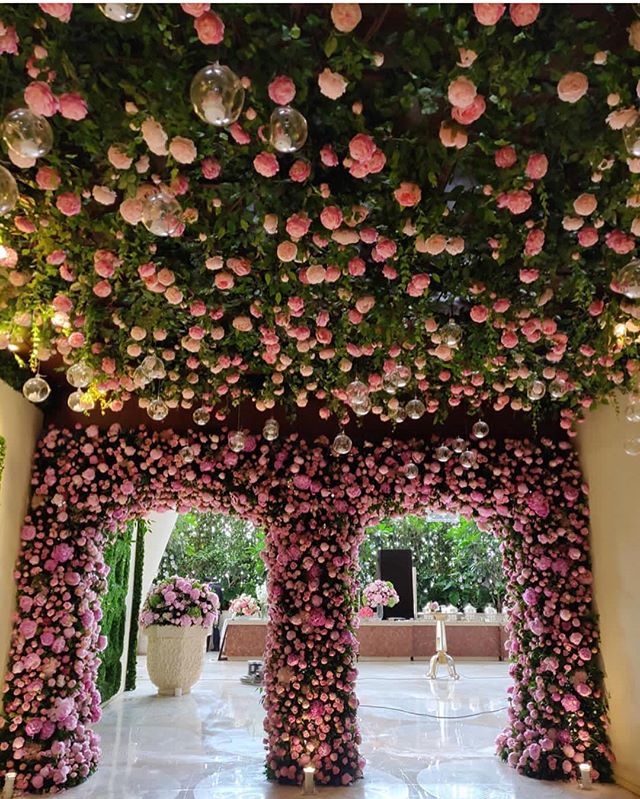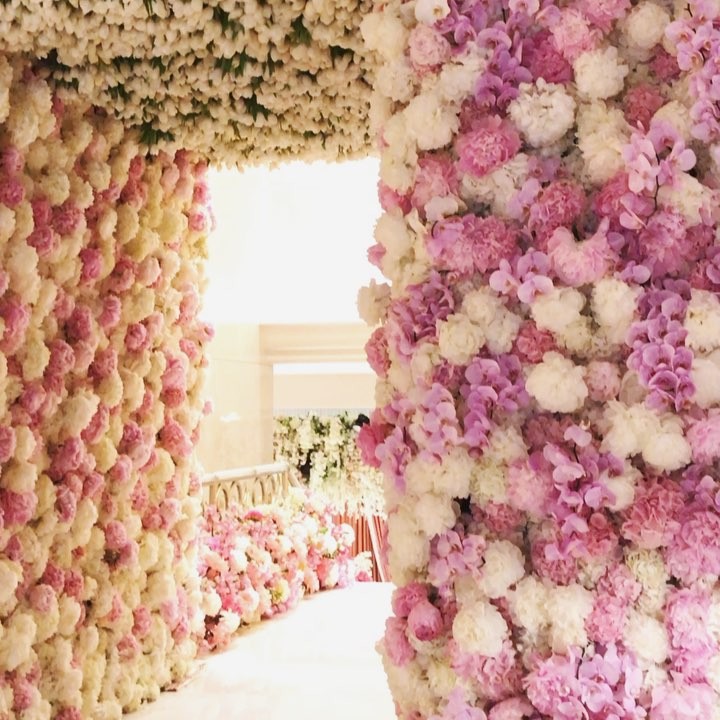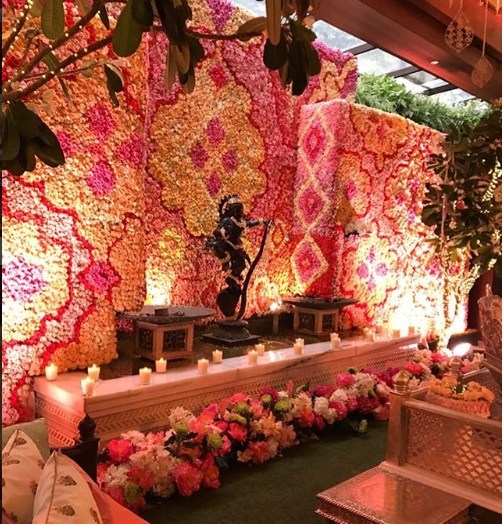 Beautiful shades of pink, peach & orange ruled the inner hall which was overflowing with excited guests!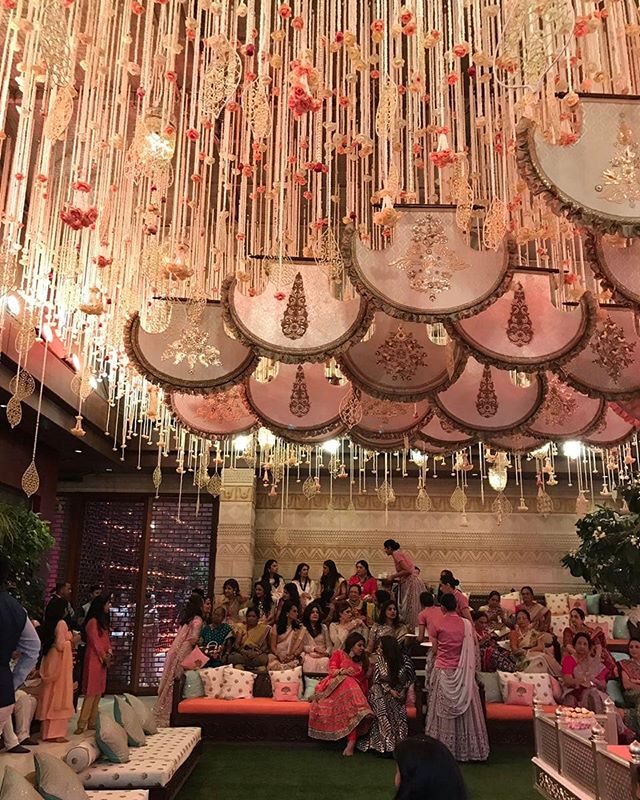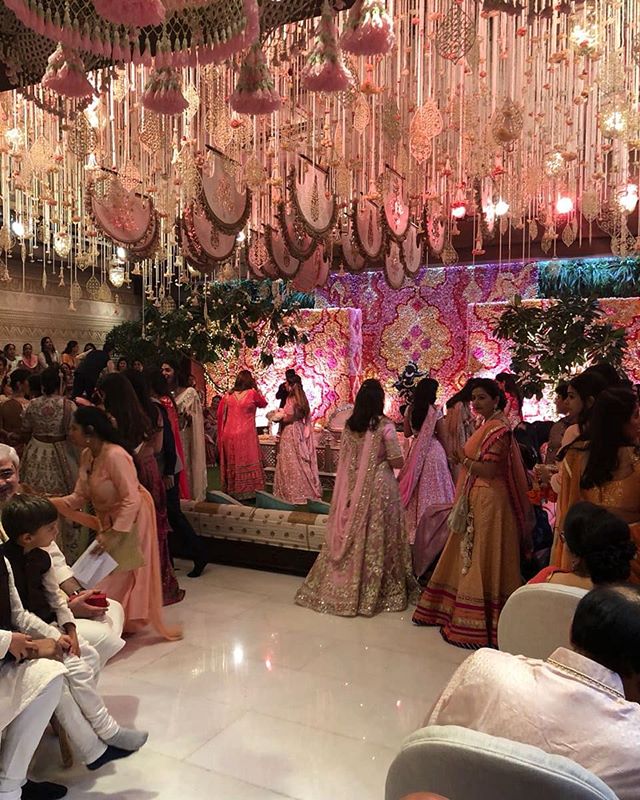 A magnificent staircase, adorned with gorgeous flowers, sidelined with a traditional wall painting & petite hangings! Ooh, what a sight to behold!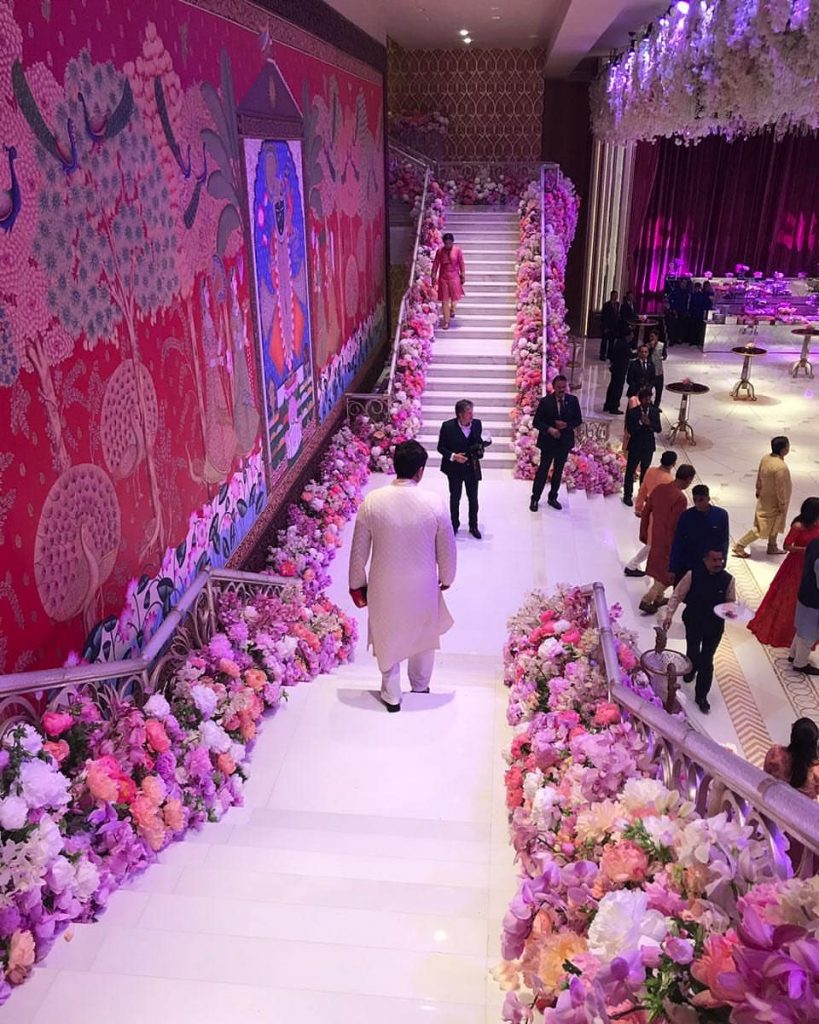 Another area Miss Karen decorated elegantly is this corridor. With white hanging flowers, a grand white piano, polished chandeliers, candle-lit glass balls, soft pink lights and glossy marble floors, it made for an enchanting ambiance.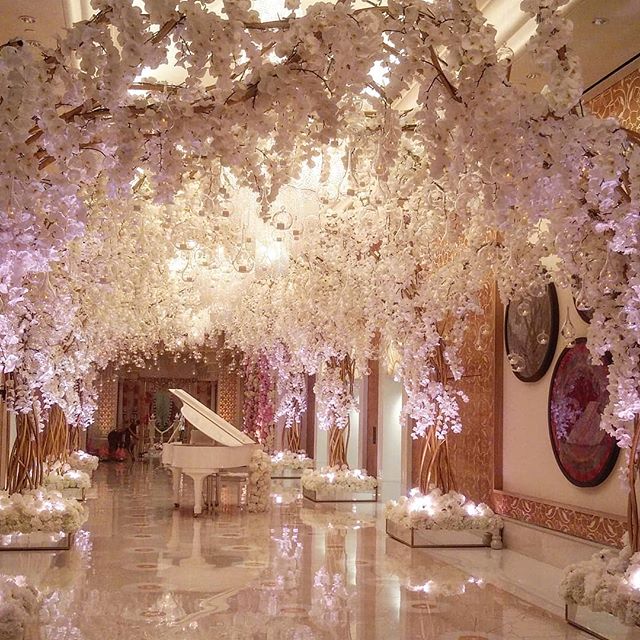 Brilliant job embellishing this dining hall, wouldn't you say?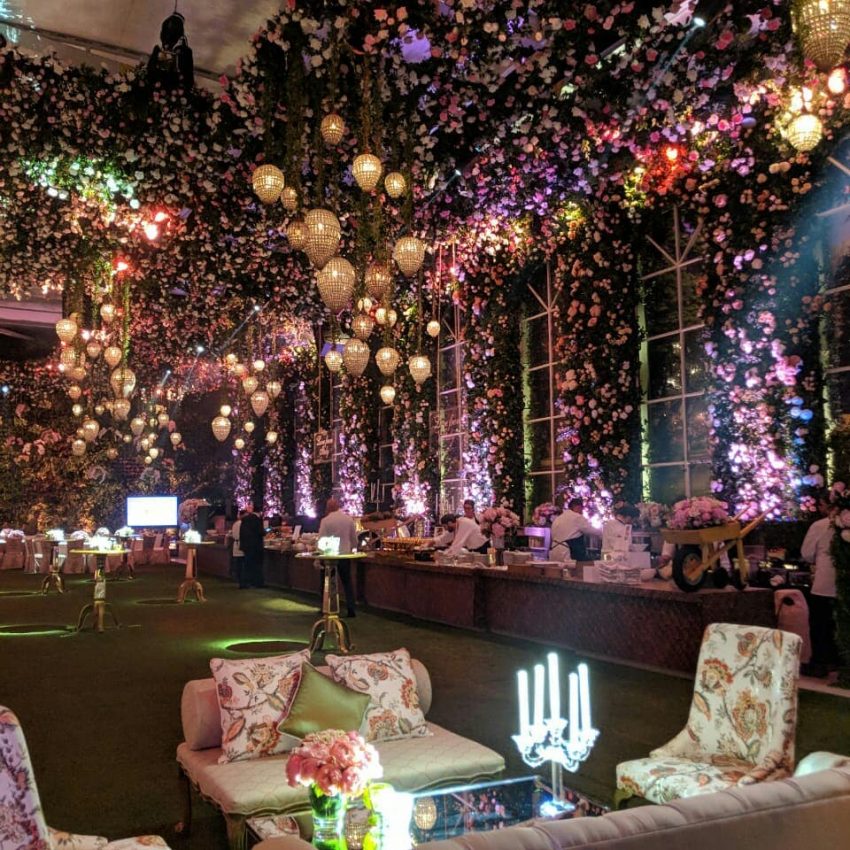 Fashionable couture
       Looking resplendent together were the stars of the night, Akash Ambani & Shloka Mehta! The bride-to-be looked stunning in a shimmering light pink, heavily embroidered Abu Jani Sandeep Khosla lehenga that was accompanied with diamond jewelry. While the handsome Akash Ambani wore a maroon bandhgala coat paired with a white churidar, that complemented his fiancee's attire.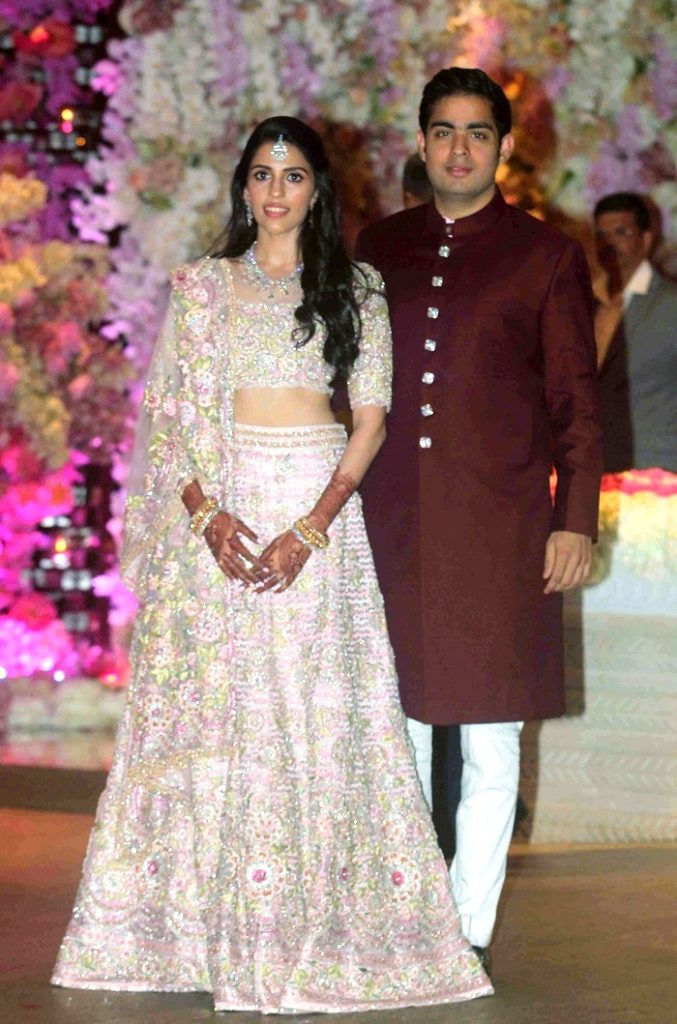 Isha and Nita Ambani were seen posing hand-in-hand ahead of the big night. Nita Ambani wore a pastel grey dress while Isha Ambani sported a lehenga of the same shade. While Anant Ambani, the younger prince, looked dapper in a grey bandhgala.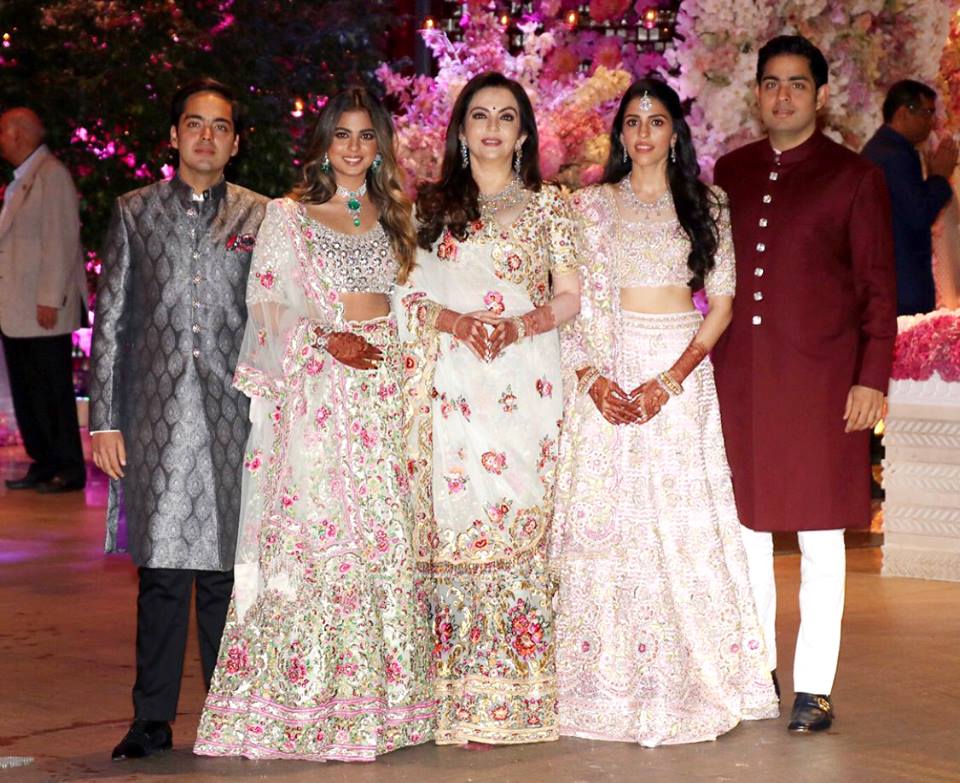 The only person missing from the cameras was the chief host, Mukesh Ambani who was busy attending guests. We did manage to find a selfie, though!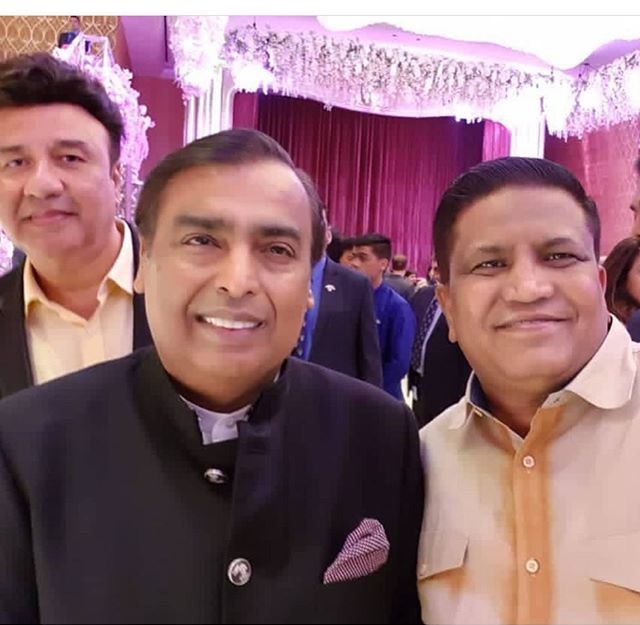 Not one to miss their nephew's engagement, Anil & Tina Ambani joined the celebrations, looking graceful together!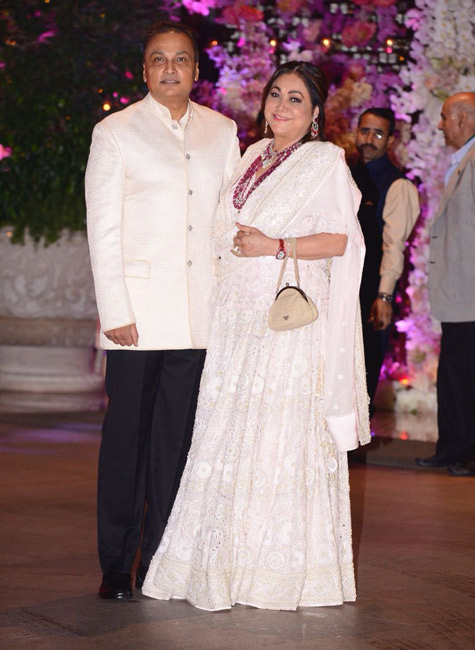 Esteemed guests
       The engagement was a star-studded affair attended by top politicians, sports personalities, industry moguls, well-known philanthropists, and celebrity socialites. Also present were B-Town's veteran actors, directors, filmmakers, lyricists, and singers as well as star kids. Here are all the guests at Akash Ambani's engagement. In signature Ambani hospitality, each & every guest was warmly received with attention and care.
Exquisite catering
       For the catering, the Ambanis chose Mumbai-based Foodlink Banquets & Catering, a well-known brand that caters for luxurious events. The menu was intricately designed to satisfy the taste buds of the VIPs & A-list guests. International gourmet brands from London and New York were also roped in to whip up delectable delicacies for the guests. One such brand was Ladurée, a French luxury bakery and sweets maker house known for their exquisite macarons.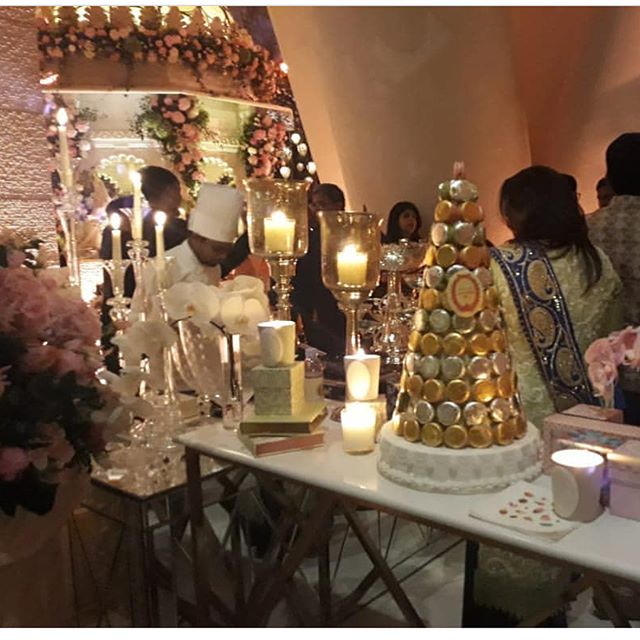 You might have heard about drone photography. Let the Ambanis introduce you to drone waitressing. Guests were in for quite a surprise when food trays and balloons attached to drones were seen dishing delicious appetizers. What a fantastic idea!
[video width="480" height="480" mp4="https://blog.getyourvenue.com/wp-content/uploads/2018/07/Ambani-Engagement.mp4"][/video]
Enthralling entertainment
       No Ambani function is complete without some dhamaal! To entertainment guests, a slew of performances awaited the partygoers inside, including an aerial dance, musical performances and a flash mob where every person present from the Ambani scions to Bollywood celebrities to cricket stars, participated in the revelry with gusto.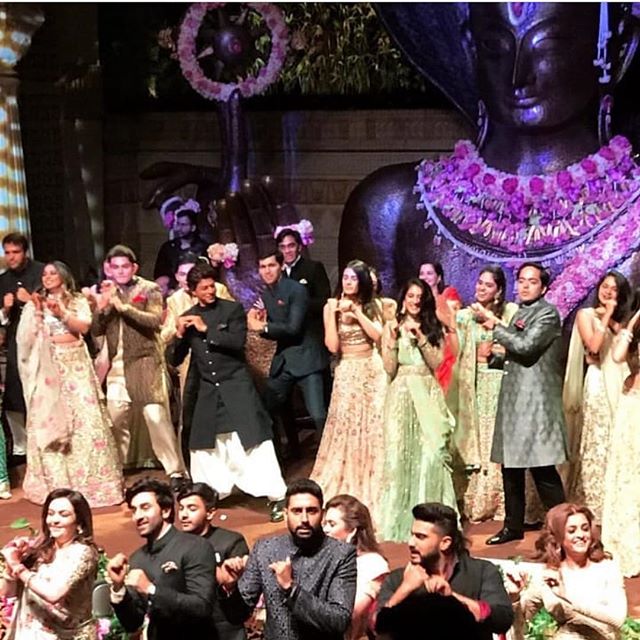 All in all, it was one hell of a night where everybody had a wonderful time celebrating Shloka & Akash Ambani engagement, their first step in becoming man and wife.

Though there is no announcement of an official wedding date, rumors are rife that it'll take place in December, this year. Well, whenever it may be, there is no doubt it'll be an equally lavish affair. Until then, the lovebirds are enjoying every bit of love and attention. GetYourVenue wishes this adorable couple, a happy, blissful life!