Booking the Best of Banquet Halls in Delhi for Your Wedding
In the present scenario, banquet halls are the most preferred venues for weddings in Delhi. These serve suitable for all-seasons weddings. For summer weddings,
Banquets in Delhi
are fully air-conditioned and so these let you celebrate the wedding without humidity or rain risk. In winters, these fit suitable because these are enclosed wedding venues that offer you with an option to control the dropping temperature. Above this, the Banquet Halls in Delhi have been renovated considering the modern techniques. These are spacious enough to have larger gatherings and can also be partitioned for smaller parties. The decor and lighting are done in accordance with the theme, if you have any.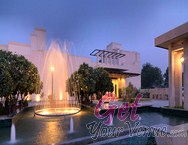 Most of the
Banquet Halls in Delhi
are centrally located. Some of the five star hotels also have huge banquets. These are easy and convenient to reach. Moreover, for different classes of people, there are different banquets. Some are highly reasonable to get and some are a little expensive. The quality of services and the variety of food is served accordingly. We have chosen some of the best banquet halls of Delhi, whether in South, North, East or West Delhi. So, you just tell us your preferences and budget and we'll make sure to get the most suitable one booked for you well in advance.