Hire Best Bridal Mehndi Artist in Delhi
There are different designs and patterns that are used to adorn the limbs of a bride, but it is only a team of specialists who can do it in the best of ways. So, choose the best Bridal Mehndi artist in Delhi and make some of the happiest moments of your life memorable. A wedding is a time when the bride and groom are all set to enter the very new phase of their life. With so many dreams in their eyes and expectations from each other; they build their faith and prepare themselves to become a new couple. When they get so many blessings from their elders and love and best wishes from their friends and other relatives; Mehndi is another source of brightness and fragrance in their life. Yes, though it is just a paste of simple leaves but Bridal Mehndi in Delhi is that form of traditional art that fills up the lives of women with its intense color and affluent fragrance. And if you wish your hands to look highly charming then get it done by specialized service providers. Bridal Mehndi Artist are expert in the job and have good knowledge about different patterns and designs.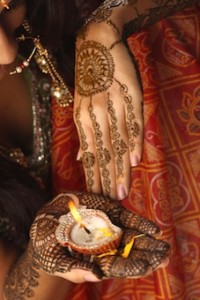 Your search to find an experienced bridal Mehndi artist in Delhi who can put exclusive contemporary designs of Mehndi on your hands. We, the wedding planner in delhi have some of the perfectionists to serve you who are specialist in doing the art. Our main aim is to enlighten your soul with great smugness and joy and therefore we concentrate upon all the facets of Mehndi: color, fragrance, and designing. We promise, once our Mehndi will be on your hands you would just not stop looking at them. We understand that to what extent a bride is concerned for each of her beauty secrets. When her makeup, hairdo, apparel and jewelry are some of the important facets; Mehndi too plays a vital role. And therefore, she starts searching for exclusive bridal Mehndi services in Delhi. Taking all your hassles away, we provide you with all types of Mehndi services. No matter which design or Mehndi art is your preference, when it is done by our artists it is special and elite. Moreover, with us you don't have to be worried about the quality of our services at all. When our aim is to serve you with hassle free solutions, our best Mehndi artist for Bridal in Delhi provide best quality services. Our artists ensure to reach your place on time so that no delay is made. Moreover, there is a separate artist for your friends and relatives. You just need to tell us the number of guests you have to be adorned with Mehndi art along with your design preference and budget; and we will make sure to do our job in the perfect way.