Check Out the Latest Venue and Décor Trends Expected to Rule 2019
By Get Your Venue | 09 Mar, 2019
As we embark in the New Year, we can expect an influx of a range of new ideas and trends that are expected to rule 2019. Irrespective of the event being organized, the next-level décor and venue styles can level up the event planning game by several notches. Timeless themes complemented with floral décor, outdoor venues with translucent setups-there is a lot to explore and try to plan and organize spectacular events. Get Your Venue has set a new trend in their latest concept shoot with Eventila India and explored chic venue and décor trends. Let us check out some latest trends that are ruling the charts as the year 2019 begins.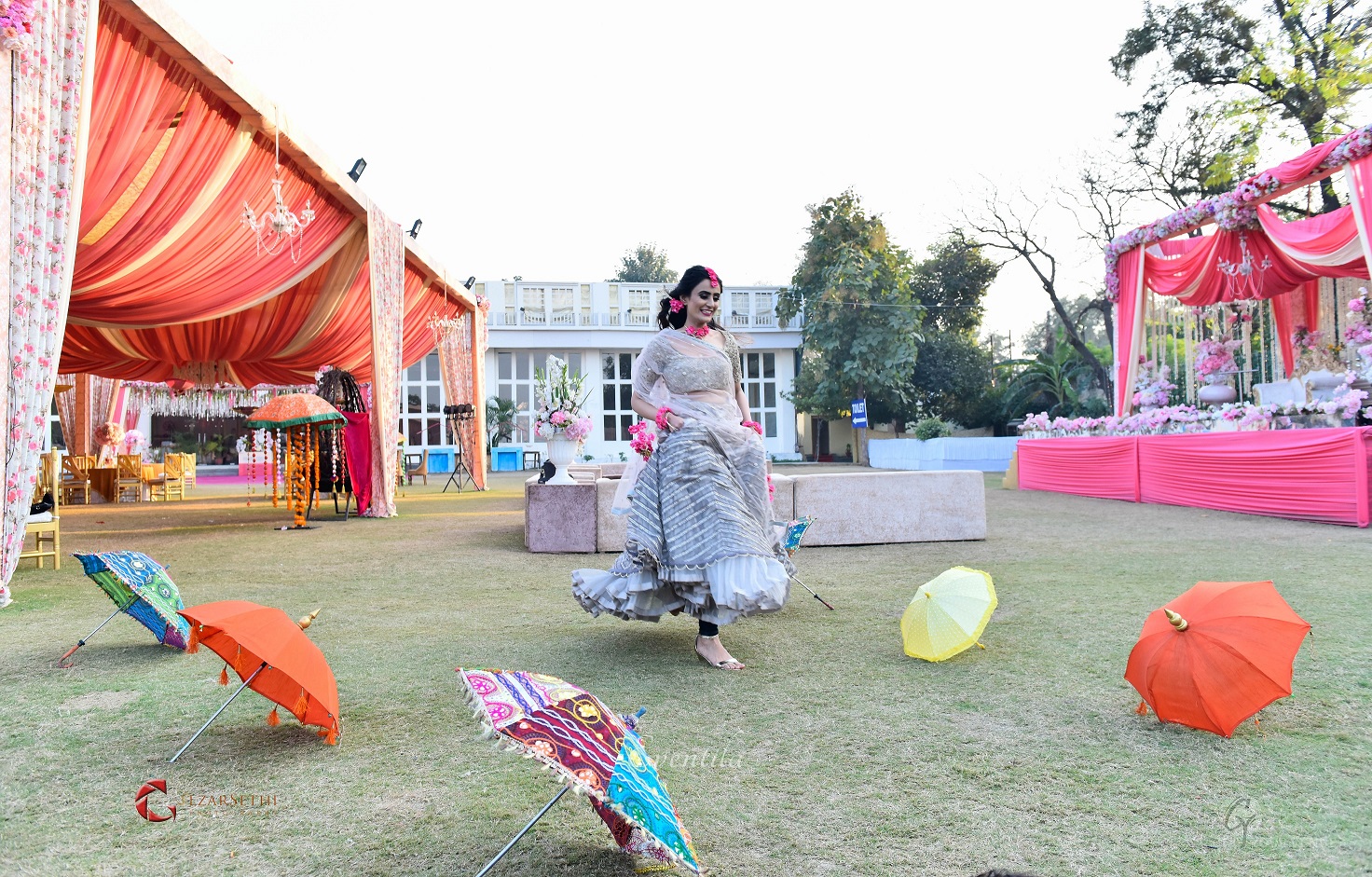 The Fusion Décor has set the bar high with modern aesthetics when choosing themes as it continues to steal the show. People love going for contemporary, aesthetically pleasing and clean designing concepts. Translucent setups like glasshouses add character to the theme. The focus on outdoor events will continue with its full might. We chose Tivoli Pushpanjali for its impressive expanse of verdant lawns, a lovely passage that leads to an open area where a charming, vintage property stands high. It was perfect for our concept photo shoot focusing on the latest décor trends. A highly professional and courteous staff perfectly complemented the impeccable looks of the venue. Liveried staff serves a fantastic spread of delectable cuisines and drinks with style and aplomb.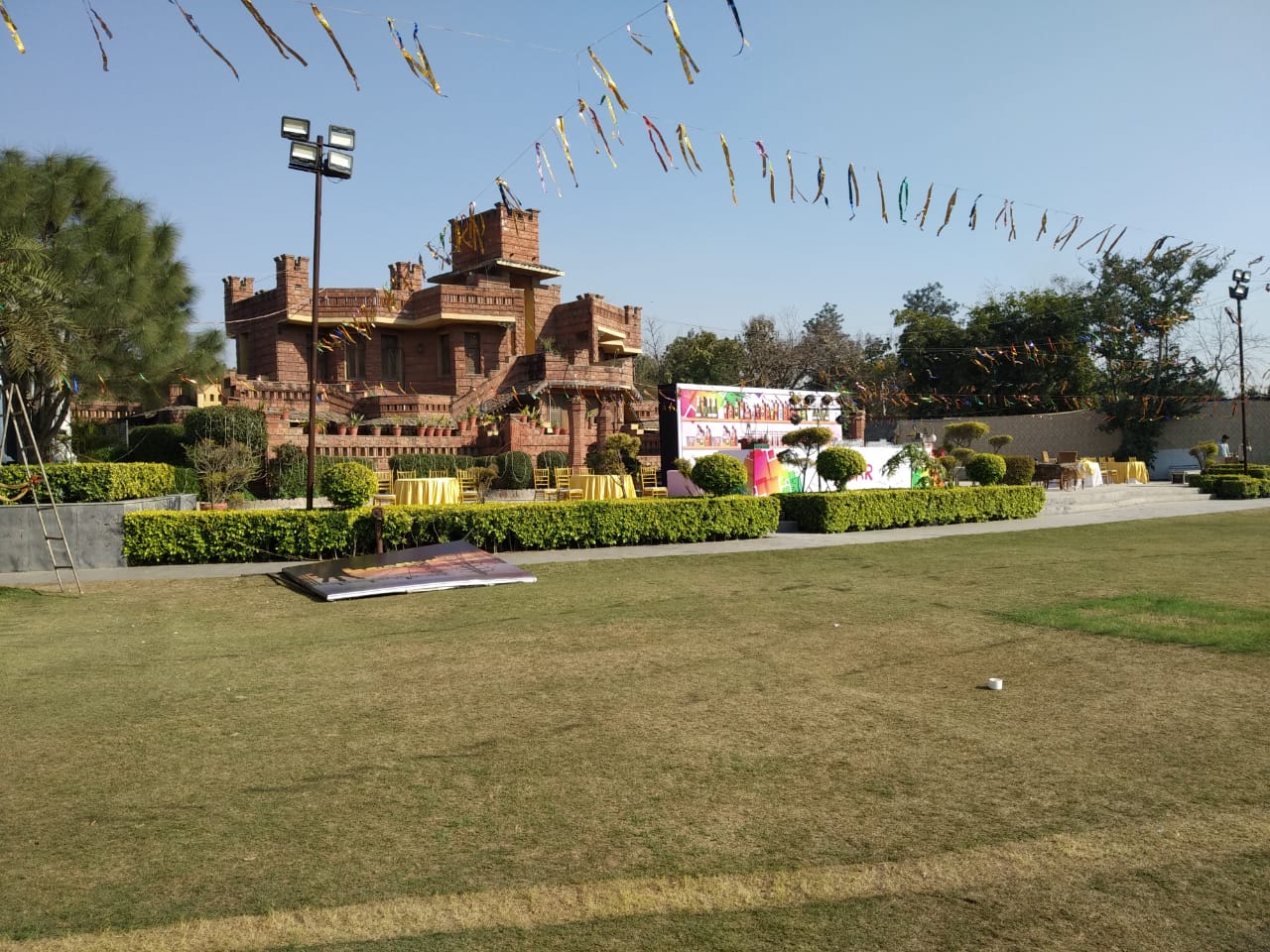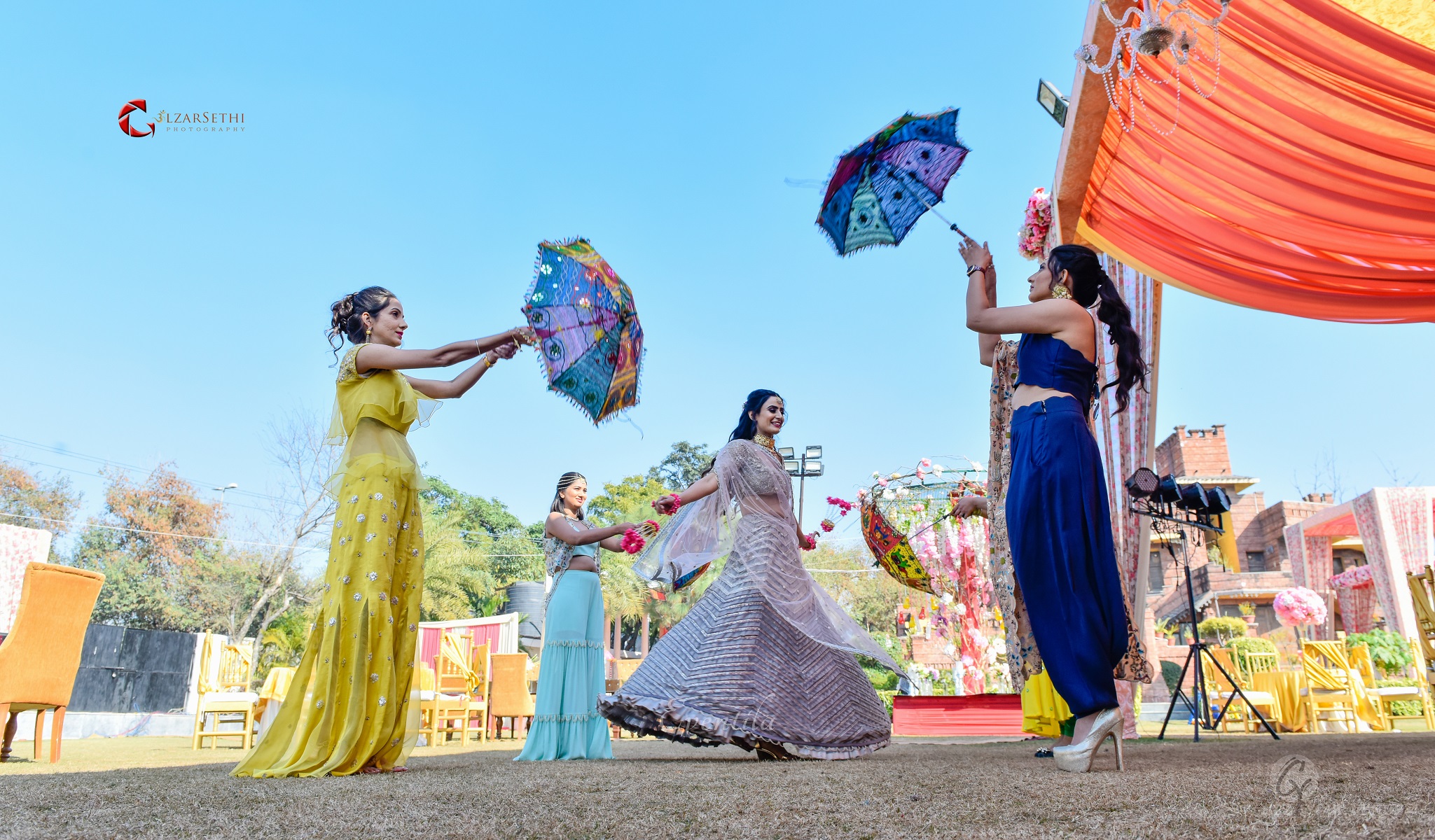 Taking a leaf from the book of latest, unique and distinctive decor styles, we chose themes to make the venue look more happening. In 2019, it is going to be rustic, heritage, luxury, vintage and a lot more. We can incorporate alternate seating arrangement like traditional chairs, bench seats with fluffy cushions, creating a boho vibe. Relaxed seating is going to be "in" this year. The attraction of choosing flowers in designing and styling a venue has not abated even by an iota. Half-circle floral beauties and statement hanging installations create a perfect ambiance to mark any happy occasion as flowers symbolize joy and happiness. Such floral arrangements successfully wow's the hearts of guests and hosts alike.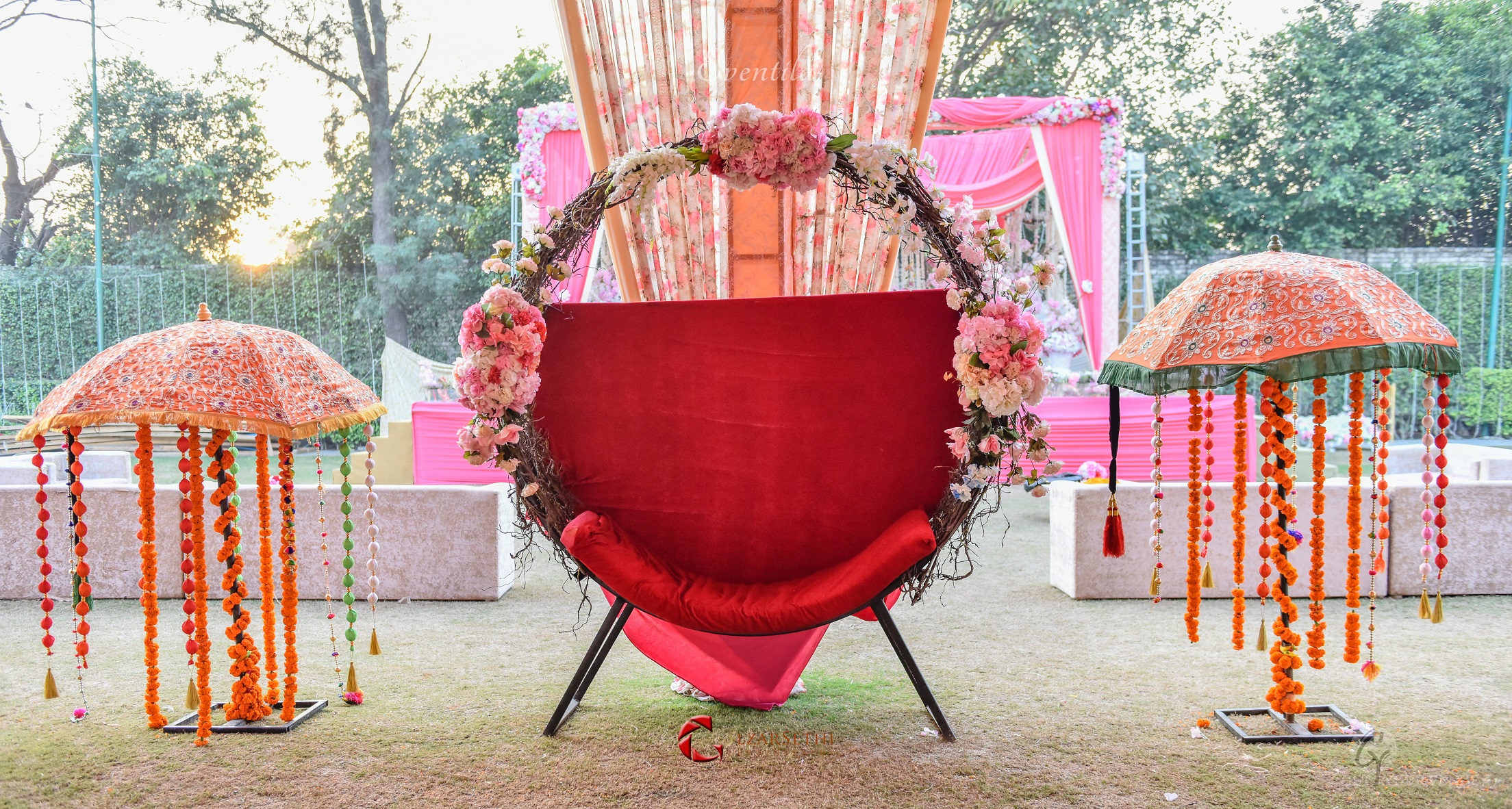 2019 is going to witness the extensive use of flowers in unimaginable ways. One of them is a stunningly beautiful floral extravaganza created with seasonal and exotic flowers like carnations, wisterias, White Orchid, and Cherry Blossoms, etc., hanging from a wireframe in pretty bunches creating a focal point of the venue. Variations like floating, hanging and propped bases impart it with a gorgeous look. Lovely ceiling treatments in the same color scheme complete the look. The guest tables can also have floral arrangements in the same color palette.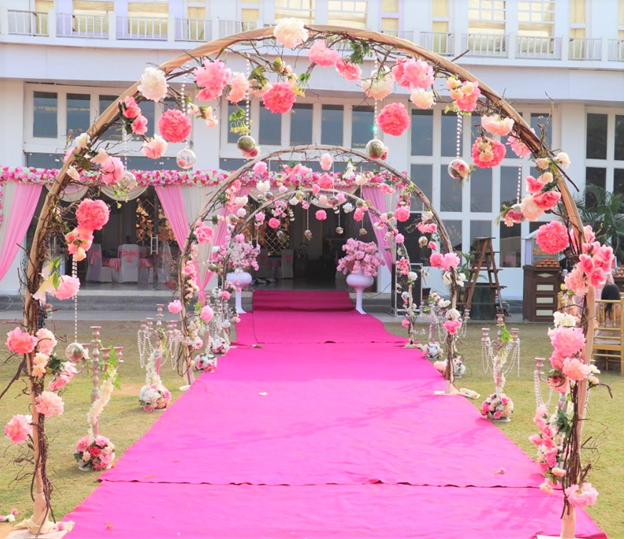 Circular arbors with beautiful use of flowers in vibrant colours can also be used for a stunning backdrop. Bold colours will add lively and vivid details to the setup.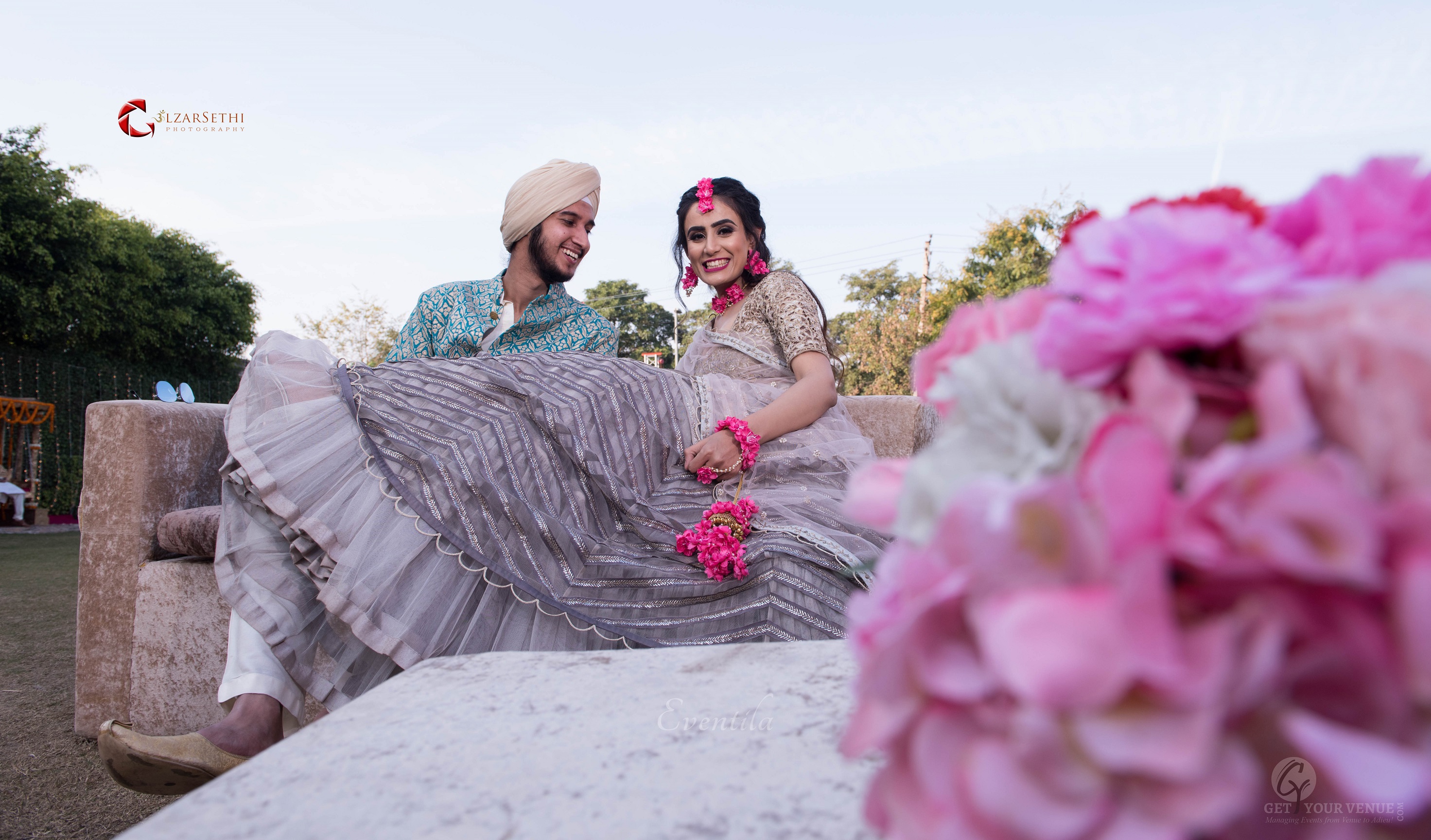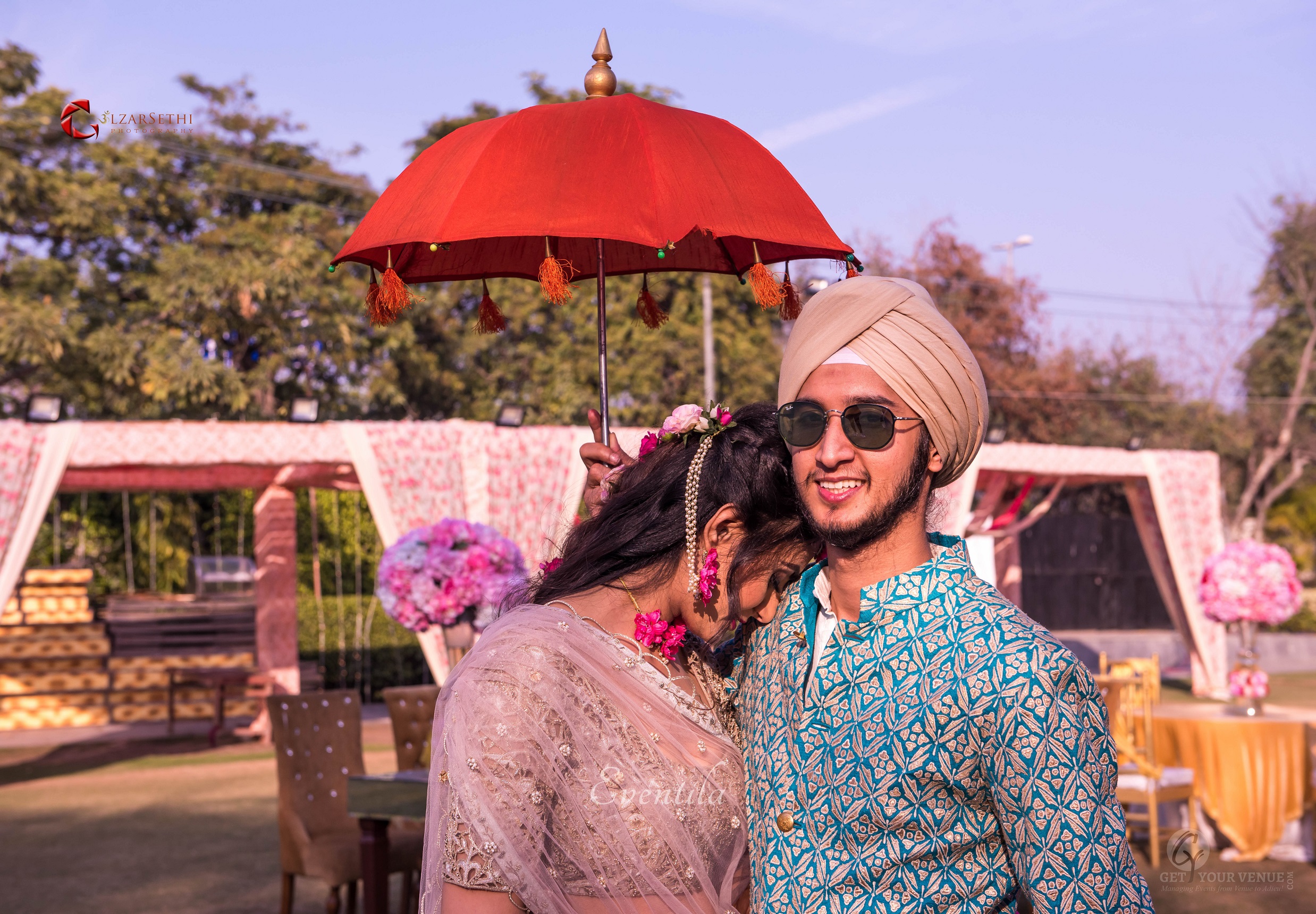 A wedding event is incomplete without the bride or the groom or bride and her bridesmaids sitting on a beautifully decorated jhoola. Fusion Decor has come up with a lovely jhoola decked with vibrant marigold. A floral curtain with alternating rows of amber and white colored flowers give it a beautiful look.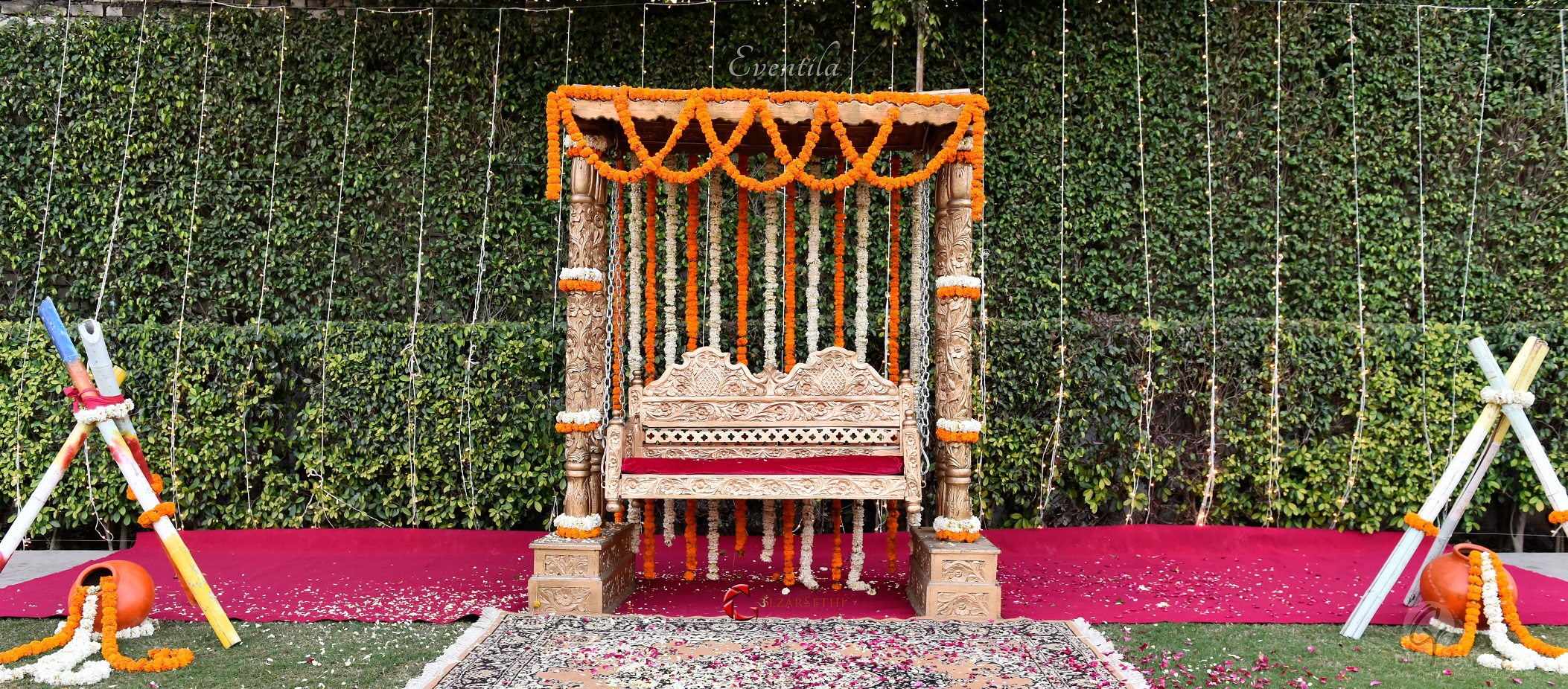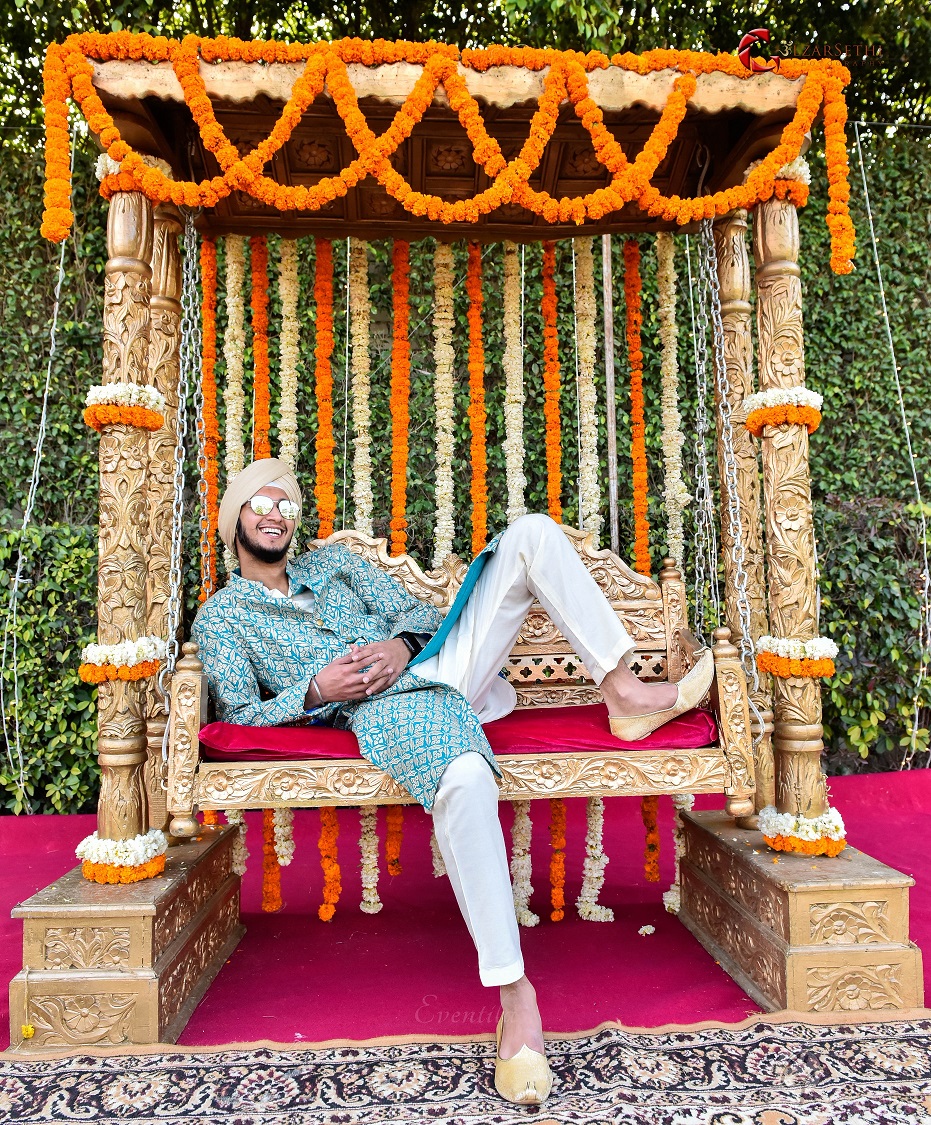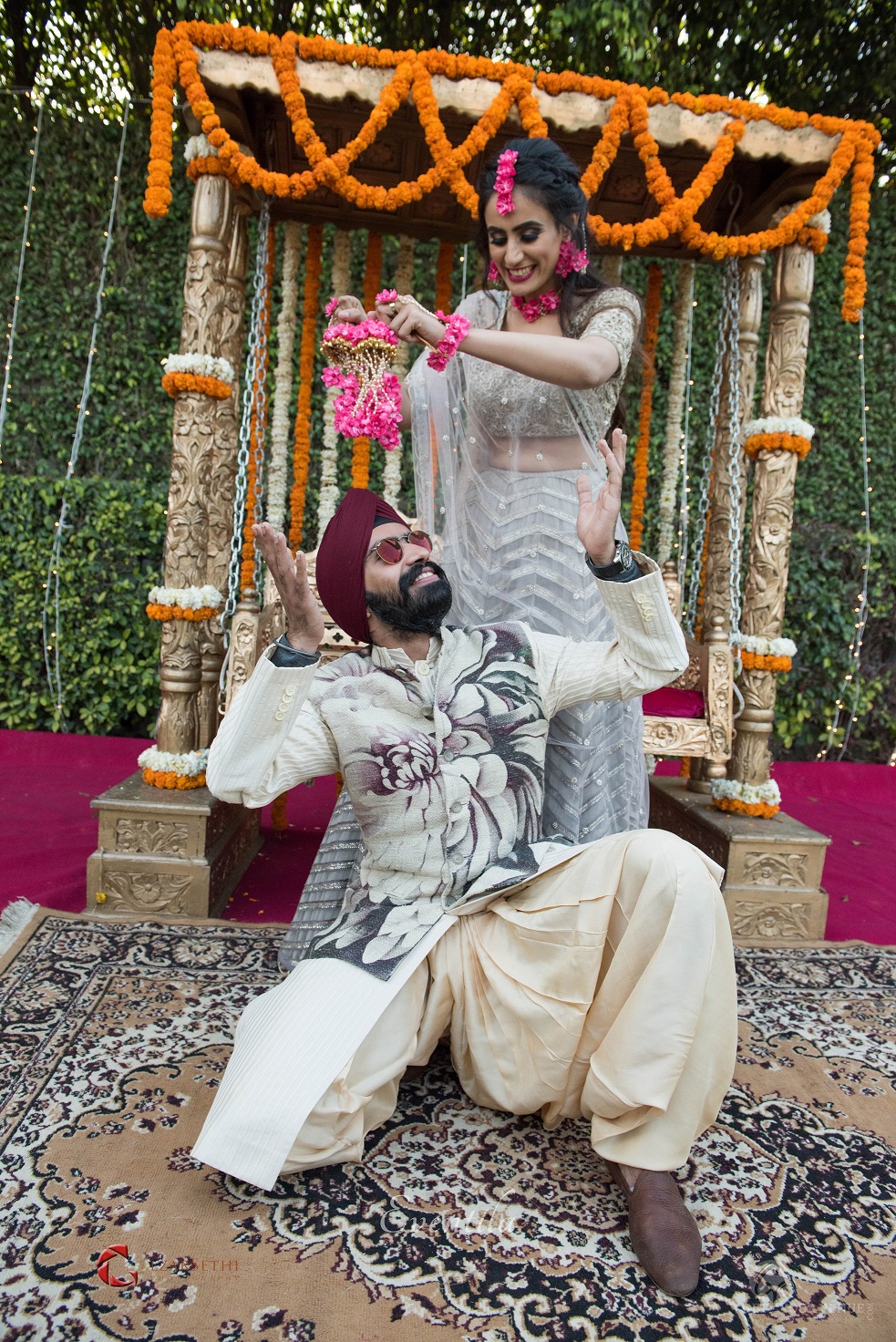 Our pretty bride Tanveen made an excellent subject. Coordinated efforts of Soranam Jewels created her perfect look, floral jewelry by Pruneindia, Styling by Styl_byMeha, and MUA by Pooja Khurana Beauty, Payal Singhal, and Siddhartha Tytler.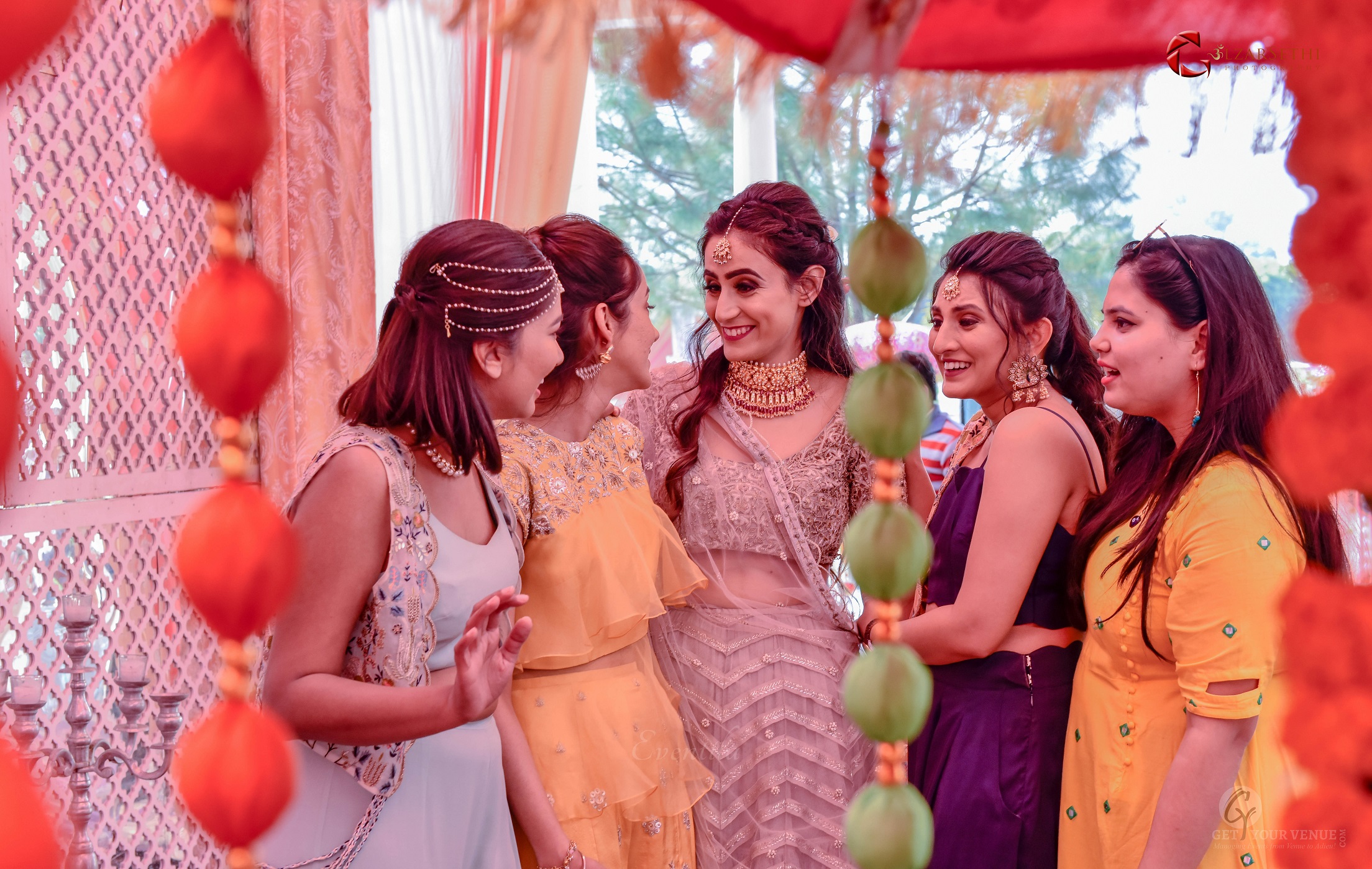 Lush pink and white carnations and cascading greenery imitate a majestic peacock in all its glory. This lovely ensemble creates a perfect ambiance and creates a show-stopper look. Add a whole new level of romance and elegance by adding décor objects like floating candles or floating lilies in the nearby pool.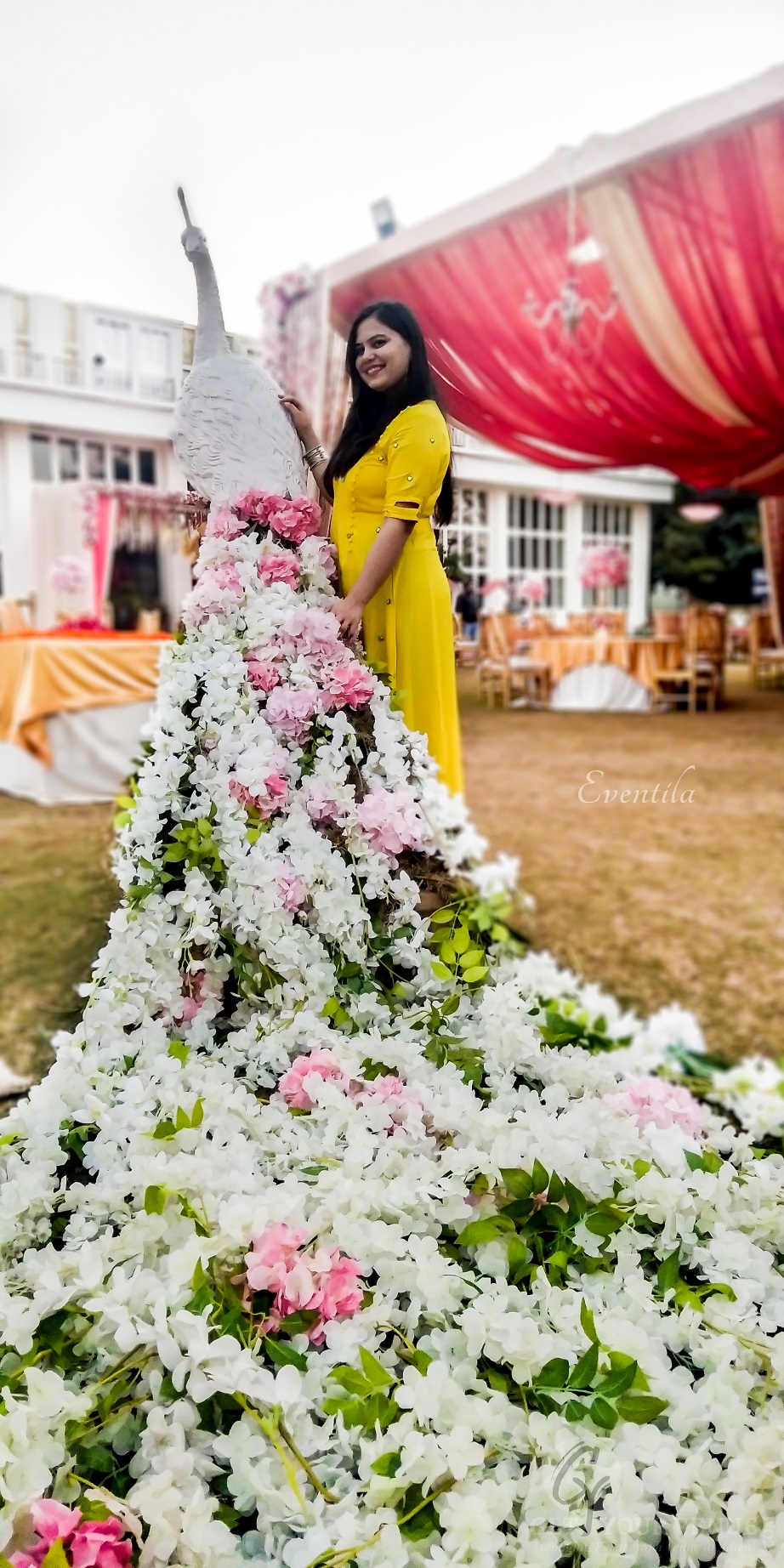 The success of any event is incomplete without a lot of joy, laughter, and happiness. Fusion Décor decided to take fun to an all-together new level by organizing a "Phoolonki Holi". Showering and throwing pure, fragrant blooms on each other resulted in a lot of joie de vivre which proved to be quite contagious spreading smiles all around. The video shoot by Design Aqua Studio perfectly captured the fun of the moment.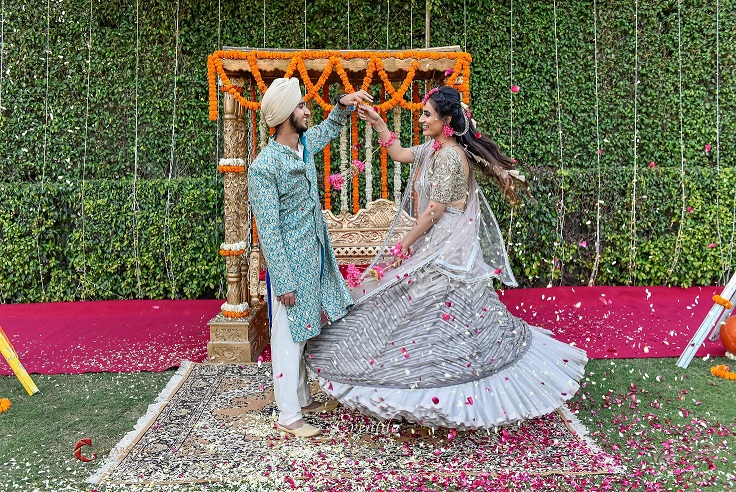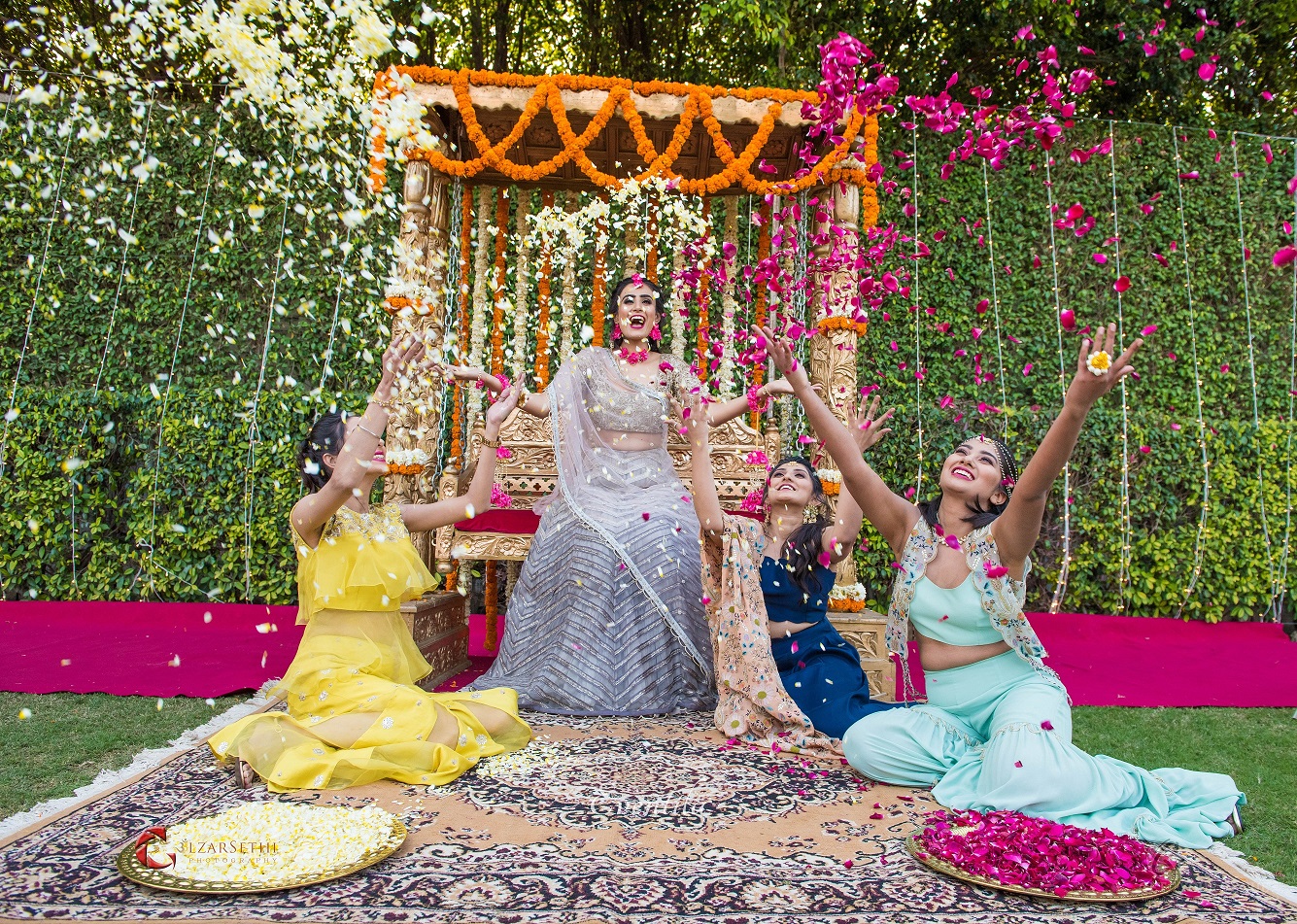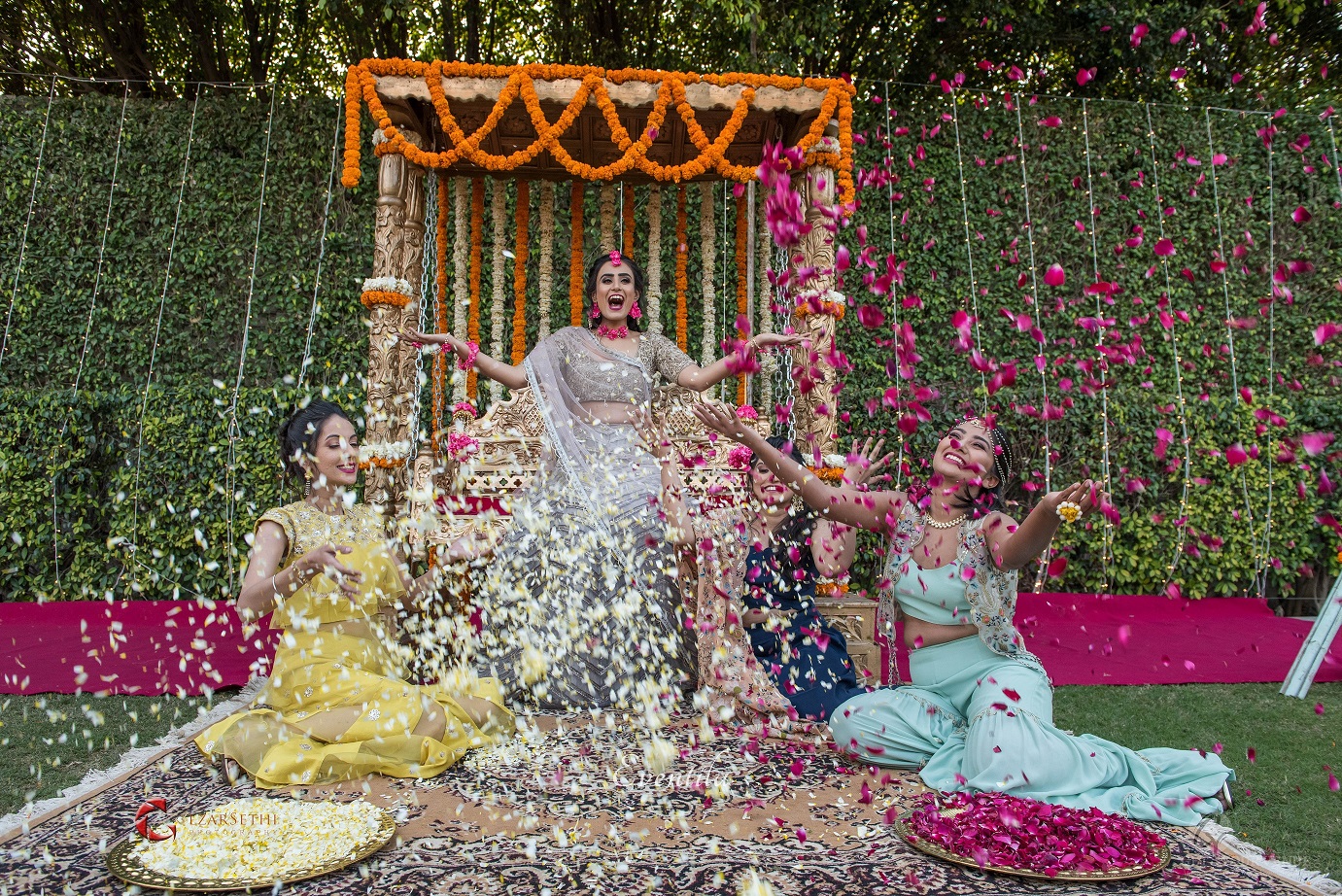 One of the trends that are fast capturing our attention is creating a vibrantly-colored floral backdrop. We created a lovely floor-to-ceiling arrangement of color-coordinated blooms with interspersed greenery. Our talented photographer@GulzarSethiphotography with an eye on details got some beautiful clicks. The crystal chandeliers with garden-chic blooms create a perfect ambiance for the "do."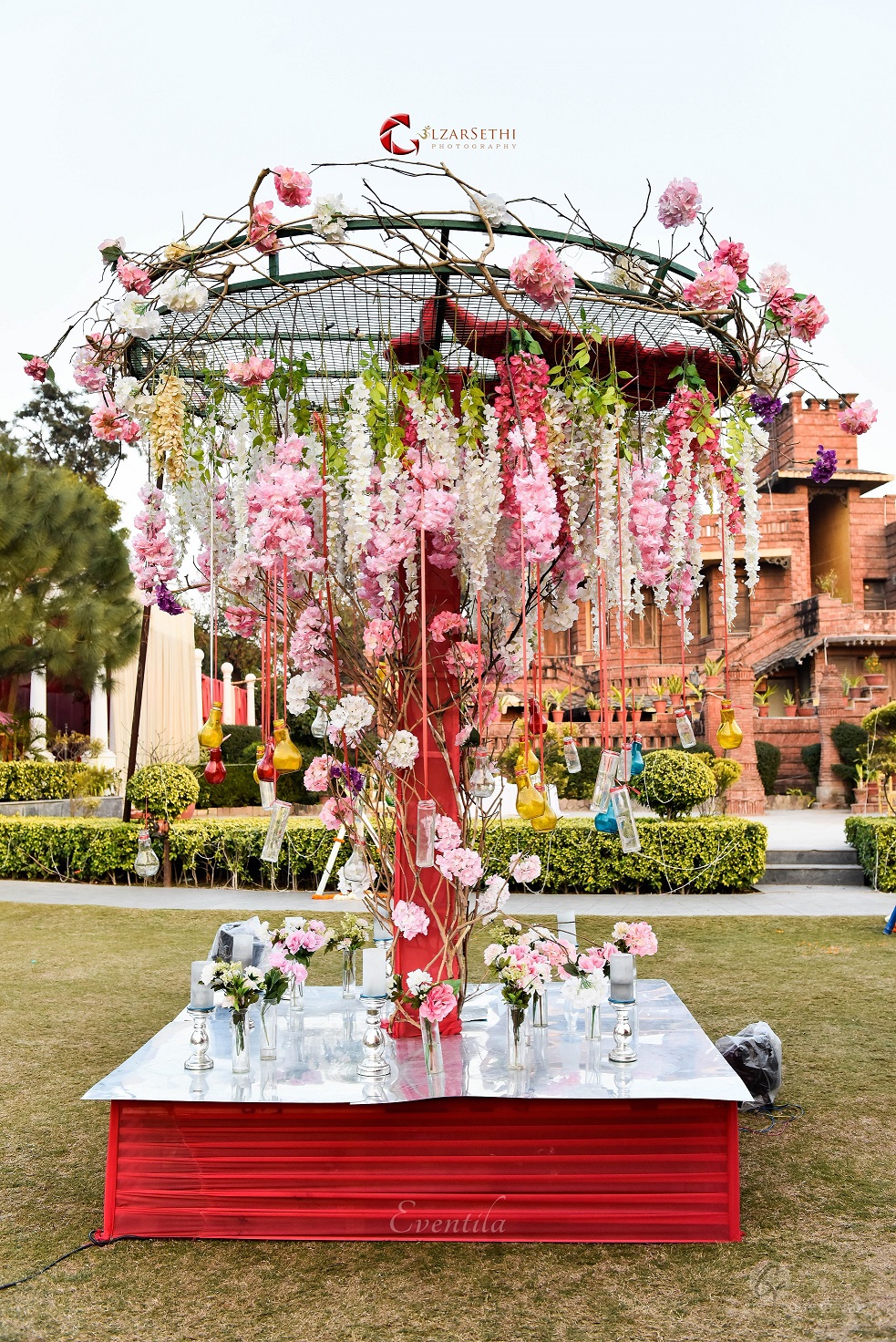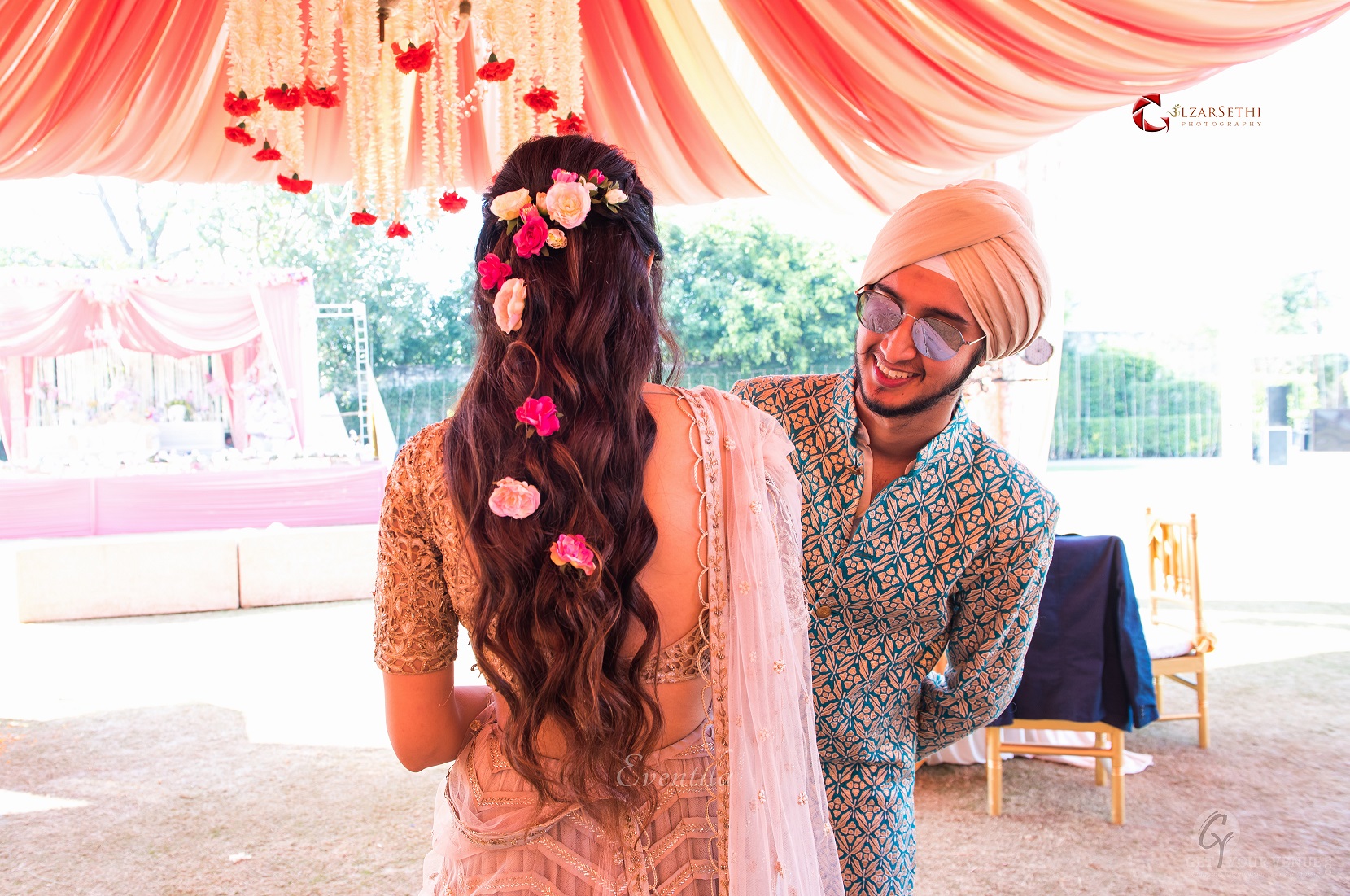 We successfully created a venue with a story.