How to choose perfect wedding sarees
By Get Your Venue | 21 Mar, 2018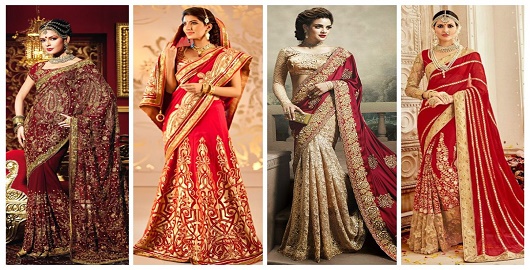 Choosing the perfect outfit for your wedding or reception is a daunting task. There are so many things to consider and you want to buy something that will last you a lifetime. Buying a wedding saree is not an impulse decision. It is a decision made by carefully weighing different factors and then analyzing them to come to one saree that is absolutely perfect. If you are confused and don't know where to start shopping, allow us to help you through the process!
1.Do your research First things first, you must do your research. You can check out your local designers or browse online to look at the collections of renowned designers. Before you start shopping, you should know what you want. Wedding shopping is stressful, and every single person you ask has a different opinion. So unless you want to descend into a downward spiral of confusion, do your research.
2.Traditional v/s Modern A lot of brides prefer to wear the traditional wedding saree that their mothers or grandmothers wore. While other brides prefer something a bit more hatke. Think hard and decide on which route you'd like to take. This will help you decide where exactly to look for your dream wedding saree.
3.Pick the right color While most people will tell you that should choose a color that complements your skin, you don't really have to do that. Pick a color that makes you happy and confident. After all, it's your wedding day! If you would rather not choose the typical red, you can opt for pastel shades or unusual tones such as magenta or a deep purple.
4.Embroidery that lasts Since you are looking for a wedding saree, you will want to choose something with beautiful, rich embroidery. So when you are looking at options, be sure to look for good quality work, with good finishing, no loose threads and something that you will want to wear for years to come. Zardoshi, Marodi, etc., are a couple of embroidery styles that brides usually go for.
5.The fabric The fabric is the most important thing to consider. The fabric determines the color of your saree, because different fabrics, when dyed with the same color, look different. The fabric will also determine the kind of embroidery that will suit the overall look. Most brides opt for silk, raw silk, net, Banarasi silk, etc.
6.The accessories While your saree is the star of the show, your blouse should get an equal amount of love. You can choose to get a designer cut in your blouse, with matching embroidery. Or, you can pick a contrasting color that matches well with your saree's color. A saree alone is beautiful; but when paired with the right blouse, it looks gorgeous.
While shopping for the perfect wedding saree, don't forget to take your wedding jewelry into consideration. Wait, have you forgotten to find matching shoes? Make sure you coordinate your entire outfit so that everything is perfect on the day of your wedding!
However, there's a lot more to a wedding than just the right outfit. To ensure that everything pans out perfectly on your wedding day, you can enlist the services of a professional wedding planner like GetYouVenue who can help you in planning your wedding according to your requirements and budget.