Deepika Padukone & Ranveer Singh's complete relationship timeline!
        Born in Copenhagen, raised in Bangalore, persevered in Mumbai & today she rules the world! One of the highest paid actresses in Bollywood, recipient of several awards & the queen of millions of fans - that's Deepika Padukone for you! Although her professional life had always been a success, the lass hadn't been so lucky on the personal front. From Yuvraj Singh to Siddharth Mallaya to Ranbir Kapoor, Deepika has been in many relationships - some said to be rumors, others openly discussed, but none that lasted for long. But all that changed when she met Ranveer!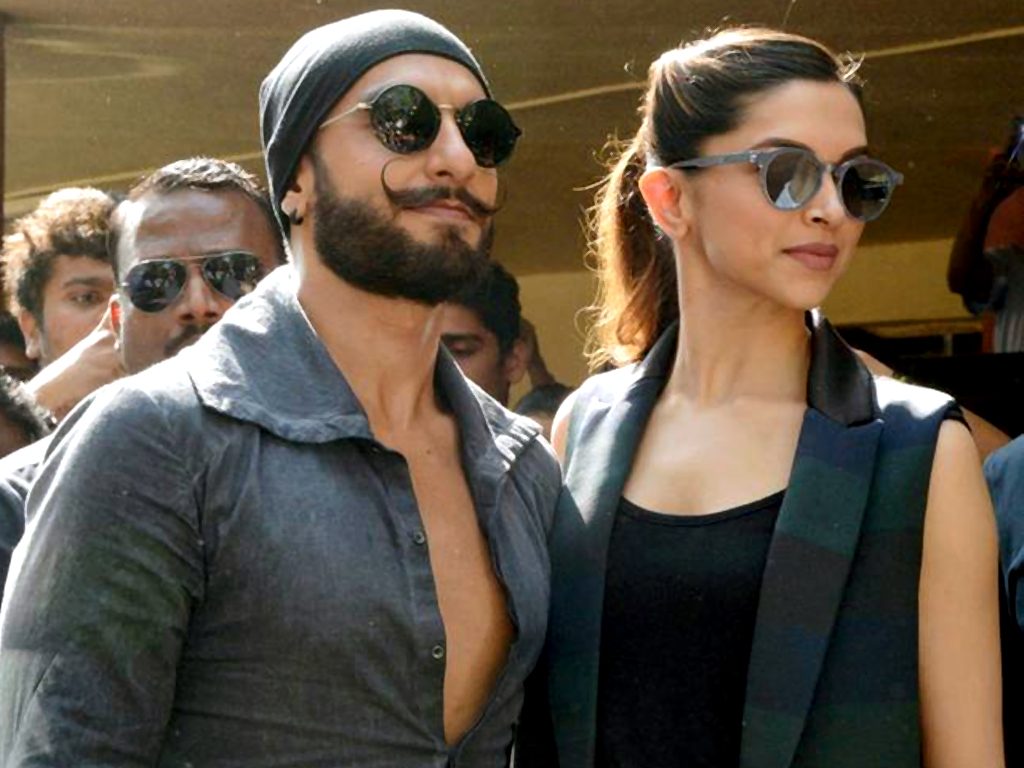 Aadat Se Majboor Lootera actor Ranveer Singh may have entered Bollywood 5 years later than his lady love, but his hard work, eccentric personality, and juvenile charm were enough to capture the attention of Deepika who is known to be level-headed. These Bollywood celebs became colleagues, fell in love and maintained a hush-hush relationship for many years till the 20th of this month.
        On the 21st of Oct 2018, Deepika Padukone & Ranveer Singh #DeepVeer ended all speculations & finally announced to the world that they're taking their relationship to the next level. The adorable couple who are head over heels in love with each other will finally tie the knot on November 14 and 15. But if this celeb couple thought they'd whisk away to Lake Como, Italy for their wedding while all we're left to goss about is the gorgeous invites, then they're sooooo wrong!
Here is a detailed timeline of Deepika Padukone & Ranveer Singh's relationship.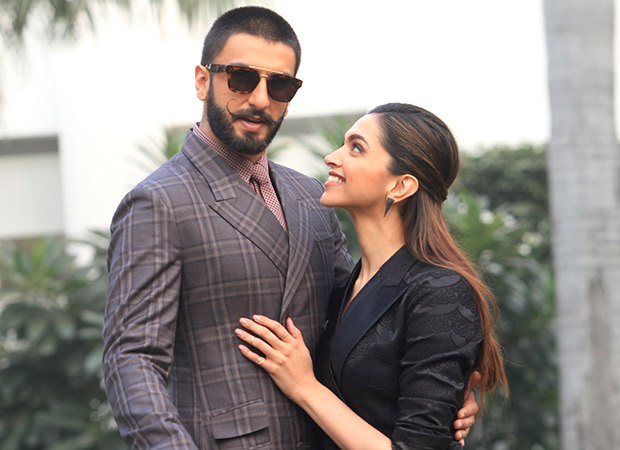 2012
        It all began in 2012 when Singh saw his to-be-soulmate for the first time in Macau at the Zee Cine Awards. He saw Miss Padukone looking my-oh-my so beautiful, wearing a silver gown and suffice it to say that for him it was love at first sight. And we don't blame him! Look how gorgeous she looked that night.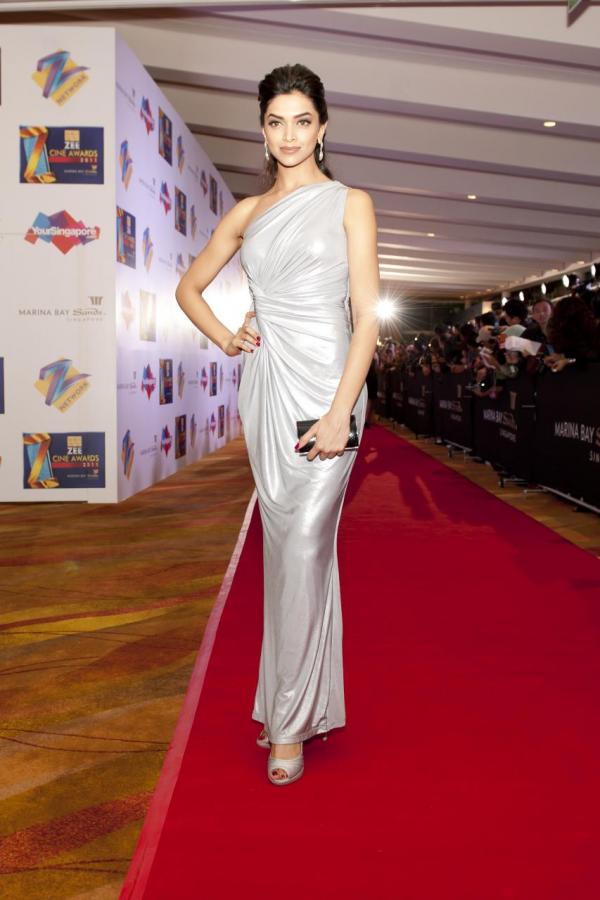 One of Ranveer's fans asked him on social media about how he could remember something that happened so long ago, so well. To this Ranveer replied ....
https://twitter.com/RanveerOfficial/status/674867036980248576
        Meanwhile, Deepika first noticed Ranveer while watching the trailer of Band Baaja Baraat. Says the lady, 'Seeing Ranveer in the film, I first thought that he is not my type.' Well, how's that working out for you girl, hmm?
        The very same year Deepika and Ranveer began shooting for their first film together - Sanjay Leela Bhansali's Ramleela. Padukone got to know Singh better on the sets of Goliyon Ki Rasleela Ramleela, and sparks flew. Although the prospective romance was kept under wraps at the time, Ranveer recently spilled the beans, on the movie's 4th anniversary. Their talent, hard work, and off-screen chemistry created a certain sizzle that even today cannot be paralleled.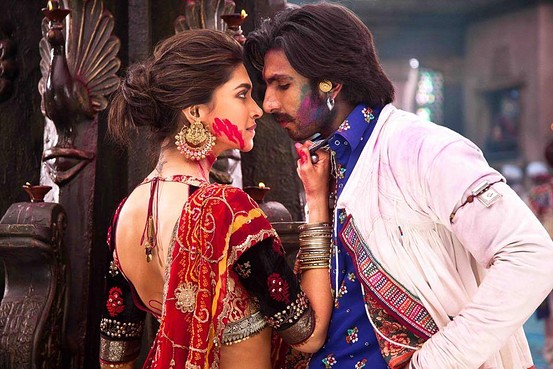 2013
        Actors are often away for a long time from their homes as they are tied with the shooting of their film. But when it comes to the matters of the heart, nothing gets in the way.  After the success of Ramleela, Deepika was next shooting for Finding Fanny in Goa. Not able to live without his lady love, Ranveer was often spotted visiting her on the sets of the film. He even had a cameo in the film in which he plays the late husband of Deepika.
2014
        Amidst staunch denials from both sides, the two lovebirds took to the stage for the very first time at the Zee Cine Awards 2014 where they danced to the melange of their greatest hits. One look at those happy-in-love faces, and nobody can be expected to believe otherwise. Here, you be the judge.
https://www.youtube.com/watch?v=hKti2fF5FLw
2015
        Subtlety isn't one of Ranveer's strong suits. This became quite evident on the 8th of Jan 2015 where after entering filmmaker Farah Khan's bash, Padukone chose to leave with Karan Johar. Completely smitten, Ranveer was seen wooing his lady love with a flower in his hand. When these pictures made their way to the social media, fans couldn't stop gushing over Ranveer Singh's charming personality. And with this, #Deepveer made way into our accounts.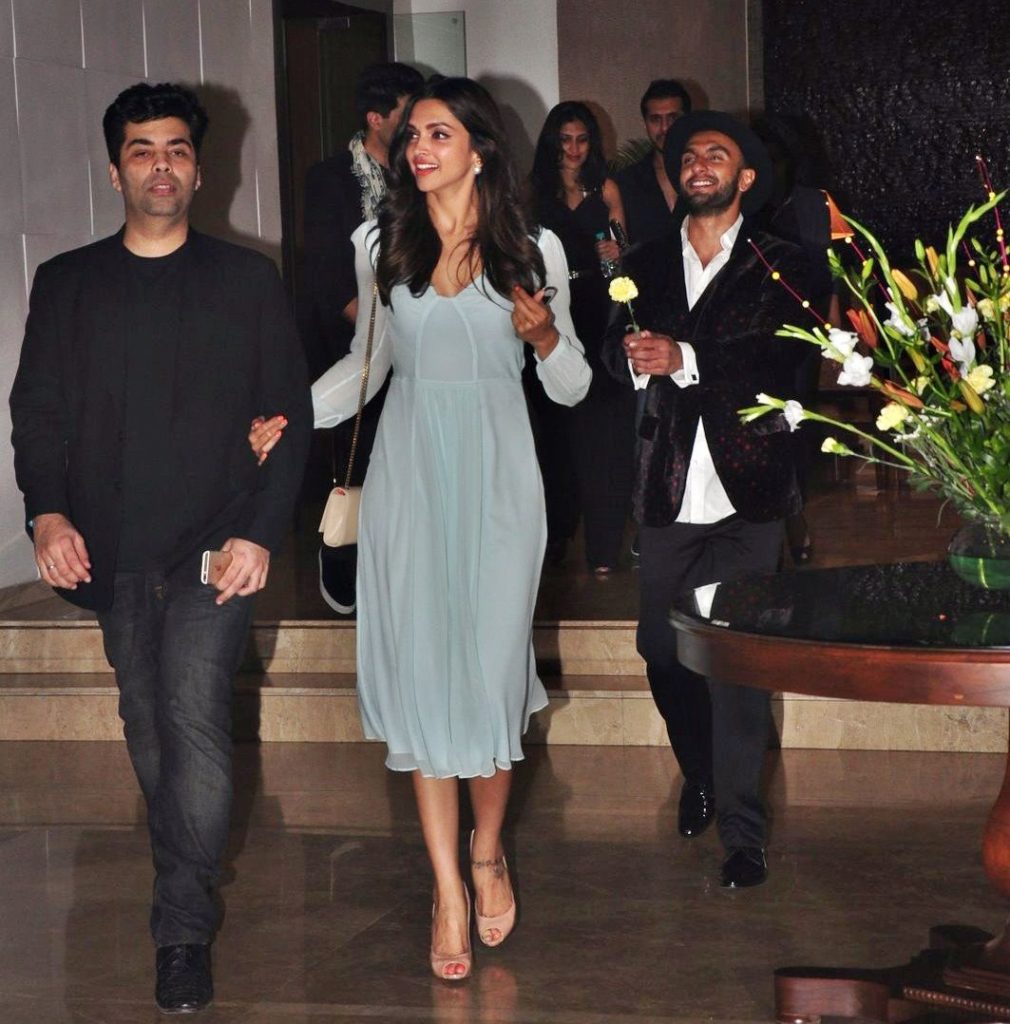 The same year in June, fans got to witness more such goofily cute acts of love at The IIFA Awards where Singh received Padukone onstage by going down on one knee, with the song Ram Chahe Leela playing in the background. Just in case Deepika's face turning crimson red (like her sari) hadn't made it wasn't obvious already. Speechless, huh Arjun Kapoor?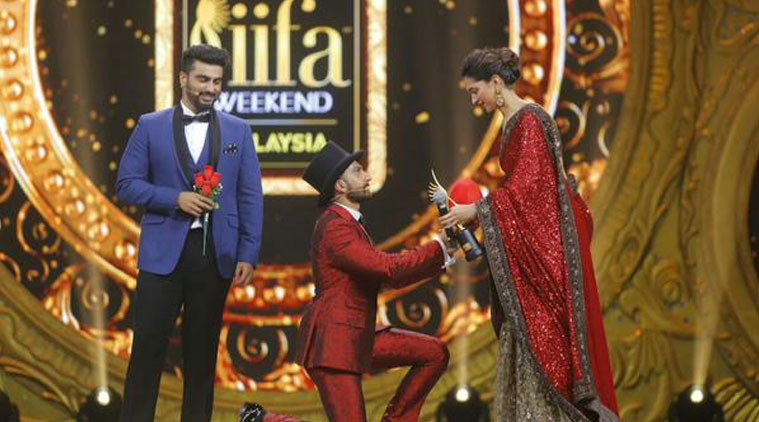 In October 2015, Singh and Padukone brought their sizzling chemistry to Vogue's grand anniversary cover shoot. The two sure know how to have some fun while working!
https://www.instagram.com/p/8QmX2PR5YP/
2016
        2016 saw #DeepVeer continuing to attend parties together. IIFA seems to be THE spot for the couple. The duo treated their fans to some more of their brand of romance. When Padukone wasn't making heart hands and mouthing "I love you" from the stage to an ecstatic Ranveer, the latter found it impossible to tear his gaze away from her. Sadly, we couldn't find a picture of the dramatic moment.
        A few months later, the couple began to go public with their relationship. Cameras spotted Ranveer escorting a glowing Padukone out of a grand party hosted by the Ambanis.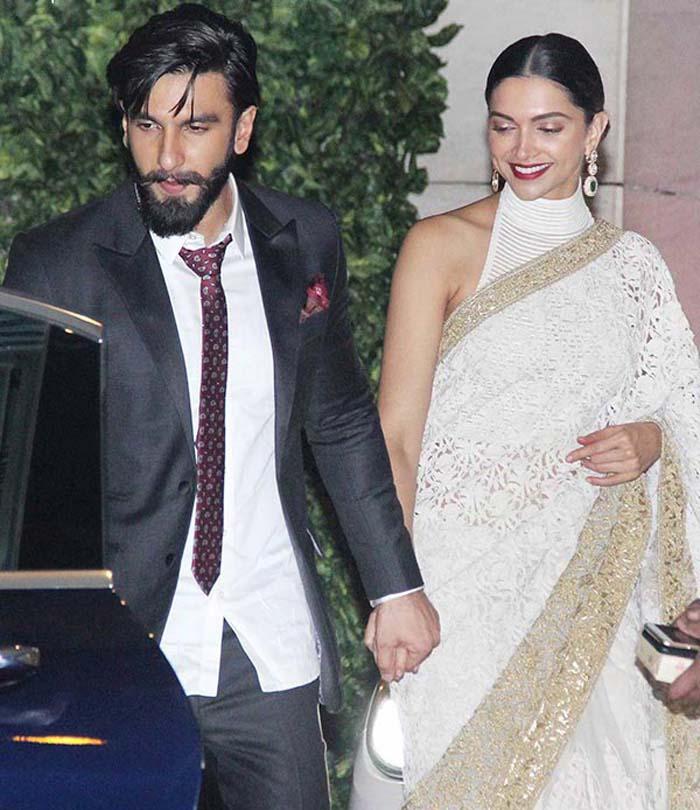 2017
        2017 was a happy time for Deepika as it marked her Hollywood debut with Vin Diesel in xXx: Return of Xander Cage. Not one to steal his girl's share of the spotlight, Singh was her silent knight who provided moral support from the sidelines at the movie's Mumbai premiere.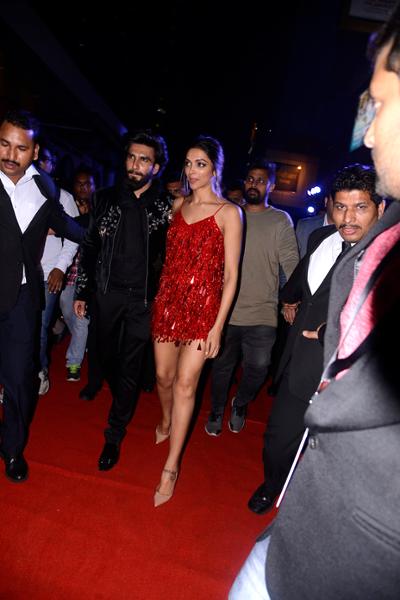 Earlier during the shoots, he had flown all the way to Toronto to visit his lady love on Valentine's Day. The director of the film, D. J. Caruso posted this adorable picture which proved the couple was only getting more serious about each other.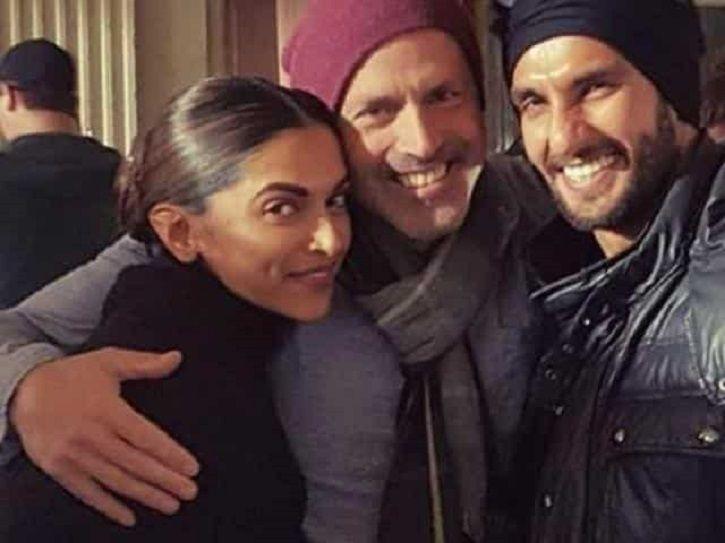 Ranveer's adulations of the movie didn't stop here, though.
           https://twitter.com/RanveerOfficial/status/696969053982699520/photo/1
2018
        2018 has been a landmark year for the couple. Not only did their biggest film Padmaavat get a kick-ass release, but they've also decided to tie the knot in the year's end. Despite the myriads of controversies and problems regarding this film and Ranveer's intense training that almost got him into depression, #Deepveer rose above all the problems. Padmaavat's success was their victory. This was the third film of them together and it created a blast at the box office.
        Later, Deepika ended up spilling the beans in the latest season of Koffee With Karan about her to-be-groom Ranveer Singh. She mentioned how she loves the fact that he is expressive, and can cry and emotionally express himself which is beautiful.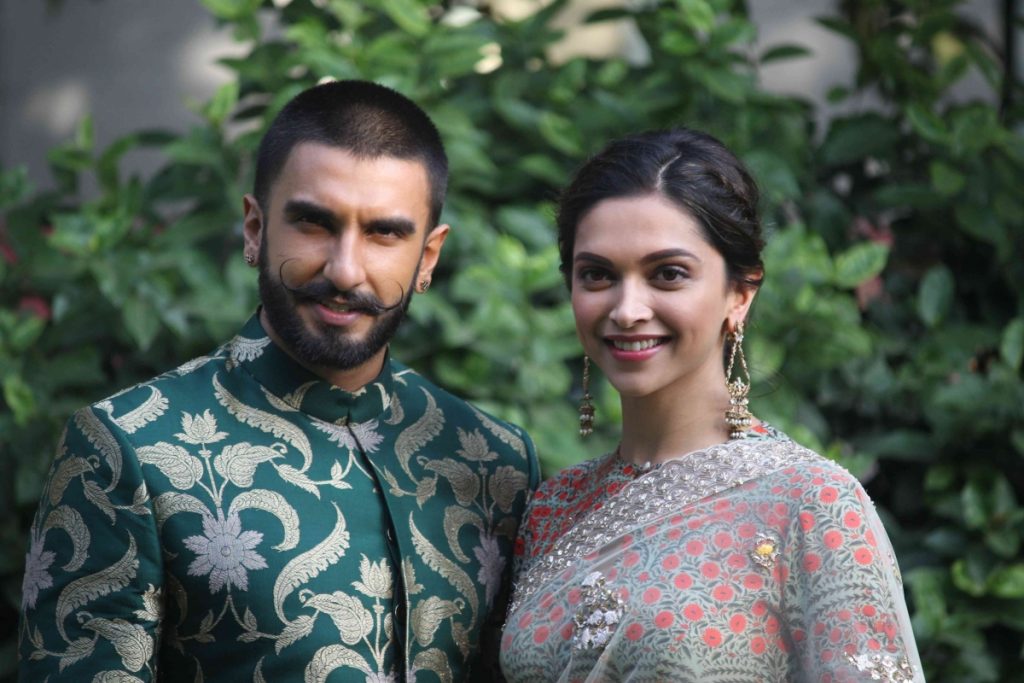 Coming back to this 21st where all rumors were put to rest. Deepika Padukone and Ranveer Singh two talented actors who've achieved success on their own finally announced their betrothal on social media that went into a tizzy. In an Instagram post, they shared their wedding invites, in Hindi as well as in English. Their wedding ceremonies are scheduled for the November 14 and 15, 2018 (In barely three weeks, *gasp). Here, check out their elegant wedding card.
https://www.instagram.com/p/BpMR606Bu78/
        Excellent planning on the dates & location who ensured their dates won't clash with any other celebrity's wedding. Bollywood and its fans will have all the time in the world to enjoy their ceremonies, as well as Priyanka Chopra and American singer Nick Jonas. #DeepVeer will get married in Italy's Lake Como in the presence of their close friends and family. The two will then hold a wedding reception in Bengaluru for their extended families and friends on November 21. This will be followed by another reception in Mumbai for their friends and colleagues from Bollywood. The second reception will be on November 28.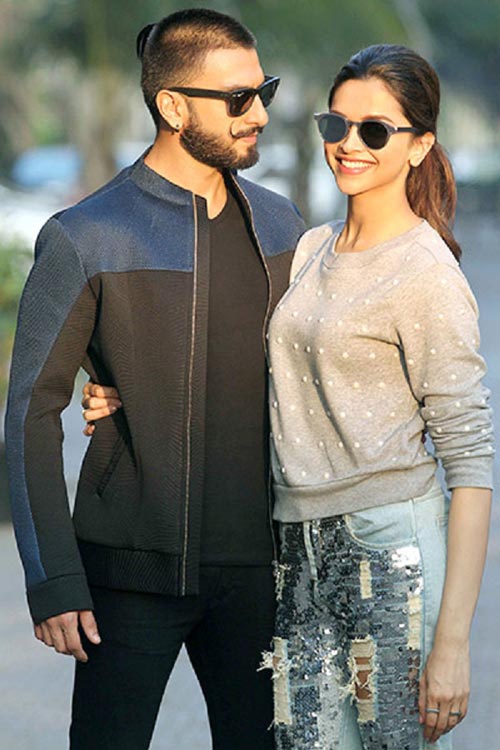 So there it is - the detailed timeline of Deepika & Ranveer's relationship. The' two have made us laugh, they've made us cry and with this upcoming matrimony, they've made us all excited. From fashion goals, relationship goals, couple goals, and good looks goals, the two are giving us larger-than-life goals. To this lovely couple who's topped the chart of Bollywood celebrity gossip, GetYourVenue wishes a blissfully married life.