Finding Suitable Wedding Venues in Delhi through Getyourvenue.com
If you have a dream to celebrate your wedding in the capital city of India, Delhi then no other place than the Wedding Venues in Delhi can add a charm to your special day. These banquets have immense capacity that can easily fit into a gathering of more than 1000 guests. In addition to halls, there are green lush lawns outside where you can perform some of your wedding rituals. Else this place could be used for serving food as well. However, taking this concern of yours, we at Getyourvenue.com decides what suits best to your wedding theme.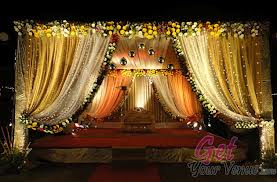 Other than GT Karnal Road, the area of Ghaziabad is also developing with a fast pace. Since last few years, Delhi Wedding Venues have gained much importance for their vivid decorations and wonderful services. These are equipped with perfect electric supplies and are known for hosting some major weddings. We have a long list of banquet halls and farmhouses of this area; so you can choose one according to your budget, suitability and preferences. As far as the food and decoration of these places is concerned, you can leave this to us for further planning. We promise to serve you in the best possible way always.