Getyourvenue.com Arranges the Best of Wedding Caterers in Delhi Weddings
Gone are those days when weddings used to involve just a few ceremonies and rituals. Today, a wedding means a grand affair that is celebrated with loads of pomp and show. Décor, lighting, venue, photography, entertainment and above all food; all these are known to be the common charms of a wedding. In fact, most of the guests attend a wedding not only to bless the newlywed couple and to meet old friends and relatives but to give their taste buds a refreshing and a relishing alteration. And keeping this in mind, our Wedding Caterers in Delhi too do a wonderful job. You name a dish, and we would offer it to you under the same roof.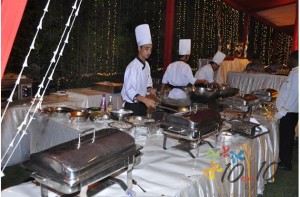 We have an excellent association with a number of Catering Services in Delhi. Seven Seas, Mithas, Heritage and Tulip are some of the most reputed ones. From North Indian to South Indian delicacies, Chinese to Italian, and even a few international dishes are served in our menus. You get a long assortment of sweets from those traditional to modern ones. In addition to the quality of food, our caterers make sure to have a wonderful display of them and ensure a quick service also. So, let your guests cherish your wedding in the most wonderful way with our list of caterers in Delhi.