Getyourvenue.com: The Only Hub for Best Wedding Photographers in Delhi
When marriages are special and auspicious, not even a single moment of it should be left uncaptured. From the opening of those 'Shagun Days' till the reception of Barat; every small to big moments of happiness and joy needs to be imprisoned and somebody who can perform this job in the most suitable way is a photographer. Wedding Photographer Delhi has to be a talented person who understands the significance and purity of every ritual and sacrament performed during a wedding and therefore succeeds in creating a wonderful photo shoot. To locate some of the best Wedding Photographers in Delhi, Getyourvenue.com is your final destination. We specialize in all kinds of wedding arrangements and to deliver the best of our services in a flawless way, we home a team of trained and experienced professionals only.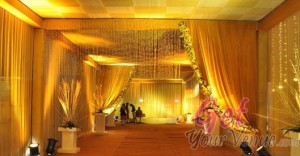 Whether it be your venue, decoration, photography, food, trousseau, packing, make-up, gifts or anything else that is considered as a charm for your wedding day; we aim to manage all of them in a beautiful and sacred way. If you are planning to host your wedding in or around Delhi, then even on the outskirts of this historic city there are numerous venues to choose from. Farms and Banquet Halls on NH 8 tops the list.