Getyourvenue Works on a Budget Plan Before Finalizing the Best of Wedding Venues in Delhi
We understand how difficult it is to choose between so many different
Wedding Venues in Delhi
. So many different aspects need to be considered and analyzed before doing so and therefore we first review your affordability, choice and preferences and then offer you with some of the selected destinations only. Our aim is to transform your vision with such style, elegance and professionalism that you will feel blessed to get your wedding organized by us.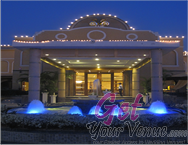 We put in all the efforts to ease out your wedding venue hunt. Moreover, we make sure that your venue seems flawless with great ambience, beautiful décor and the artfully painted walls. We also provide you with the best of caterer for your wedding so the delicacies served are top notch and are served by well trained and disciplined catering staff. As far as our bookings are concerned, we are present both online and offline. We work on an advanced and practiced business model that provides enough information on the internet along with dedicated one-on-one offline support. While choosing one of the best
Delhi Wedding Venues
for you, we work on budget management and then offer you further assistance keeping in mind your date and requirement. Our effectual information works in a plain and simple way to help you choose the most suitable venue for your wedding.