Latkan Love: 11 drool-worthy Latkan designs to personalize your bridal outfits
          2018 is an onerous time for the Indian bride-to-be. On one hand there is the ubiquitous approval of wearing gorgeous ensembles on the big day. On the other, there is the need to stand out from the sea of brides all choosing from the limited choices - shararas, patialas, saris, lehengas or anarkalis.
          Ladies! Worry no more! Here to harmonize pulchritude with your personality are today's innovative Latkan trends. Colorful, sprightly and affordable, they infuse your bridal garb with a zestful appeal. But more importantly, they add uniqueness, originality and character to your overall appearance.
          If the wedding bells aren't around the corner and you still have the time to personalize, here are 11 fabulous Latkan designs that you can add to your ensembles. Whether you enjoy going the minimal route or love an extravagant display of affection, these Latkans designs help you add a little personal flavor as well as reflect your mood & vibe. You can wear them as your blouse tie up, extensions in a saree, waist extensions in your lehenga - just let your imagination run wild!
Personalized Latkans
          Latkans embroidered with personalized messages are "THE" trend in bridal wear. Instagram is full of adorable pictures of brides posing for sprightly selies while flaunting these Latkans. From spreading the wedding hashtag to announcing the dates to letting people know who stole their heart, personalized Latkans are helping to-be-brides share their thoughts and convey what they're feeling. So if your heart is bubbling with happiness & excitement about your big day, then go ahead. Use these Latkans to express yourself.


Pearl Latkans
A special day calls for a special outfit with an equally special accessory. When it comes to richness, no other Latkan design comes close to pearl Latkans. Equal parts dramatic and playful, it looks stunning and spells classy like no other accessory. If you're looking for something to dazzle up your sari blouse or dupatta, look no further than pearl and stonework Latkans.
Bangle Latkans
              As a child, you've woken up to their jingles. As a teen, you've gone bonkers at their sight. And as a woman, you've adorned them on your wrists. Girls! With in today's busy schedules and hectic lives, we've replace bangles with jeweled bracelets and designer watches. So, why not use your wedding lehenga to flaunt those precious circles as a reminder of the little girl you once were?
Floral Latkans
          At GYV, we've always admired the use of flowers for weddings. Flowers have assisted designers to showcase their talent, and now they can help you accentuate your attire. If you seek a simple accessory that can add glam up your bridal avatar, then floral Latkans is the answer. Frisky, fancy and fuss-free, these Latkan designs strike a balance between elegance and opulence.
Dreamcatcher Latkans
          If you're looking for bespoke pieces to go with your bridal attire, then choose dreamcatcher Latkans. There is something inherently soothing about these danglers that are often mistaken for bangle Latkans. Popularly used as good luck charms dreamcatchers can be used to add a hint of fun & frolic.
Customized, hand-crafted Latkans
          Rescuing brides from the depth of unoriginality hand-crafted Latkans are usually made to add a pop of color to dull ensembles or match the motifs on lehengas.
Pompom Latkans
          Another type of Latkan design running high on the bridal chic-o-meter is pompom Latkans. Woven with fine silk threads, these are light, comfortable and super trendy. Need something to add a finishing touch to your lehenga? Choose pompom Latkans. Available in a host of colors and varieties, these complement your ethnic ensemble perfectly. And the best part, these won't increase the weight of your lehenga.
Ghungroo Latkans
          If subtle isn't your jam, choose a ghungroo Latkan for your outfit. These beautiful tassels add charm to anything that they touch. With their enchanting music, they'll let everyone know that the bride is on her way.
Bird Latkans
          With all the opulence added to your ensemble, sometimes it's easy for a shy bride to lose her inner self. Well, here to help every such bride spread her wings bird Latkans. Adding a hint of innocence these cute, colorful and soft Latkan designs are ideal for the bride who likes to cherish her individuality beneath all the grandeur and splendor.
Kaleera Latkans
          If you thought kaleeras are only meant for your wrists, then you are pretty wrong. Among other contrivances, Kaleera Latkans are all the rage in Indian weddings these days.  And why not? They add to the quintessence of being an Indian bride, and there's no denying they are lust-worthy.
MDF Latkans
          When it comes to the beauty of a wedding outfit, it's all in the little details. Here to give you a break from dangling threads and flowing fringes are MDF Latkans. Unlike other Latkan designs, these consist of customized wooden shapes. Looking chic and scoring high on the trend curve, they're generally used to add a touch of depth to an otherwise light ensemble.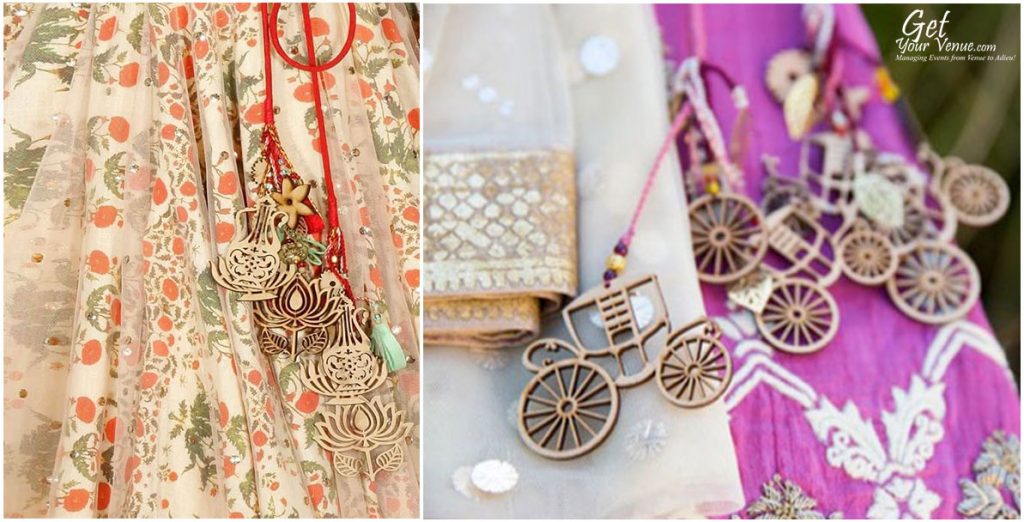 If you're a bride to-be that needs professional help with her wedding outfit, let our bridal makeup artists guide you. Call (+91) 8800093444 and we'll get in touch with you.