The sprightly wedding celebrations of Kamesh & Varsha
Love has always changed people's lives for the better. For some couples, love has breathed fresh air in their quotidian routines, while for others it has brought new vibrancy in their colorless lives. But what if a couple is already a convivial pair? Well, then it brings us a beautiful 2-states wedding that involves passionate courting, an enchanting photo shoot, enriching cultural ceremonies & a whimsical weekend wedding where everyone from the families to friends had a blast!
Meet Kamesh Lodha, a chartered accountant, avid traveler, and a talented dancer from the bustling city of Mumbai.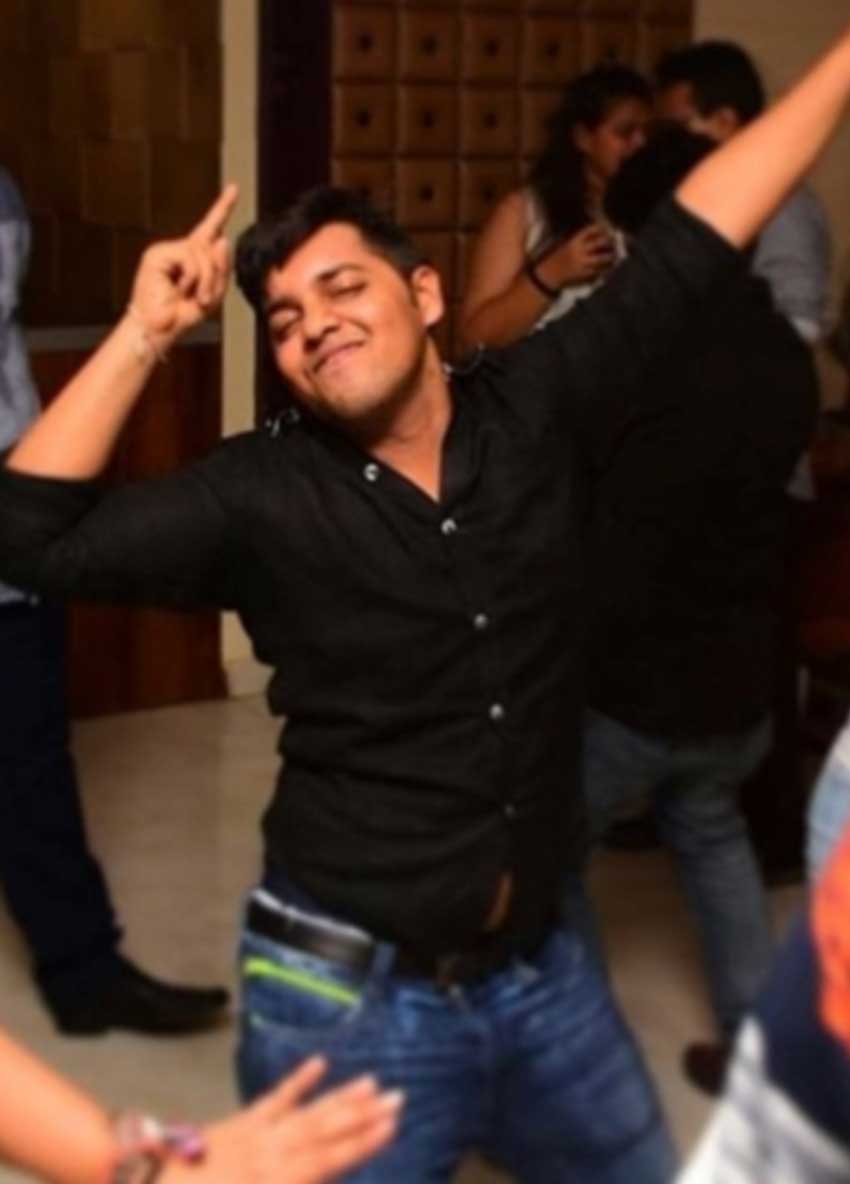 And Varsha Kundalia, Company Secretary, from the bucolic city of Guwahati.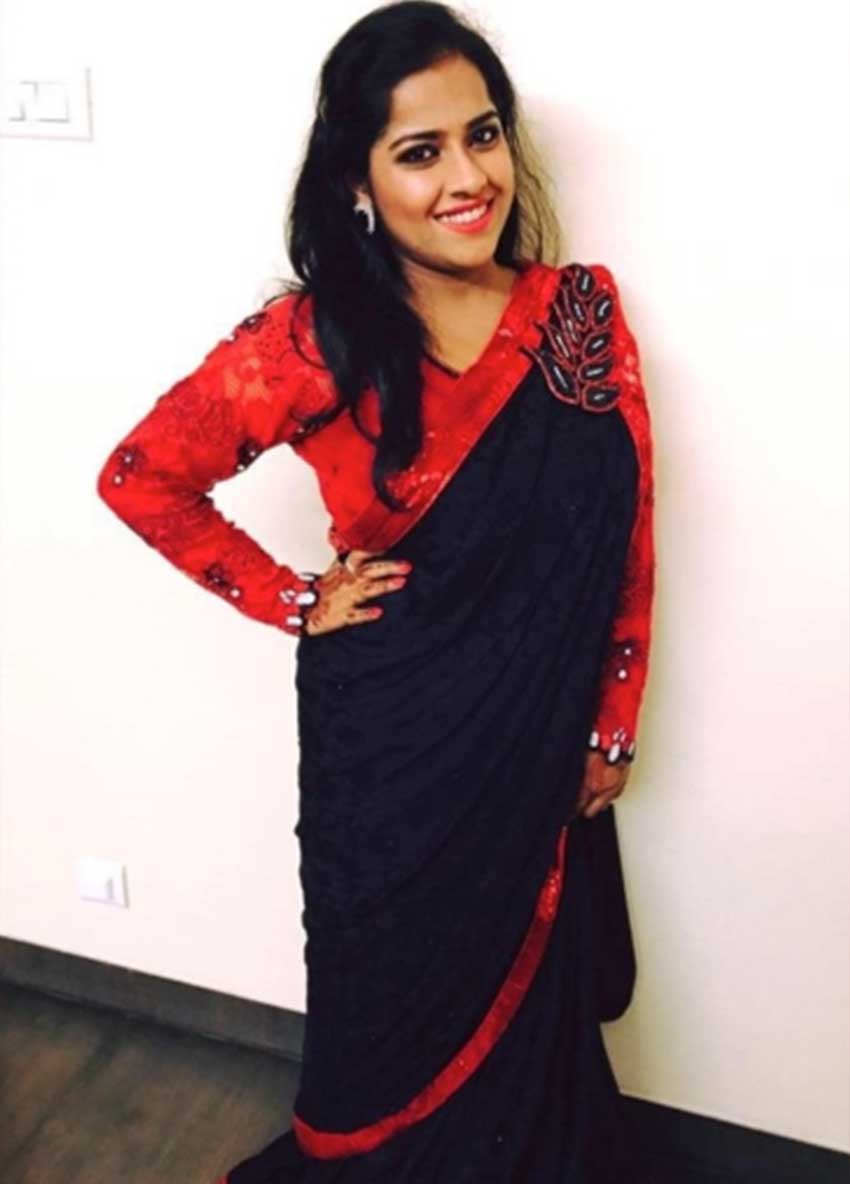 This couple tied the knot with great passion & splendor, so much so that we at GYV decided to share their wedding details with you.
How they met
'Arranged by God to fall in love' is what best describes the couple's first encounter. Destined to be man & wife, the two met through their families in mid-2017. Left completely spellbound on seeing Varsha for the first time, Kamesh was mesmerized by her beauty while Varsha was attracted to his simplicity & down-to-earth attitude. Cupid's arrows had struck them both!
What followed for the next few months is the best time of every relationship – romantic dates, fervid chats & pleasant trips to each other's hometowns. Getting to know and understand each other better, their passionate romance gradually blossomed into a beautiful relationship.
Engagement
November 2017 is when the couple began their wedding celebrations with a beautiful roka-cum-engagement ceremony. Making a grand entrance, Varsha looked magnolious in a peach gown while Kamesh looked dapper in a floral print outfit.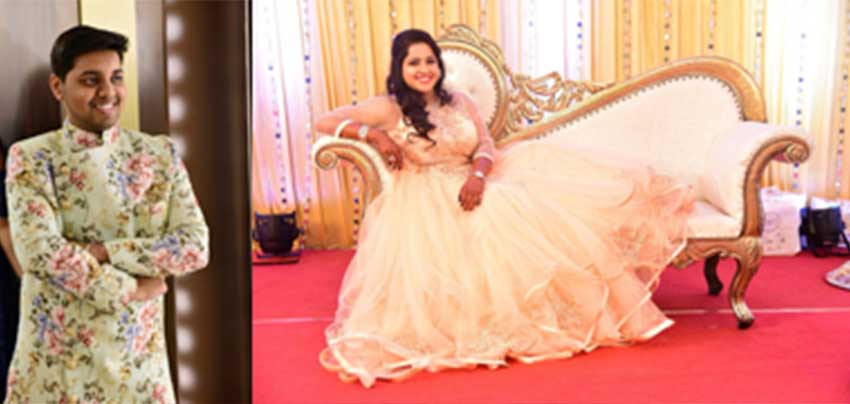 In a venue with pleasing aesthetics, the subtly rich colors of the furnishings blended effortlessly into the background.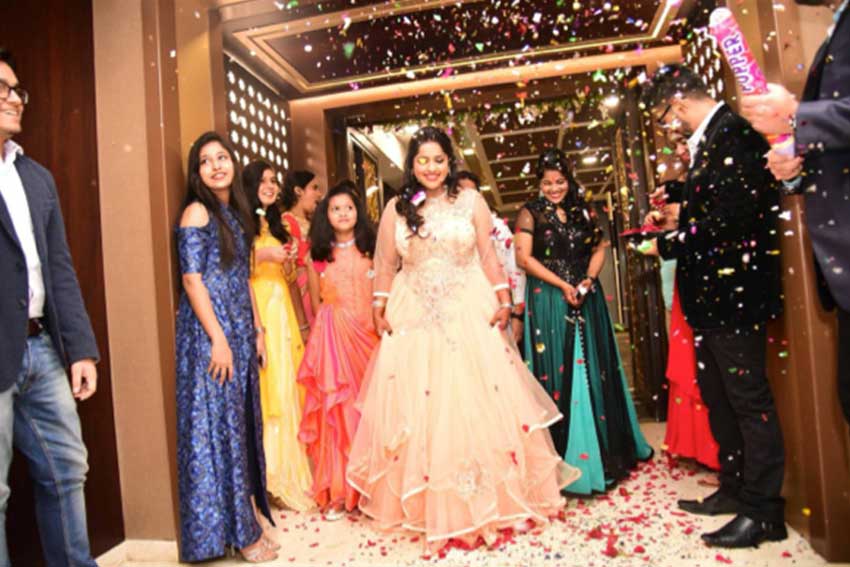 Buzzing with excitement the dopamine levels of the duo went all silly. That's the only way to explain these adorable, quirky pictures.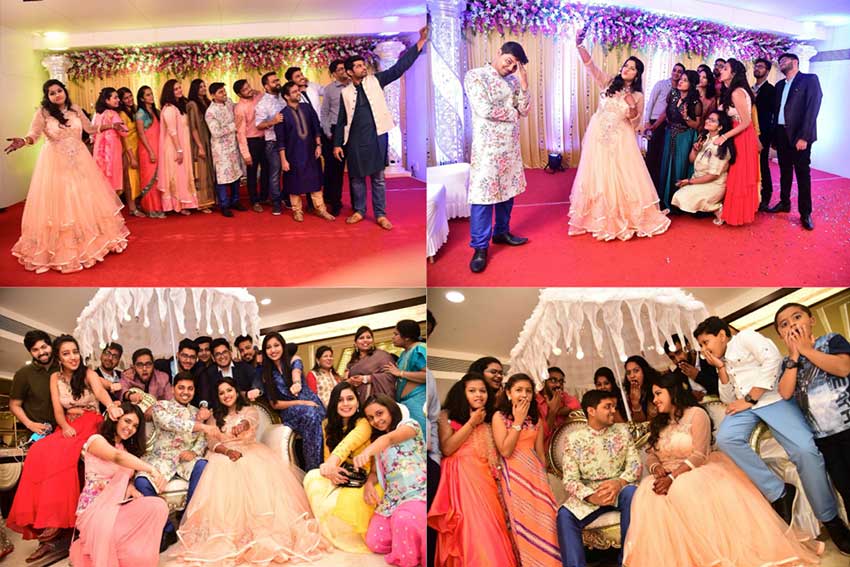 Amidst close friends & relatives, the two exchanged rings.
Pre-wedding Photoshoot
KMJ Productions did a fabulous job creating precious memories of the couple who looked resplendent together. For the background, they chose the picturesque landscapes of Guwahati. From awe-inspiring vistas to whimsical foliage to rocky riverbeds Guwahati has it all, the perfect pre wedding venue. Donning coordinated outfits, the two enjoyed each & every moment of their photo shoot.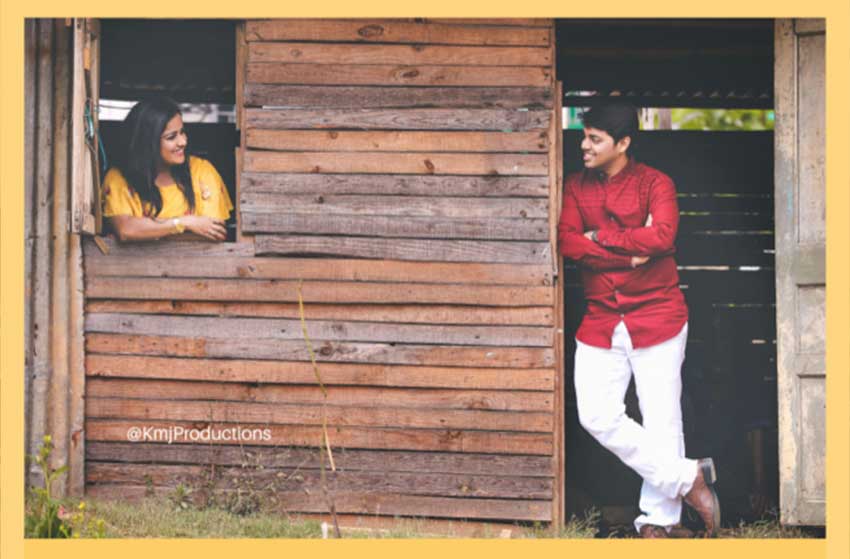 These glamorous captures show why red & black can never go out of style!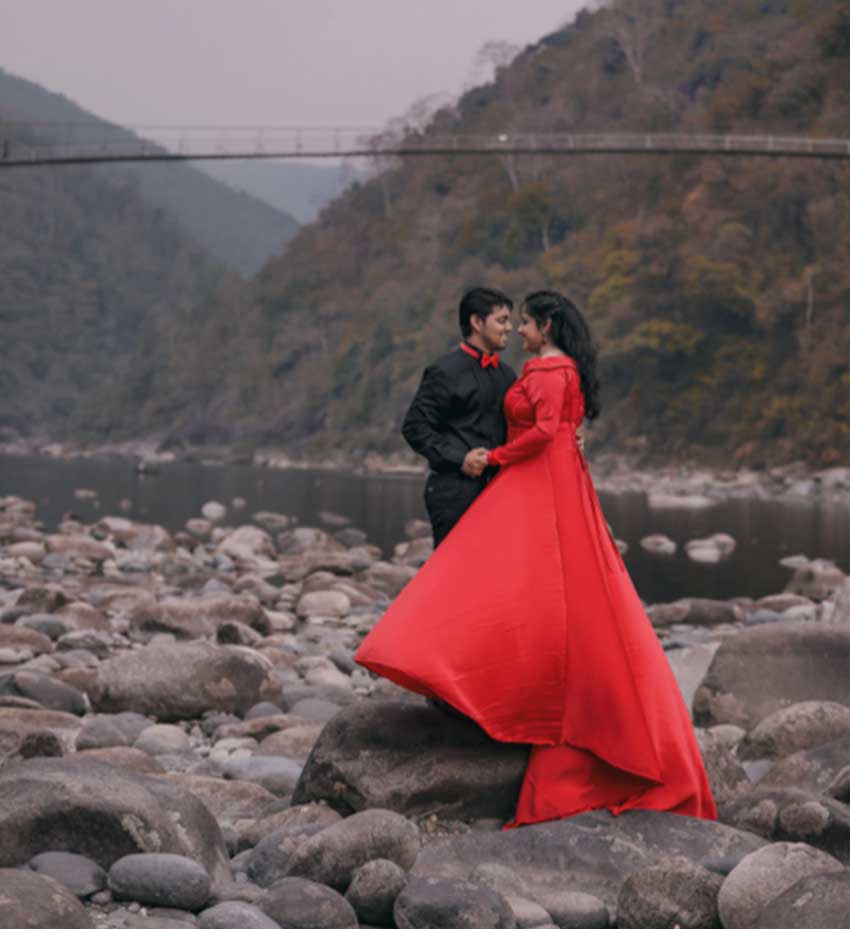 Ladies Sangeet
 Approaching the big day, the families hosted an intimate Sangeet ceremony in early April at Guwahati. Soon-to-be bride Varsha went with a navy blue top, turquoise lehenga and a neatly-flowing pallu/dupatta. Accentuating her beauty was a floral maang tikka, necklace and dangle earrings. On the other hand, Kamesh looked princely in a sapphire-blue kurta, white pajama, and a floral-white jacket. A mauve background embellished with hot pink and white florals, quirky props gave the venue a grand look.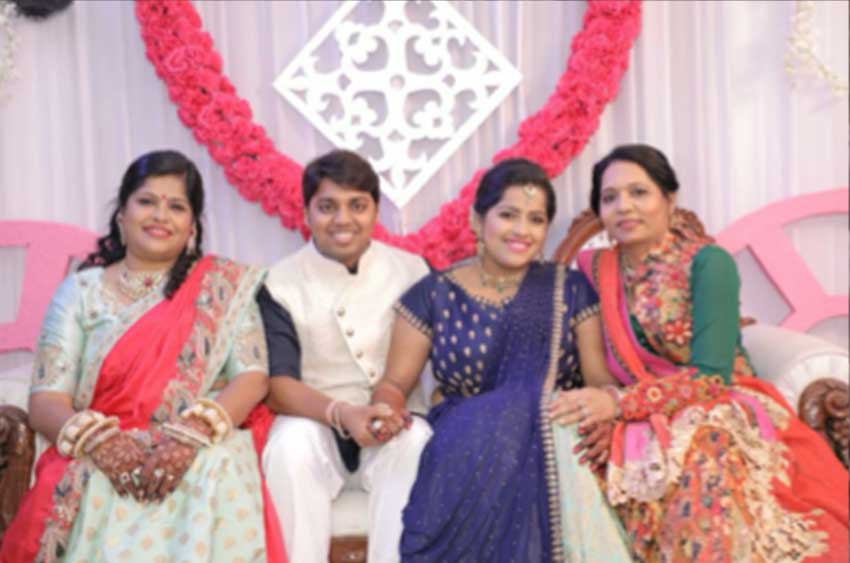 East meets West -Cultural get-together
This wedding commemorated the union of not just two people, or two families, but two different cultures. Unlike traditional inter-caste arranged marriages where people from different cultures hold separate functions, here the two families came together to give their blessings to this couple – a positive sign in India's still conformist culture.
On 17th April 2018, in an intimate get-together, Kamesh & Varsha warmly received guests from both sides. The lavish premises of Hotel Deltin in Daman, one of the best wedding venue made for an elegant setting where the two posed for some adorable pictures. The to-be-bride looked splendid in a pale purple Mekhela Chador (the traditional Assamese dress) with golden embroidery, and matching jewelry; while the groom-to-be looked handsome in an orange kurta and pale-white dhoti.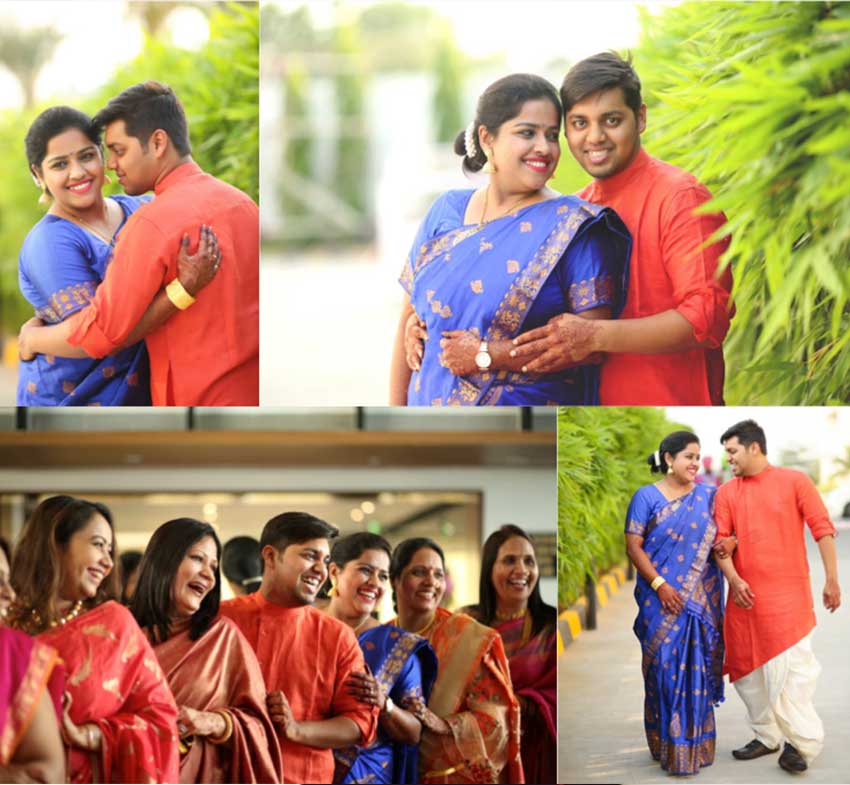 Mehndi function
After a brief interlude, guests were welcomed to a Rajasthani leheriya-themed late-noon sangeet. Floral décor, ethnic umbrellas, colorful drapes and funky props - the Grandice ballroom at The Deltin was the embodiment of effervescence and vibrancy.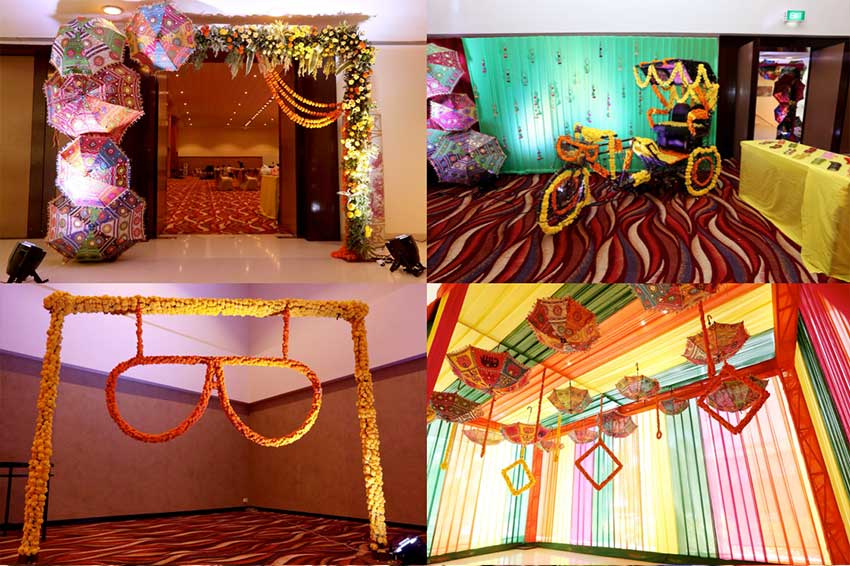 In a teal lehenga with light floral embroidery and a red dupatta, Varsha was at cloud nine, gleefully posing for the cameras, with family & friends.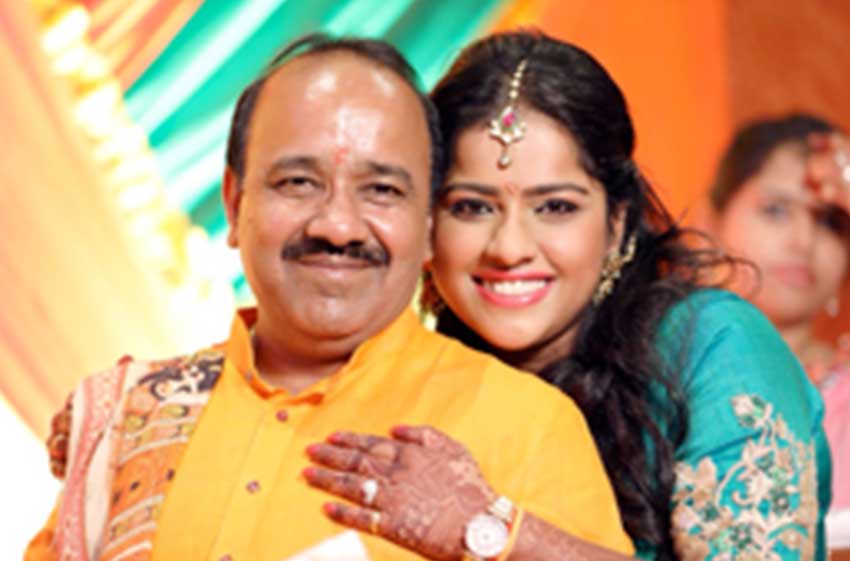 Following in her goofy footsteps was Kamesh who looked quite spiffy in a shiny sherwani.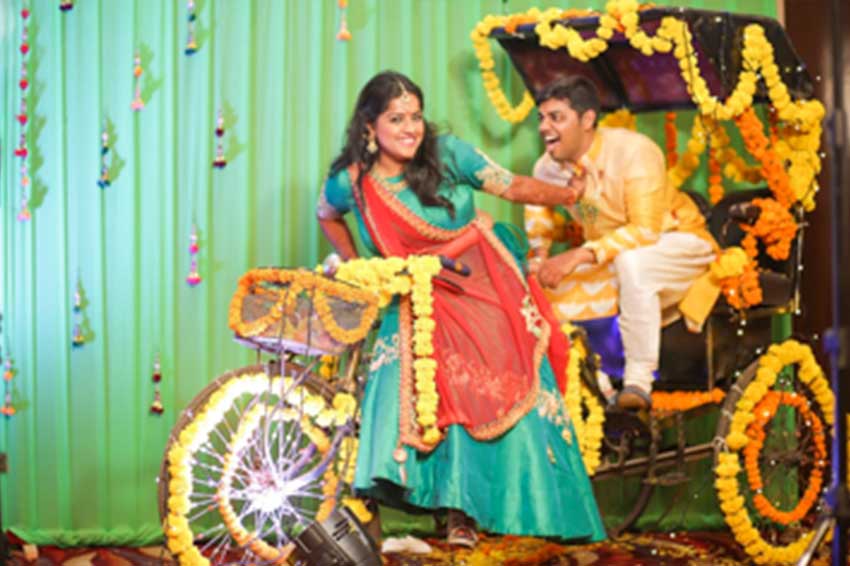 17th of April also happens to be Varsha's birthday. To make the day special, Kamesh had earlier snuck into her bedroom and left a cute surprise for her to discover.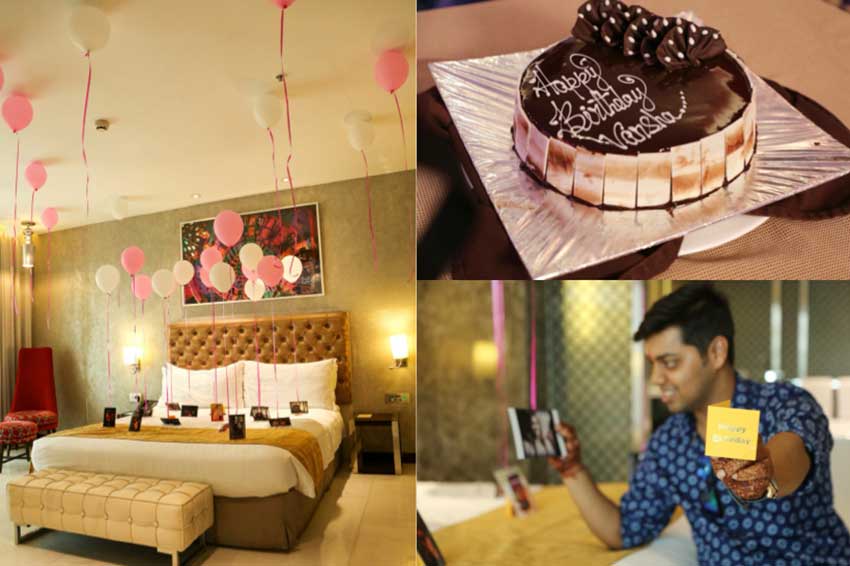 No birthday is complete without some fun-filled festivities. Guests were invited to the Gala night where Varsha's birthday was also celebrated. For the evening, she went with a sea green gown embroidered with gota patti, while Kamesh chose a greyish black tuxedo. Wise choice, Mr. By the looks of it, the two picked 'princely' as the dress code for the celebration.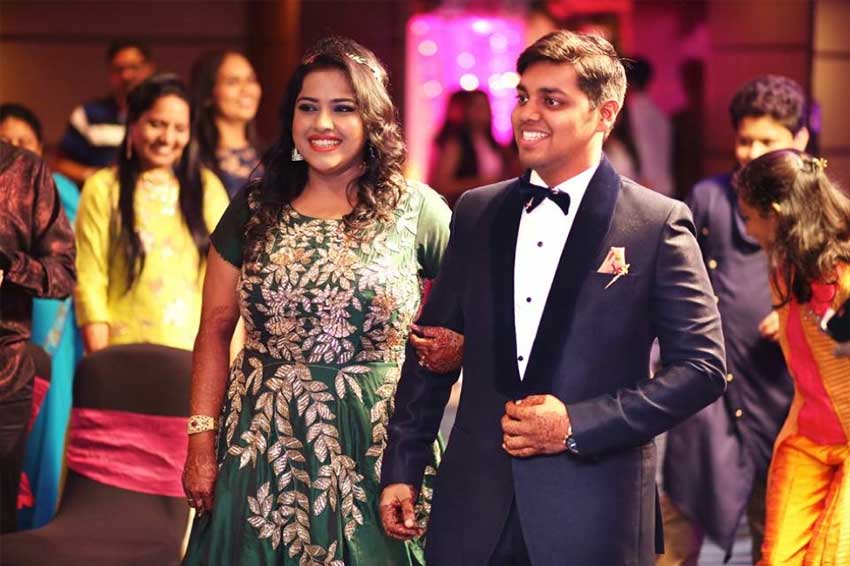 Some of the cutest pictures from the evening included the blissful birthday girl cutting the cake with her dad, the duo happily dancing & swaying to the music, and a cozy snapshot of them sharing some private moments.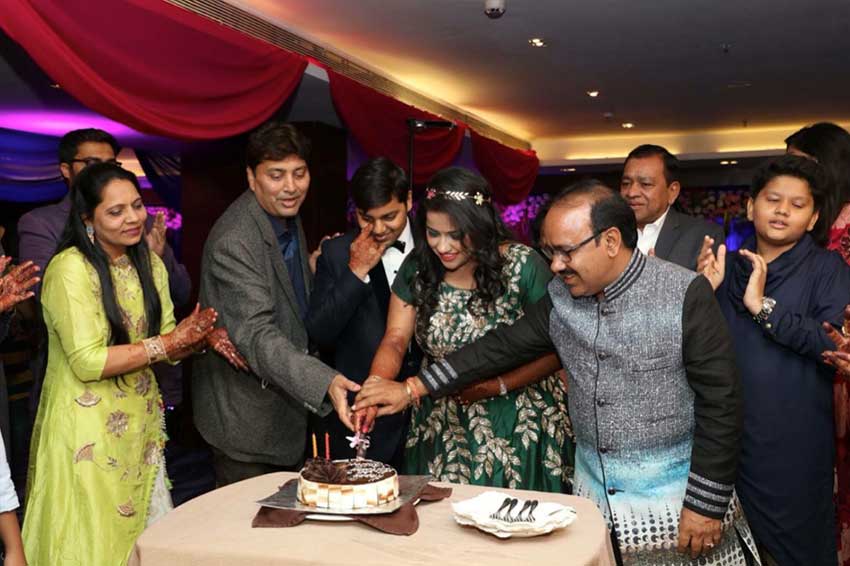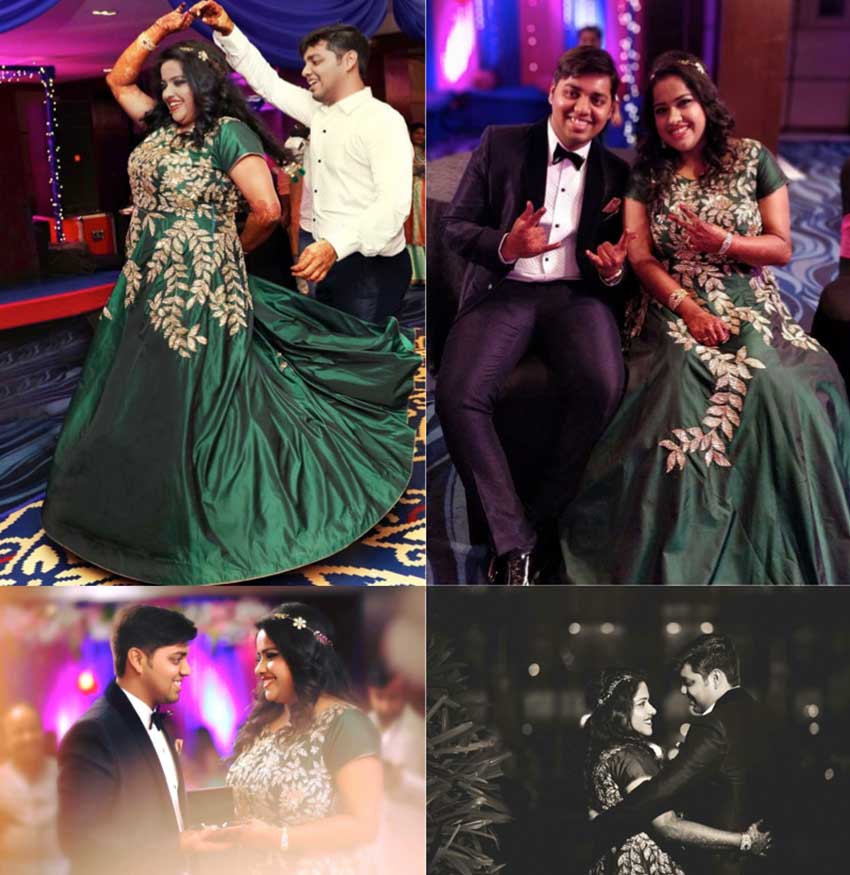 Pool party
The morning of 18th brought an aqua-themed pool-party celebration. What we loved about this celebration was how effortlessly the hotel's resources were fused with the decor, using nautical-themed props, florals in abundance and keeping the whole color palette on the turquoise side.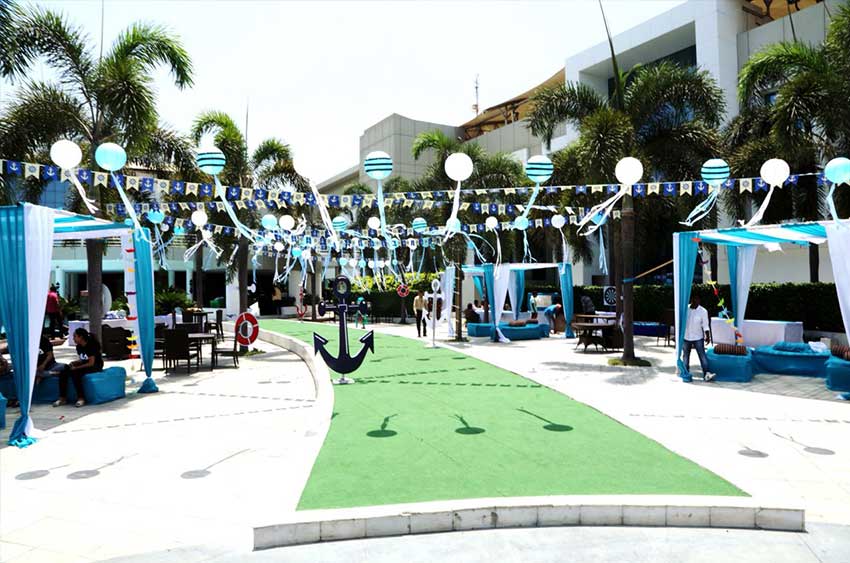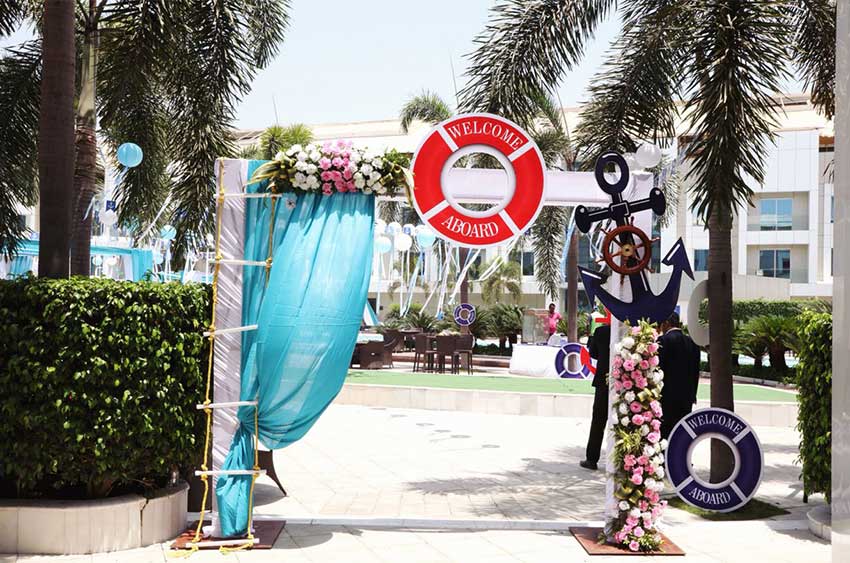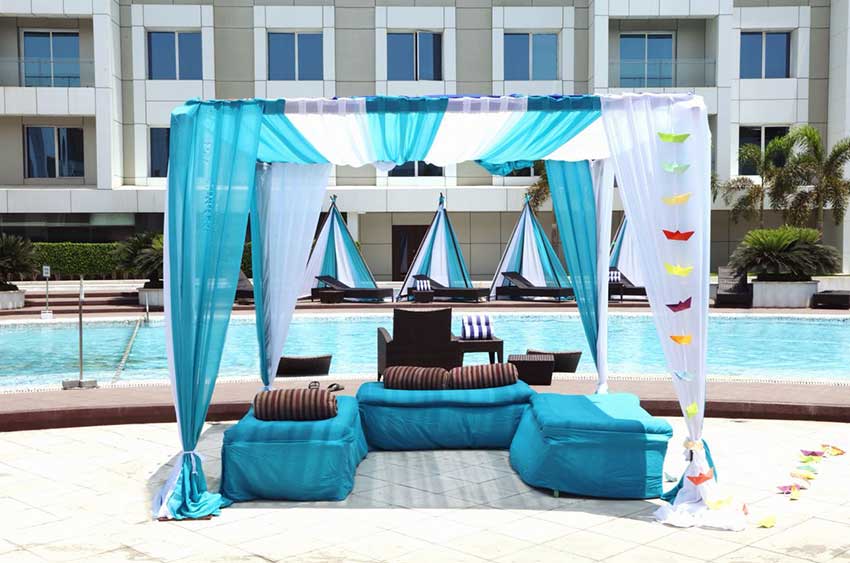 Sporting a funky look with a cyan colored sari and a flower tiara, the life of the party Varsha learned matched steps with her talented fiance showing off his dancing skills.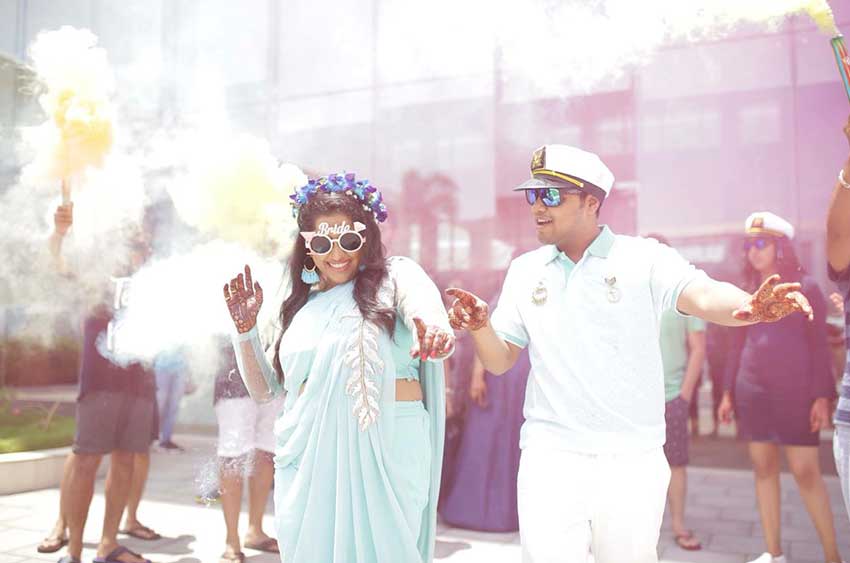 Later in the evening, she changed to a multi-colored lehenga draped in a sari-style for the mehndi cum pooja ceremony and posed for the cameras. This girl knows how to par-tay with her customised blouse "Kamesh Ki Dulhan"!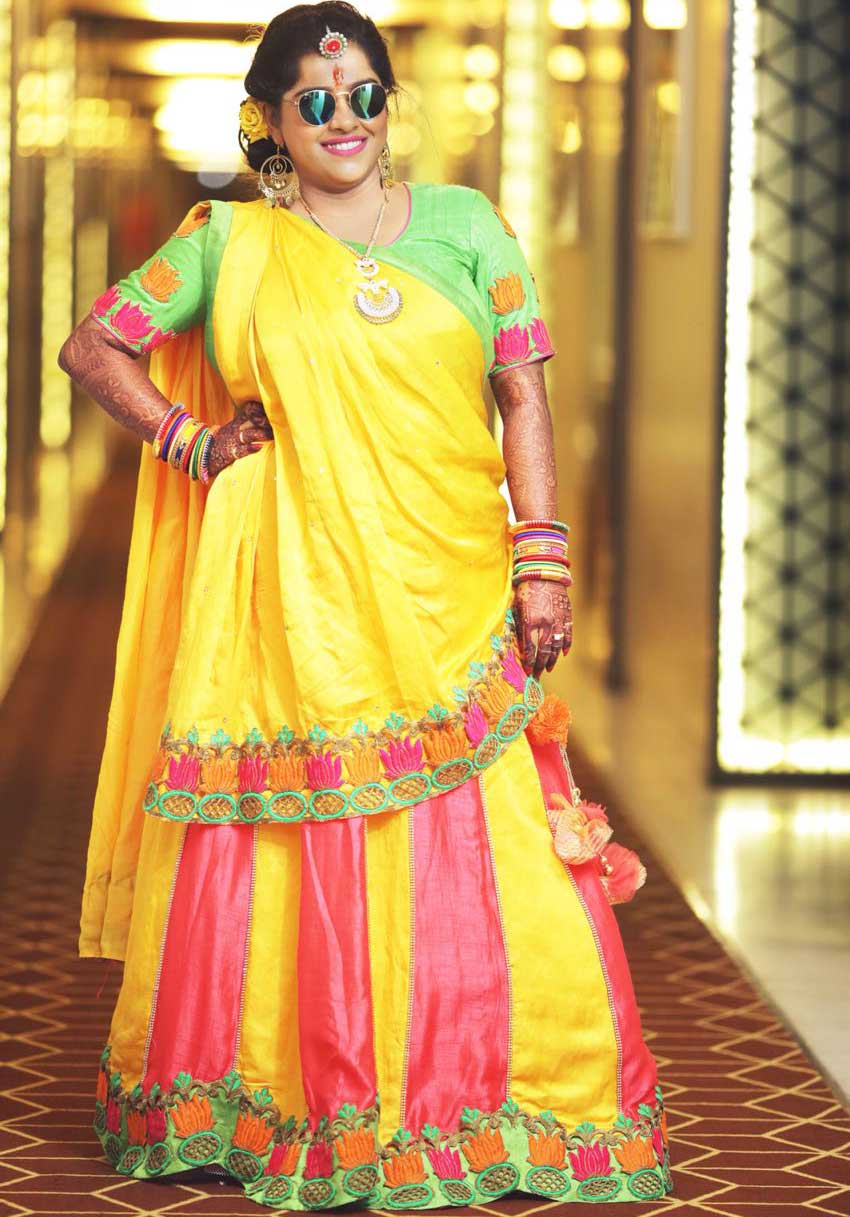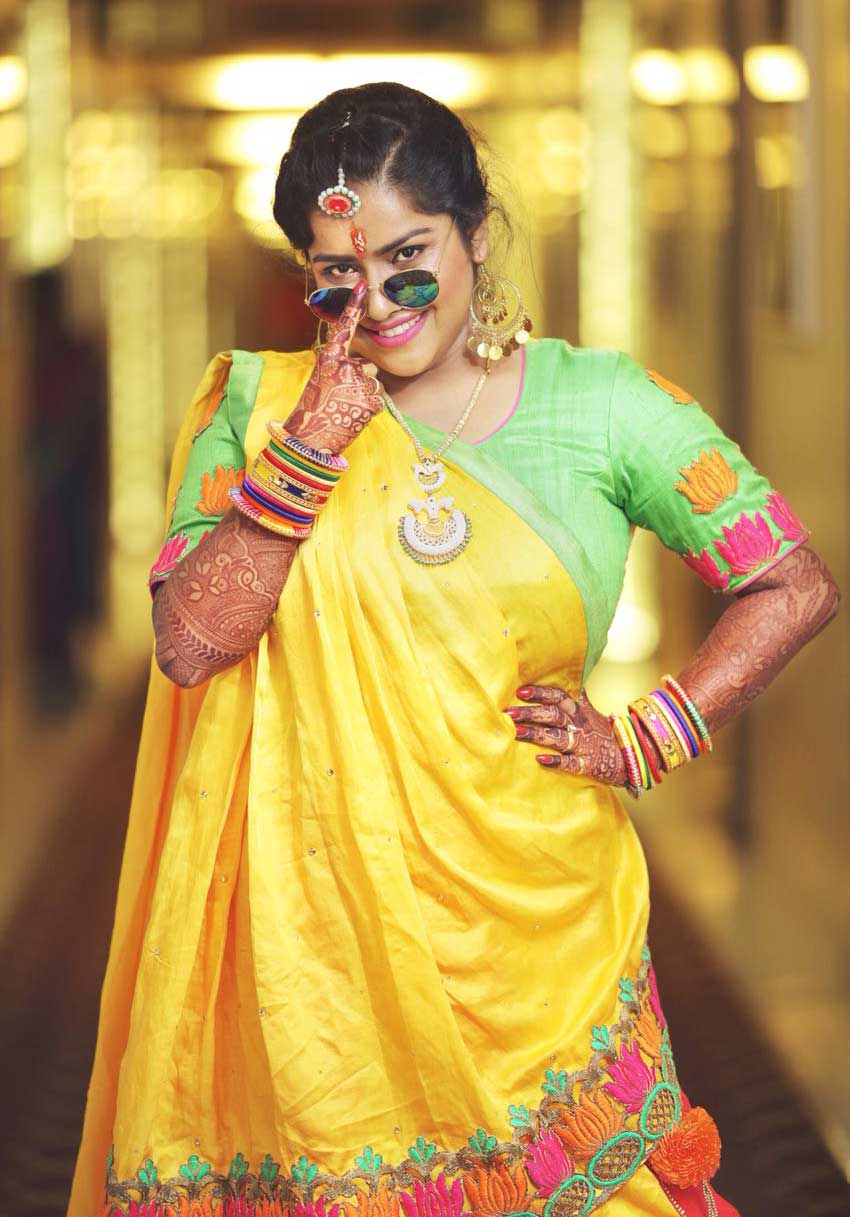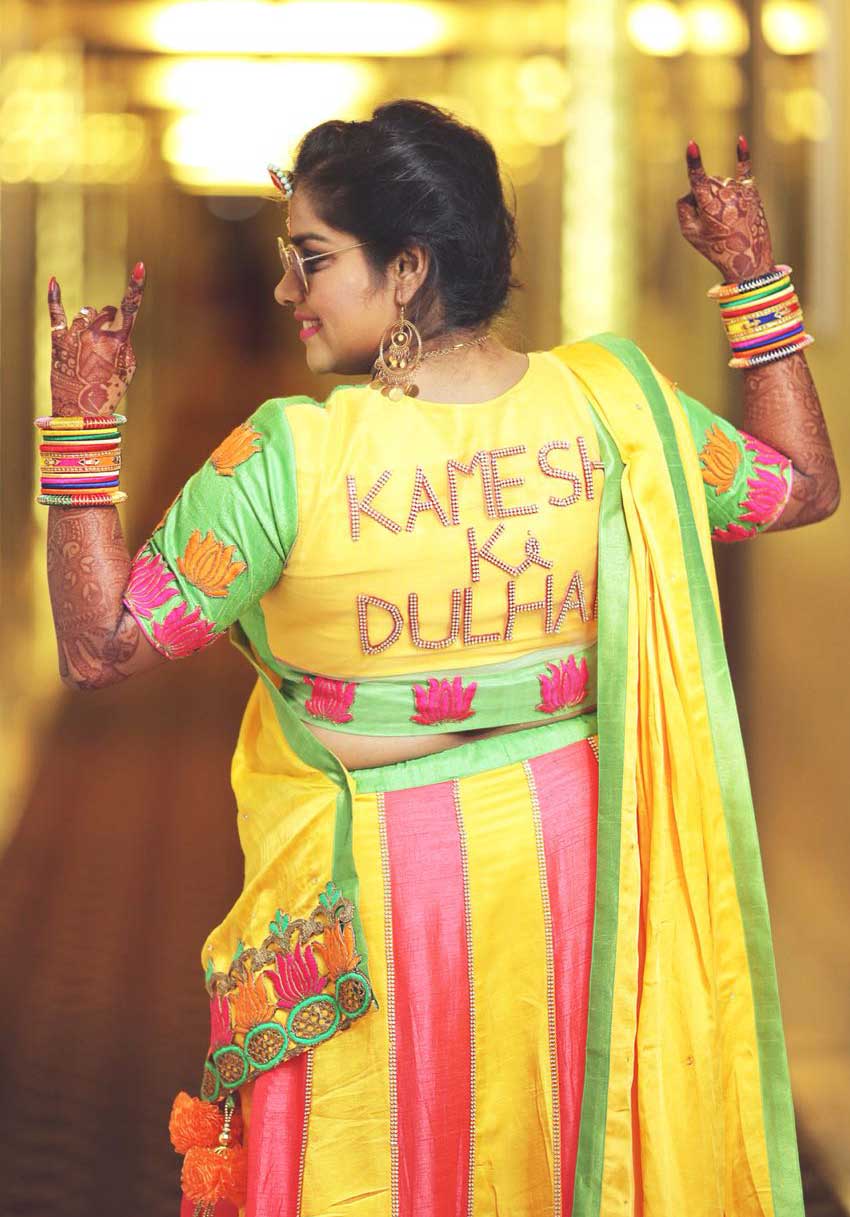 Miss Kundalia, Y U NO do the dab? Oh wait, she does!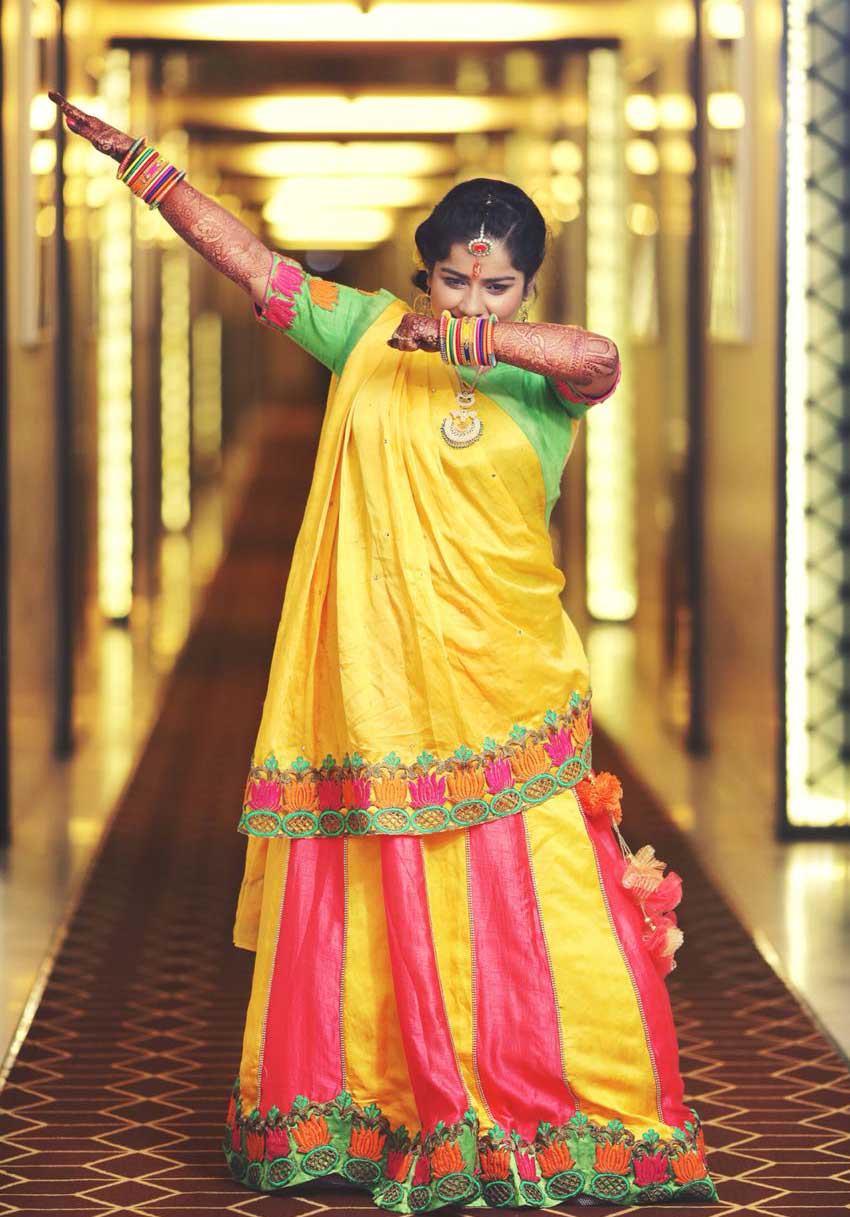 Bollywood-themed Sangeet
A fun-filled Sangeet where everyone participated with fervor, the effusiveness at the ceremony was aggrandized by the opulent interiors of Hotel Deltin. Amidst lustrous chandeliers, rich drapery & lavish furnishing, the couple created more memories!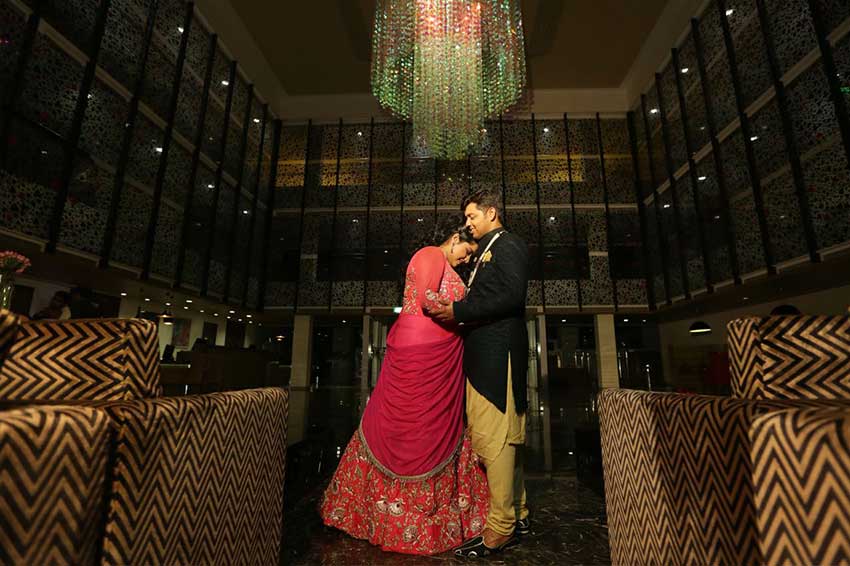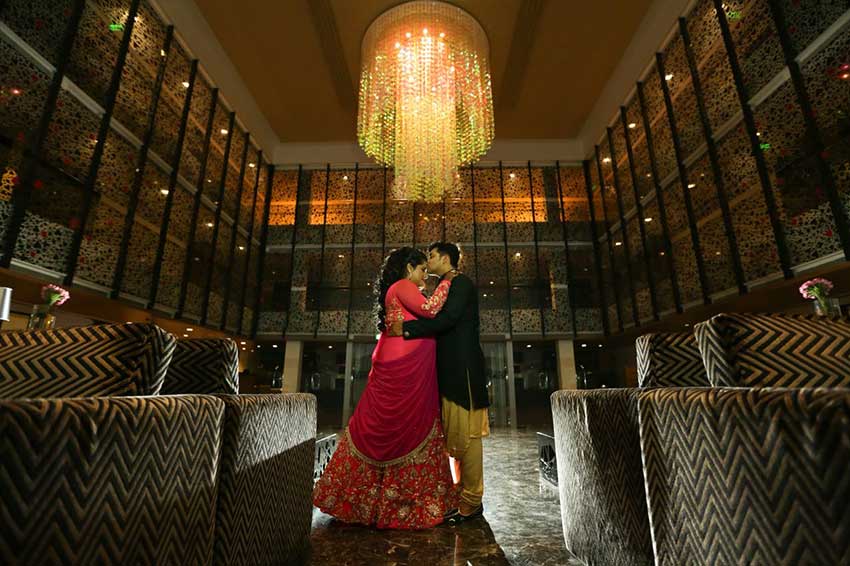 Varsha's full-sleeved hot pink lehenga was glimmering with gota patti. She fashioned a side-parted curled hairstyle which made her look even more interesting. The lady wore a beautiful necklace and earrings that complemented her ensemble & raised the oomph quotient.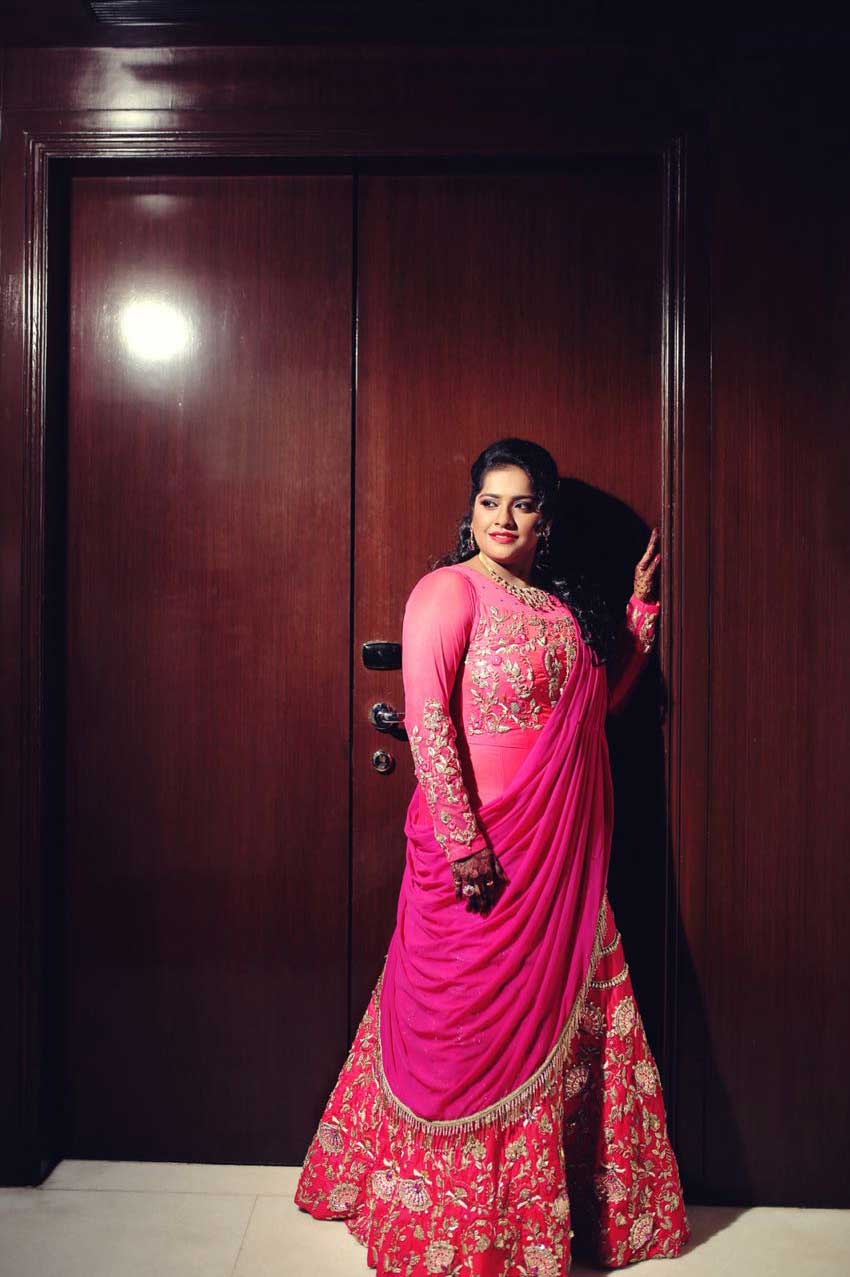 On the other side, Kamesh looked no less than a royal prince in a Sacramento green achkan decked with gilt buttons, matching mojri, and a classic moti mala. Together the two looked a match made in sartorial heaven.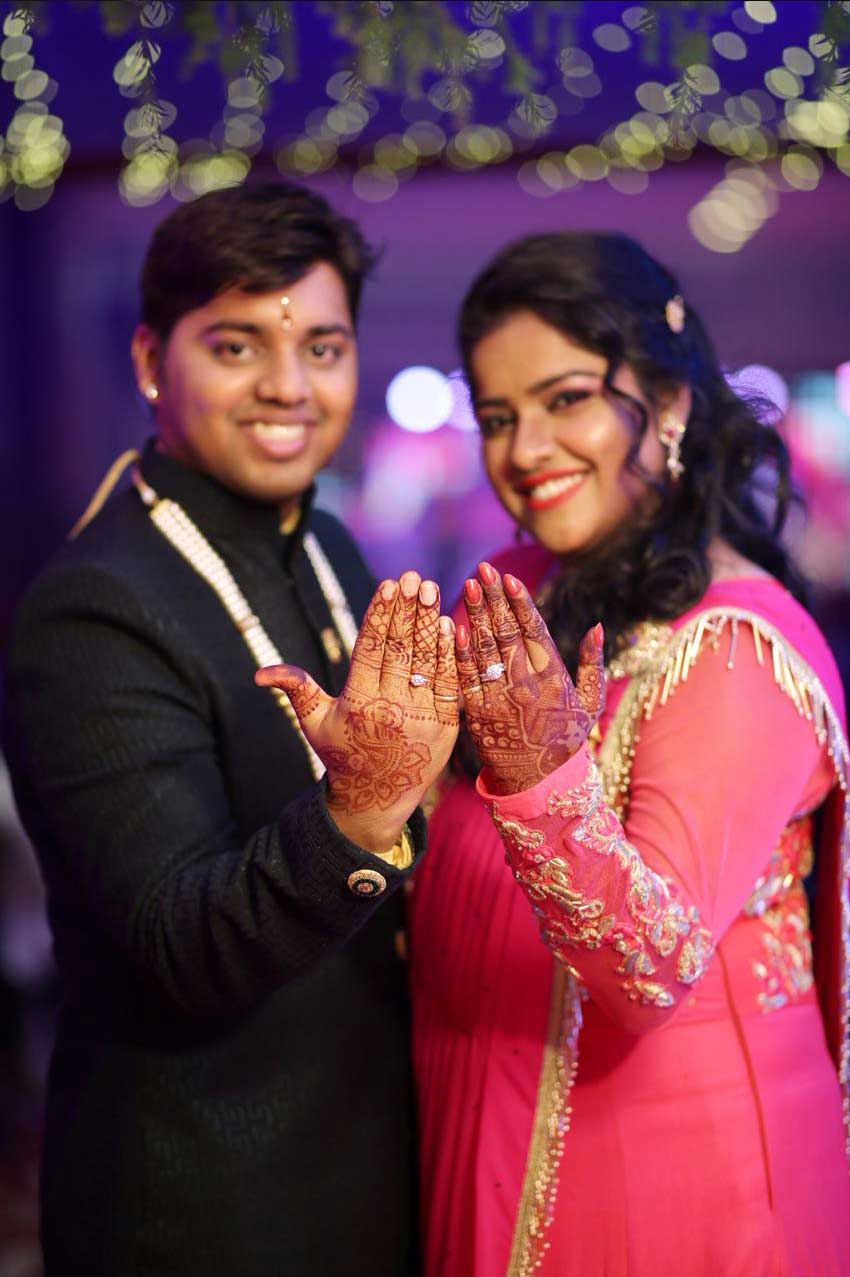 Everyone partook in the photo session. Right from Varsha's adorable sister …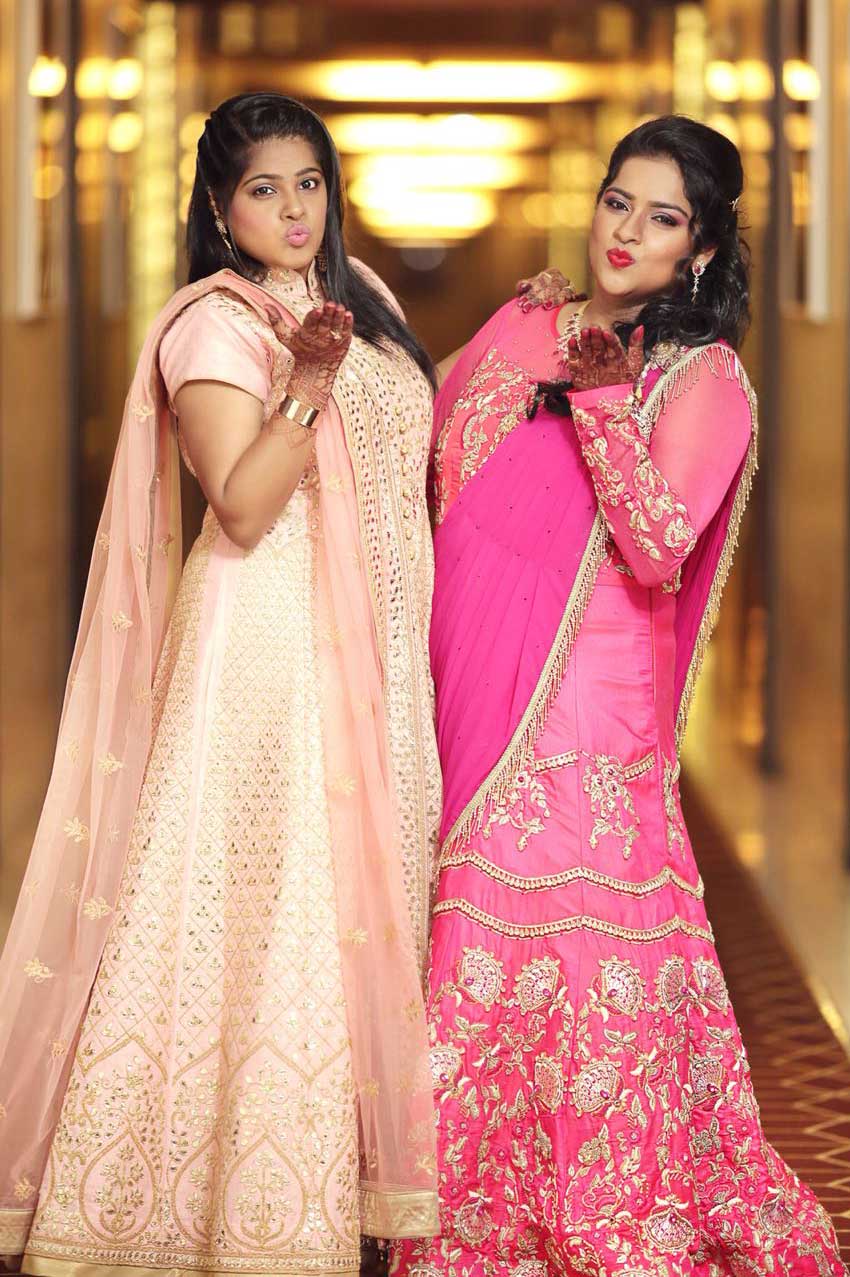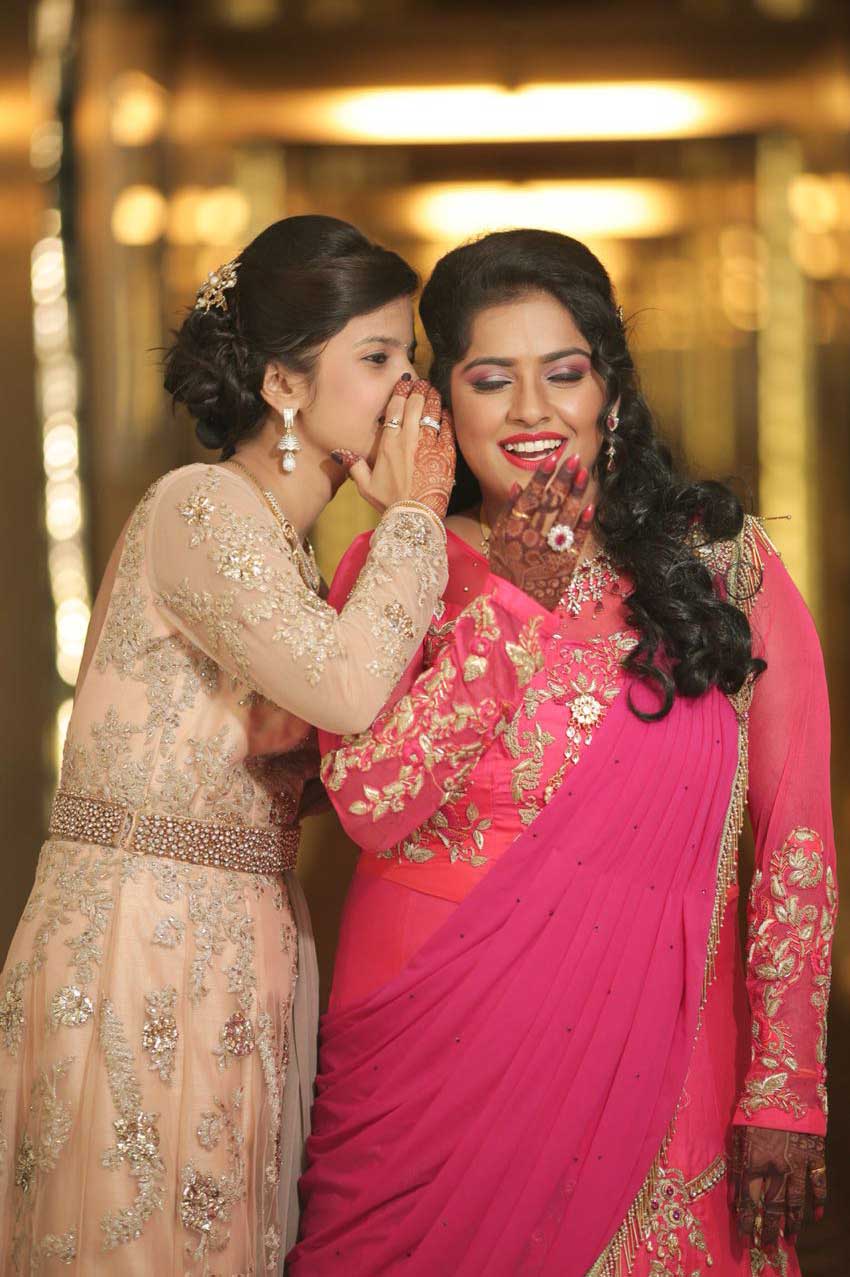 … to the girlfriends who together posed for some sprightly photos!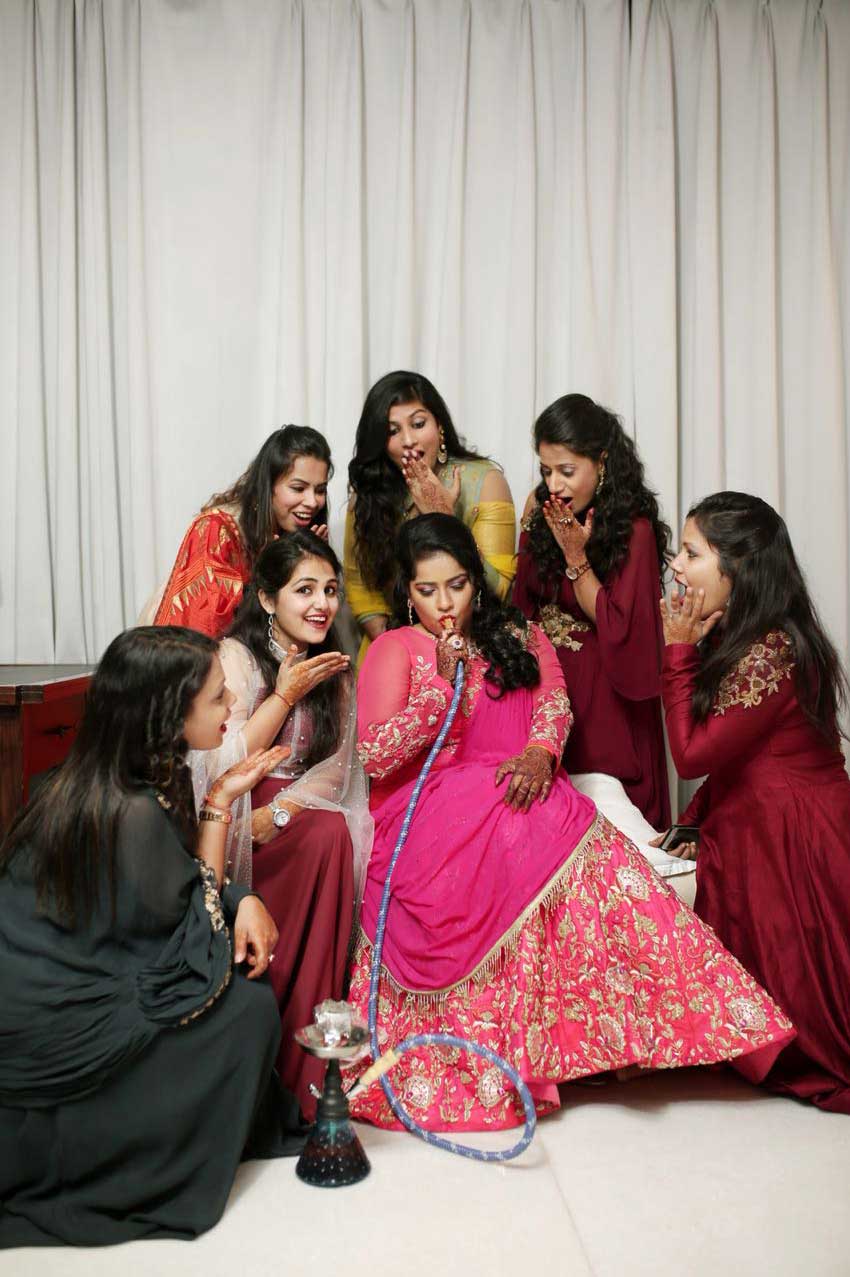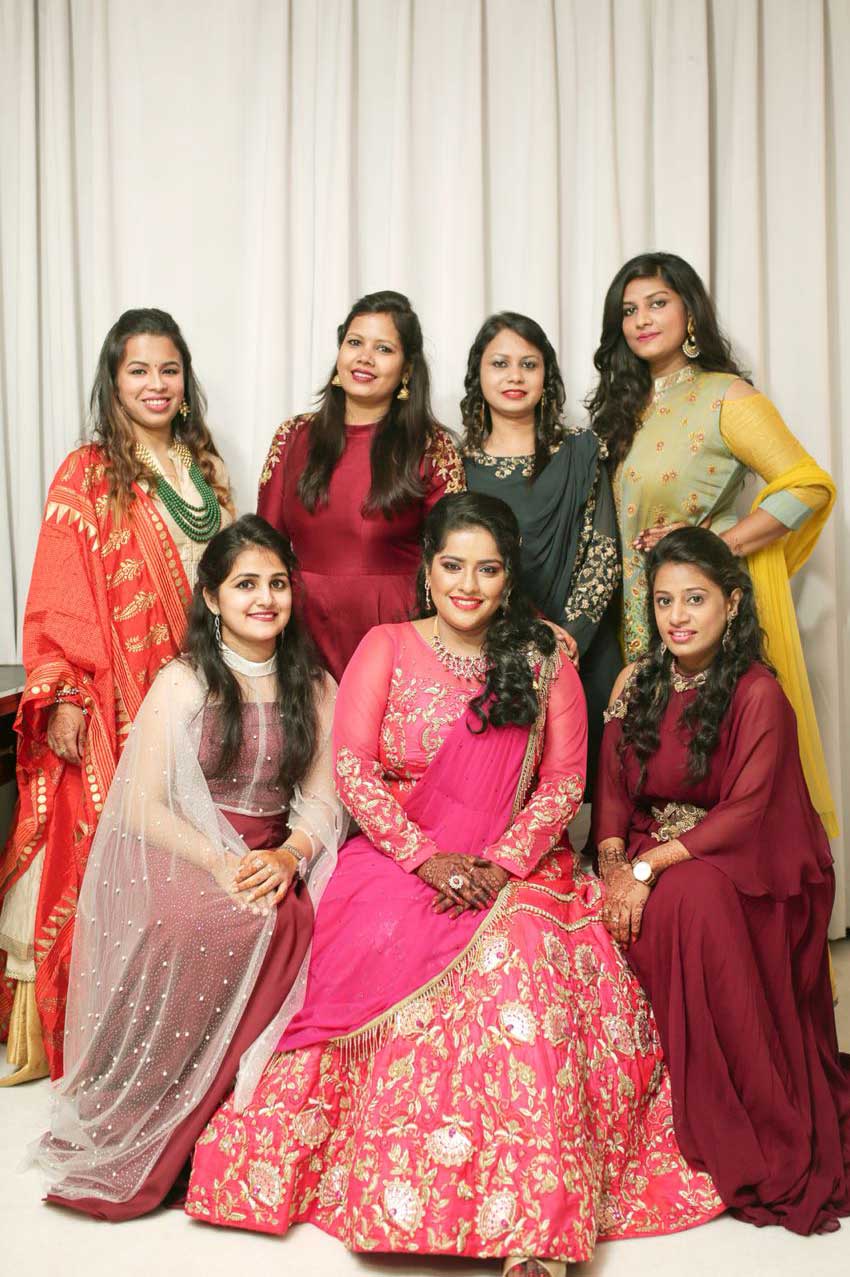 Even the father of the bride, Mr. Kundalia broke the slew of appearances in Indian wear, and poised for some family photos in a good ol' tux!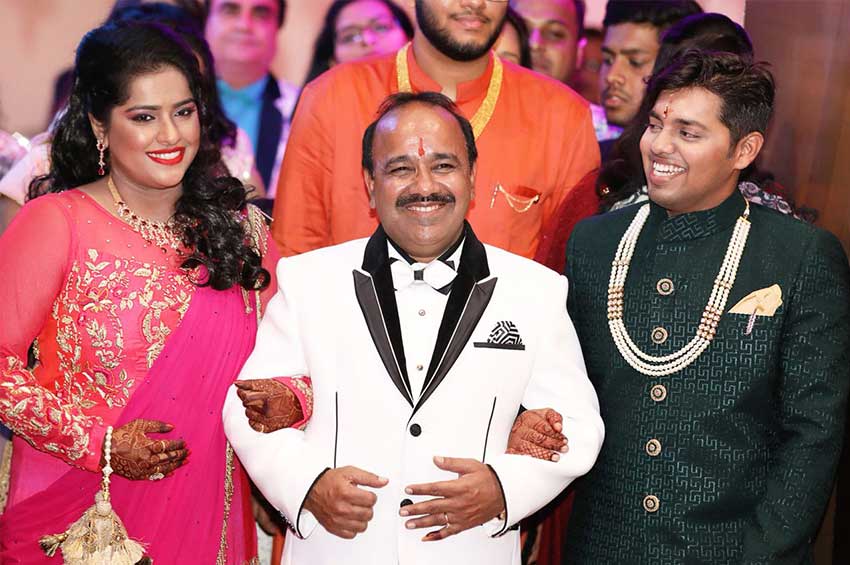 Wedding
The crème de la crème of all celebrations, the wedding was celebrated on the 19th, in an exceptionally decorated open area. Frisky florals, warm lights, verdant lawn, and a cool breeze – what a sight to behold!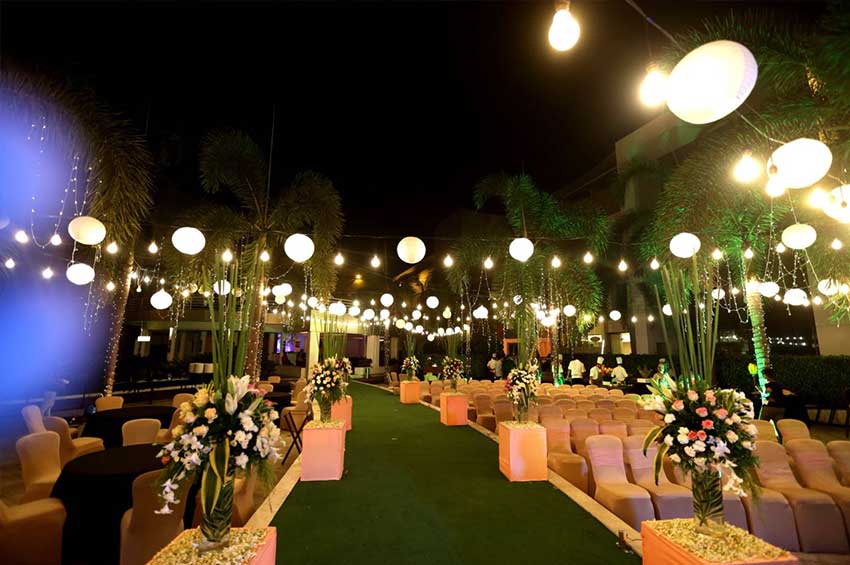 Special mention goes to makeup artist Vishal Samuel who did a praise-worthy job on the bride!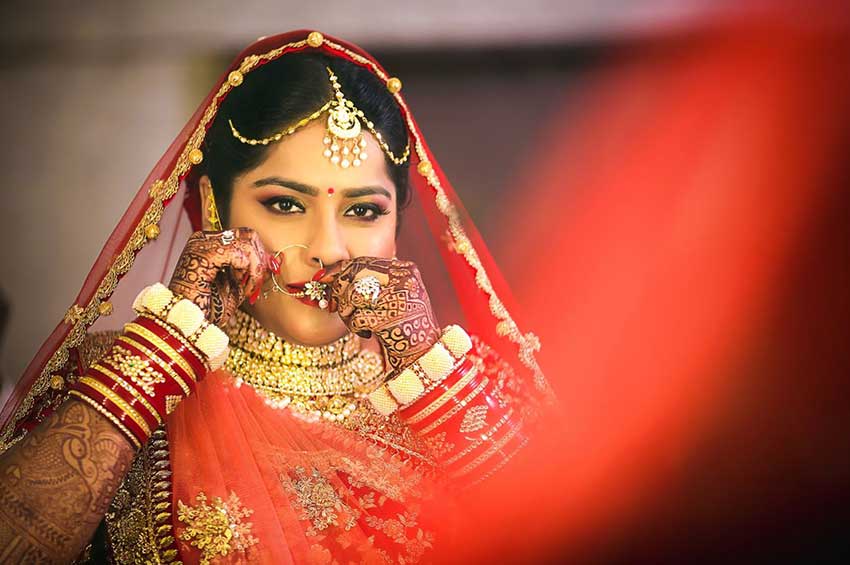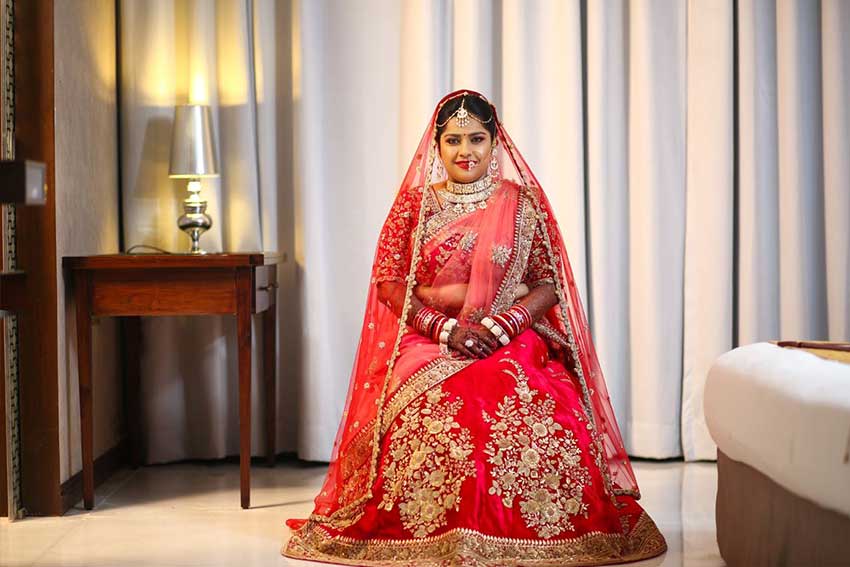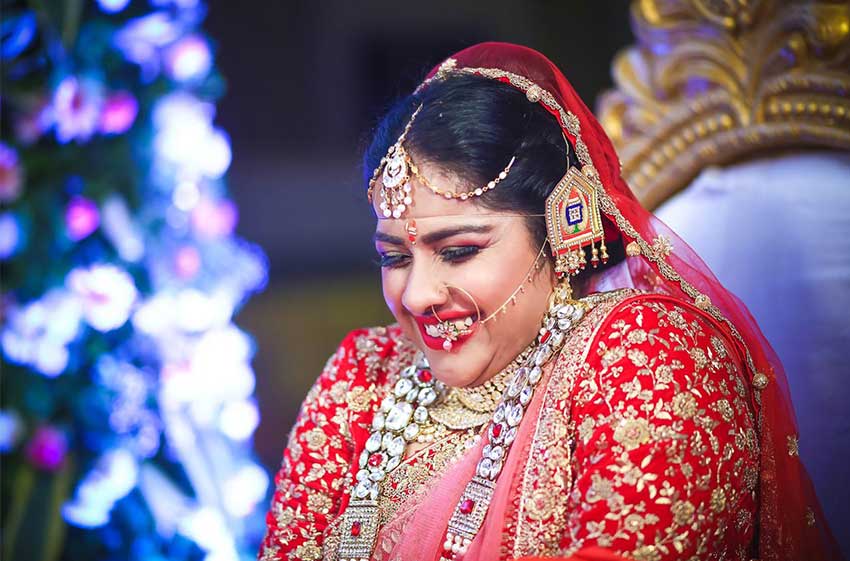 There is no day bigger at a wedding celebration than the main event itself. Nothing is as important as making the memory of the pheras exemplary, which is why Ms. Kundalia needed a bridal lehenga to do that memory justice. For her big moment, she chose a ___ colored lehenga by designer Saroj Jalan. Dressed in ___, the bride looked simply sublime!
Not to mention the spitting image of her mother.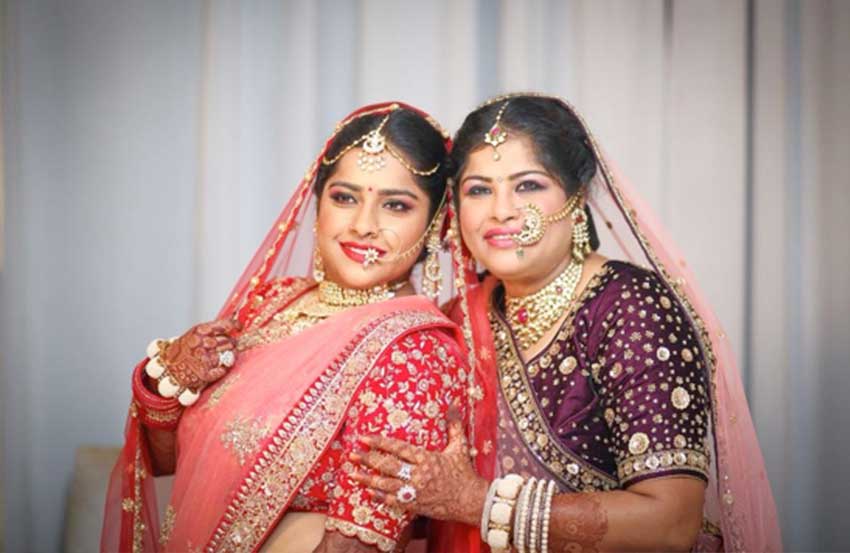 For his big day, Kamesh wore a salmon-colored bandhgala paired with white pants and a pink royal turban. Nicely done!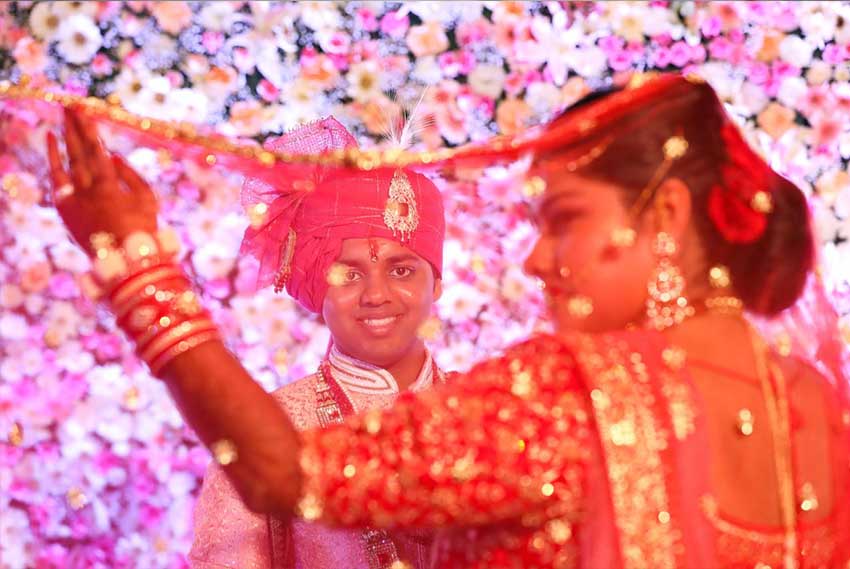 And finally, they're married!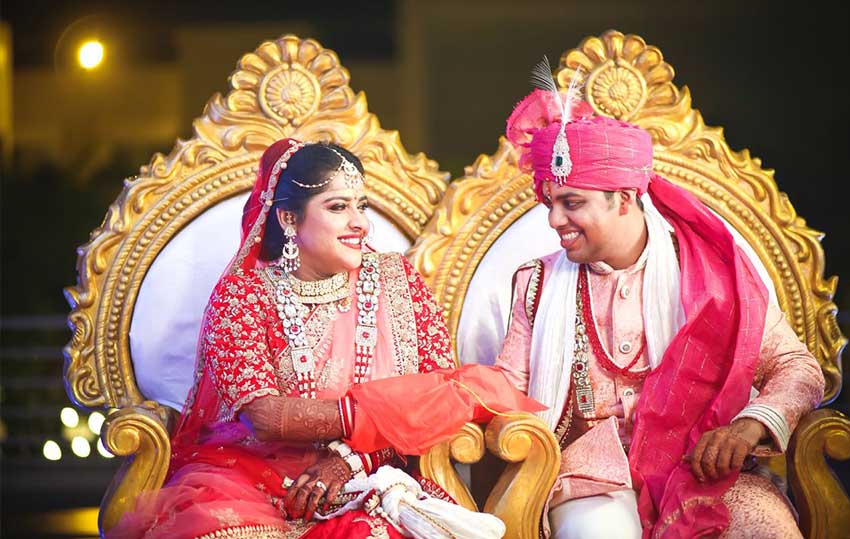 Conclusion
From intimate get-togethers to fun-in-the-sun parties to a splendid wedding, this 2-states couple celebrated their union with quite the razzmatazz. Soaked in passionate love, the two are relishing the nascent stages of their matrimony. May, their marriage grow stronger & shine brighter than the sunrise. GYV wishes this delightful duo, a happily married life!
Credits
Wedding Venue : Delltin, Daman
Photographer : Signature Films (Wedding)
KMJ Productions (Pre-Wedding)
Outfit – Saroj Jalan
MUA -  Vishal Samuel