Stunning Wedding Outfits for the Soon-To-Be-Wedded Couple
By Get Your Venue | 20 Sep, 2019
Indian weddings are all about elegance, class and sometimes extravagance. If your D-Day is just around the corner, it is time you start looking for appropriate wedding outfits for couples. If you are tired of toeing the line and would like to experiment a little, discuss a color or style theme with your partner and shop for the perfect wedding ensemble together. Whatever you choose must be in line with the theme chosen so that both of you are the center of attraction on your special day. A tip that can help you make the right decision is to choose something that helps you balance each other's looks perfectly. Here, we bring you some classy and breathtakingly beautiful options that are sure to appeal to your tastes and personality.
The auspicious color red
Red has always been considered as an auspicious color and wearing red on this day is one of the most popular choices among brides. Grooms can complement their soon-to-be better halves by wearing a bright red turban with a red belt worn
over pearly white sherwani
. The combination is truly auspicious and completely traditional.
Vibrant Hues of Magenta and Orange
If the bride wishes to wear a vibrant color other than red like orange or magenta, the
groom can complement her look by wearing his turban and dupatta
in the same hues. It is a classic looking ensemble which never goes out of fashion.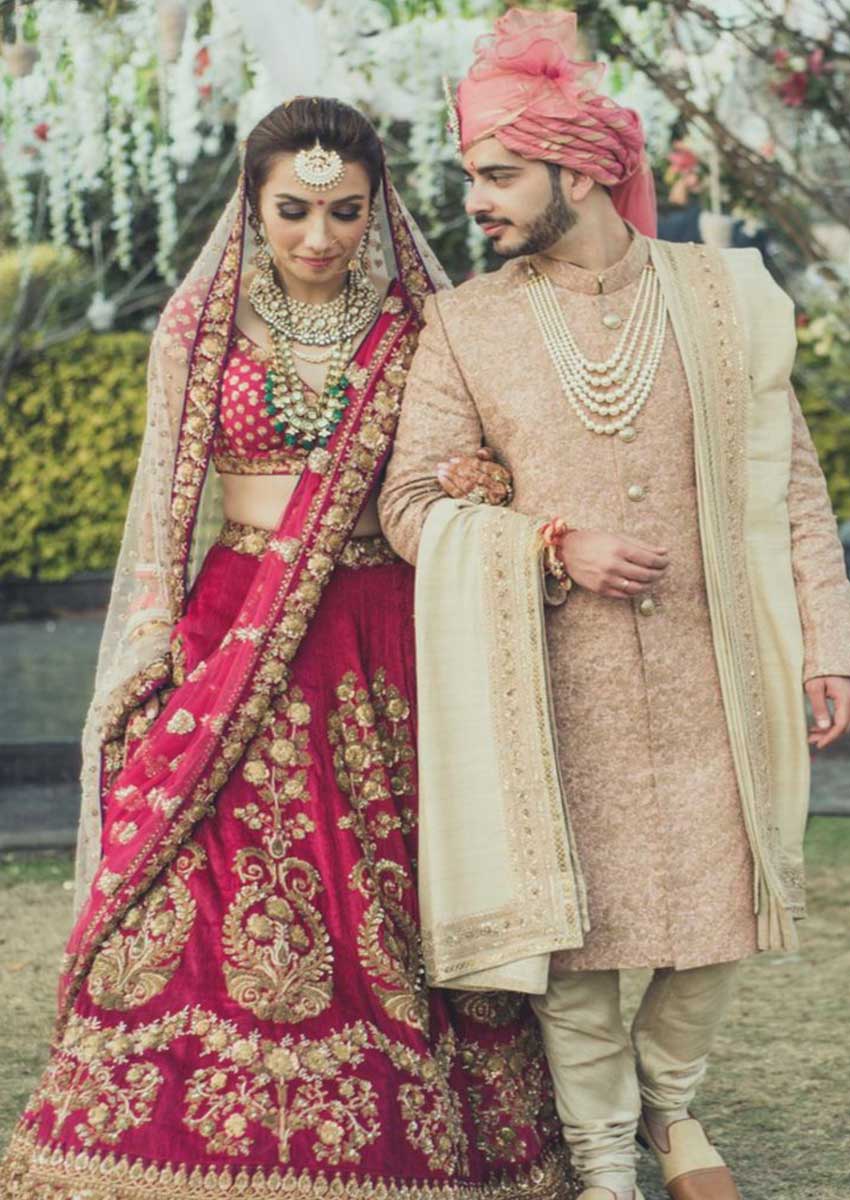 Embroidered Outfits
If you love the subtlety and wish the same to reflect in your ensemble, choose a lehenga set in plain color with rich embroidery work in vibrant colors. For example, palest cream lehenga with embroidery in shades of reds, maroons, pinks all over is an excellent choice. The groom can wear a cream colored sherwani with light embroidery in the same shades and designs on its lower panel.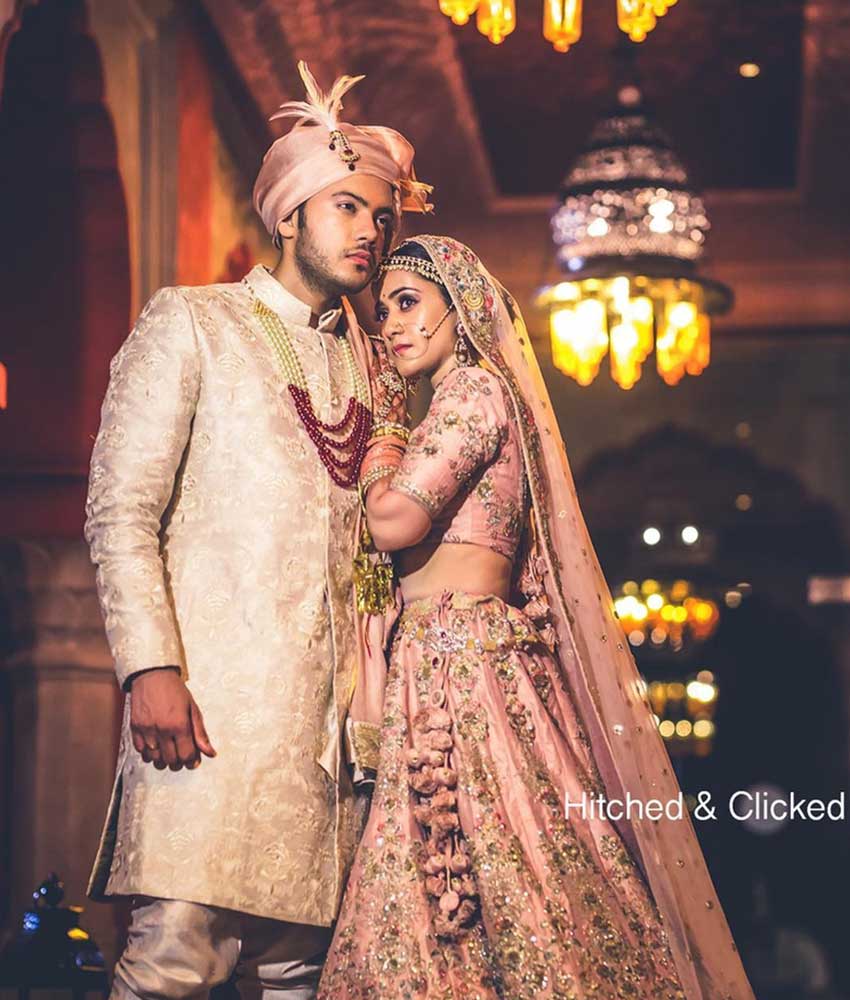 White is the color of purity and innocence
If you are planning to wear a heavy net and embroidered white gown on your reception, you can ask your man to wear a completely white suit. This matching color combination will look and pretty stunning. You will make a nice pair when you complement each other perfectly.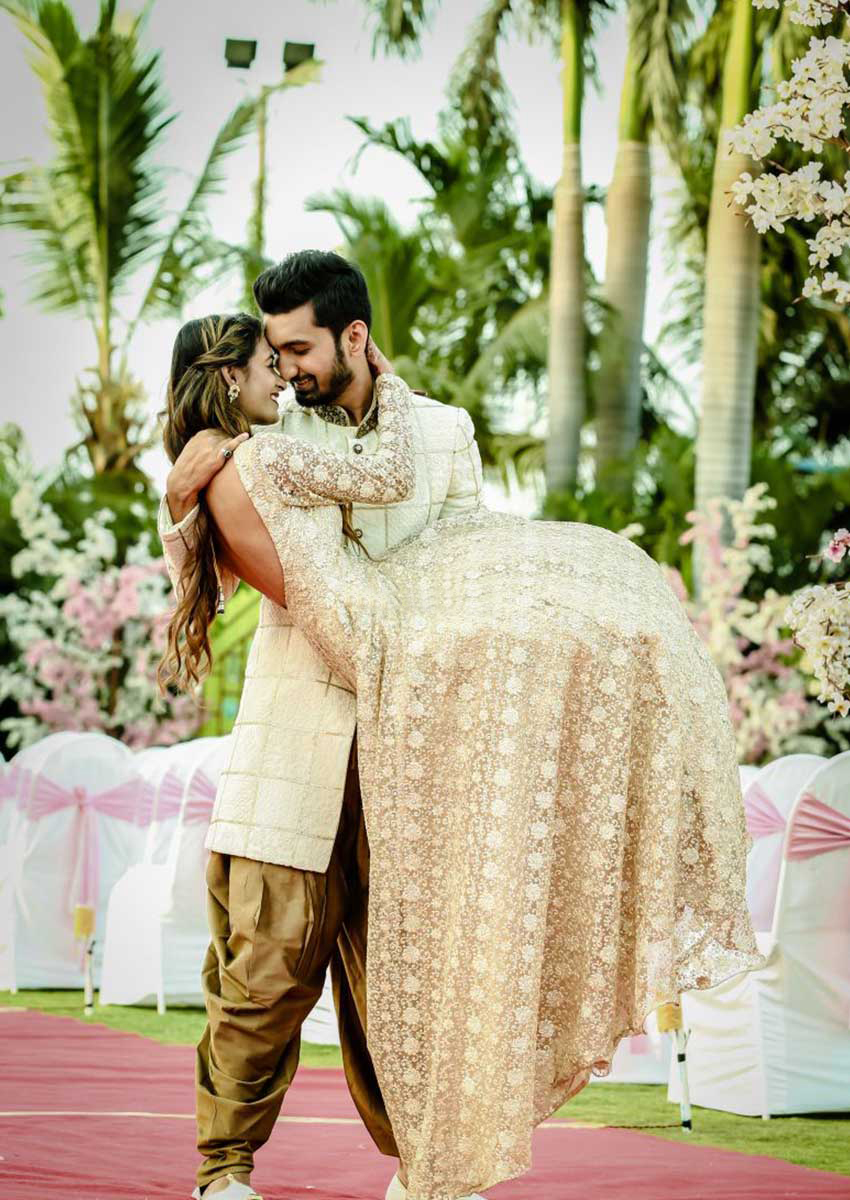 Baby Pink/Off White for Pre-Wedding Functions
If you are organizing a sangeet party and would like to go with a different color theme, why not choose the palest pink color. It will not only look lovely but will also make you look fresh. Your partner can wear a pink coat or sherwani and look dapper holding you in his arms and dancing the night away.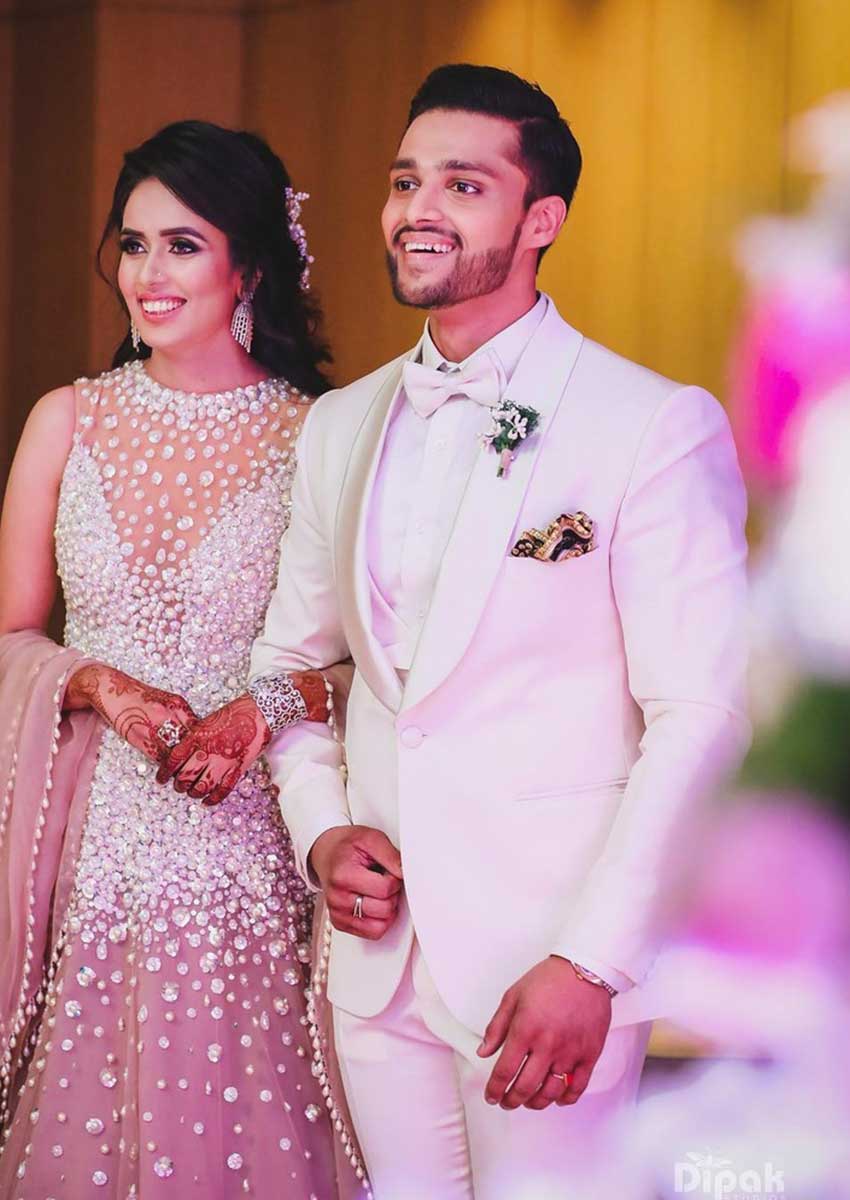 Blue Sharara with Blue Nehru Jacket
You can also decide to wear something different and other than traditional outfits. Try wearing a powdery blue heavily embroidered and zari work sharara set with your man complimenting you with his cool blue-colored jacket.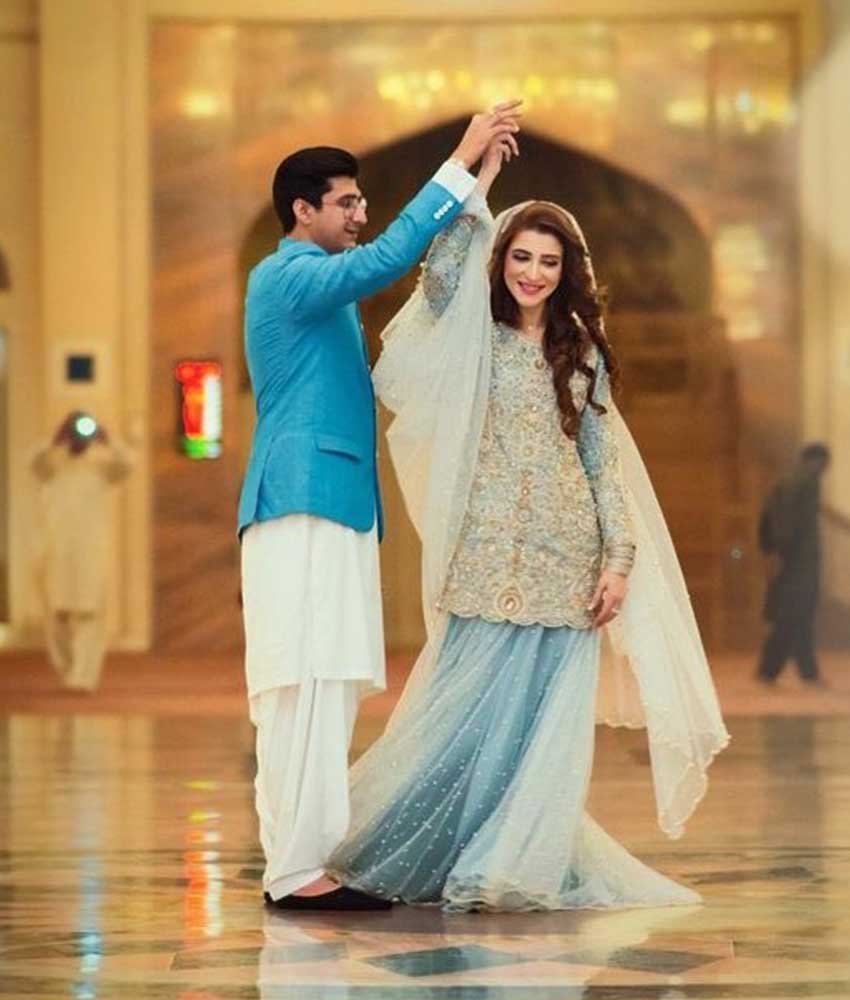 Yellow Outfits for Haldi
If you are planning to match your outfits for Haldi ceremony, look for brightest yellow-colored lehenga set with light work net odhni and cream colored brocade choli. Your man can complete the look by wearing a yellow colored kurta with tight white churidar.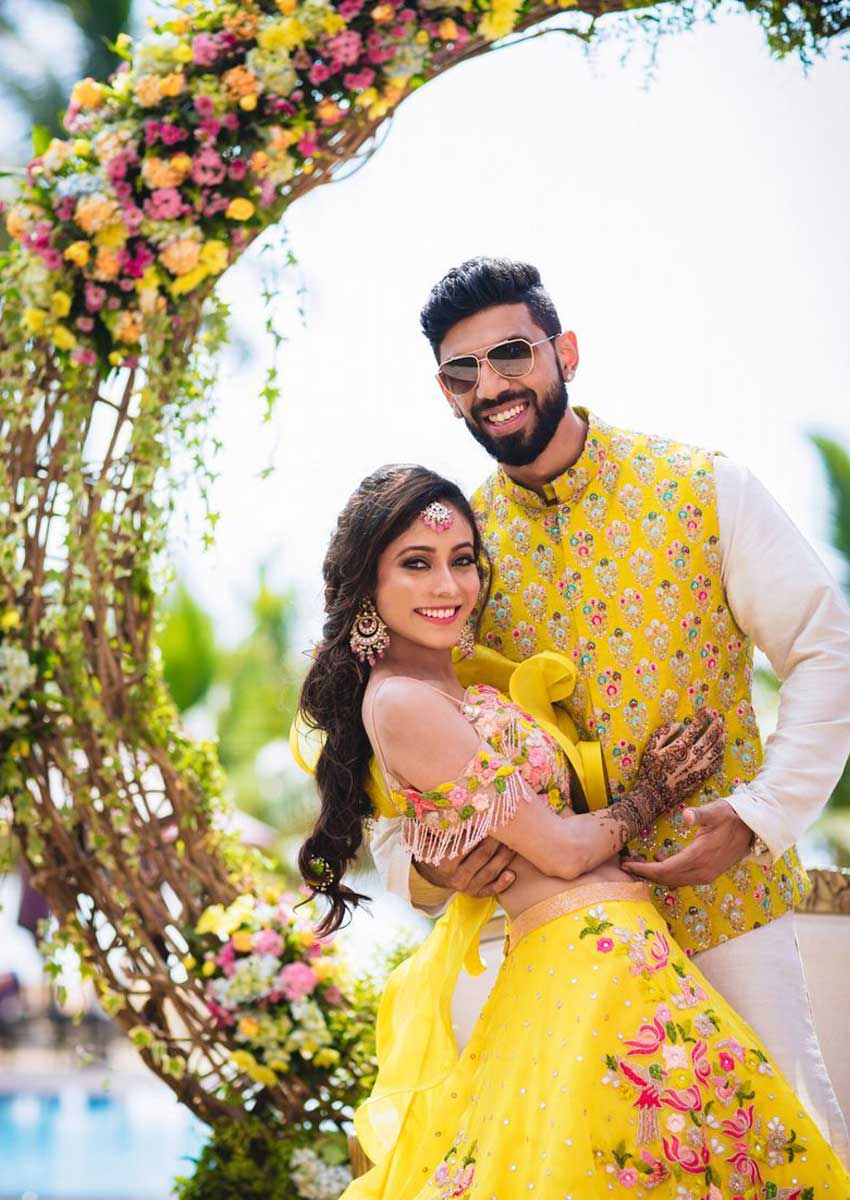 Royal Look with Emerald Hues
If you wish to wear a new, some unique color for your wedding functions, check out lehenga choli set in deepest emerald hues and your man wearing an emerald colored sherwani with light work at neck and cuffs. It is sure to add to your glamorous and royal look.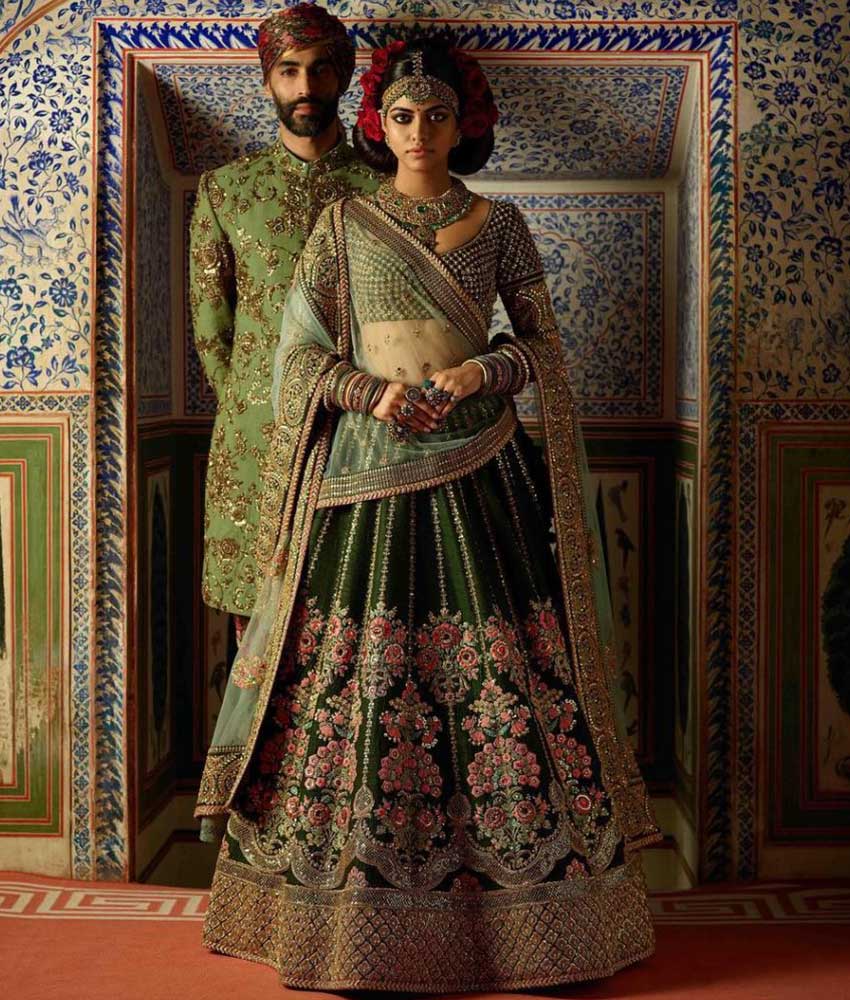 Fresh and Floral Look for Day time Rituals
If you are looking for a perfect ensemble for a day-time ritual, try subtle minty and pale-yellow combination with light colored embroidery in the same color on the lehenga set of the bride and jacket of the groom. It is a perfect combination for spring or summertime wedding rituals.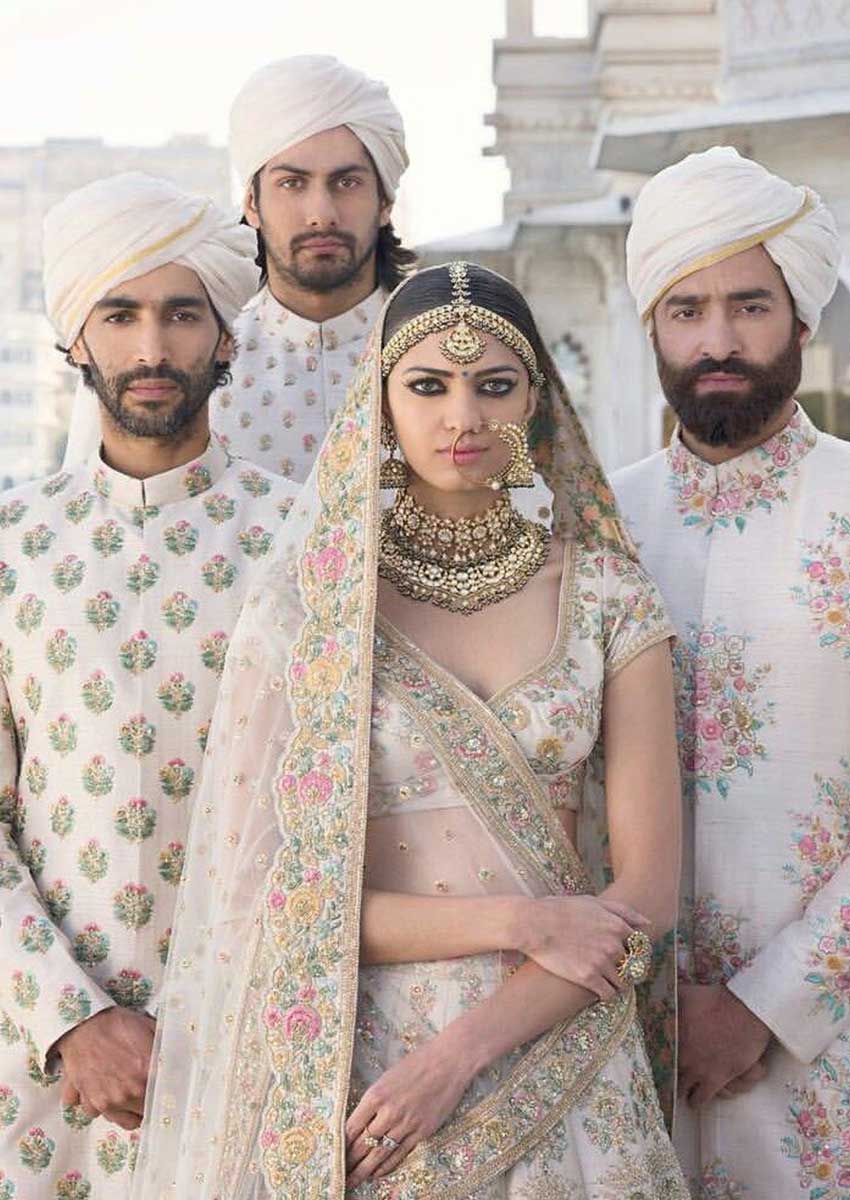 Get Your Venue can help you with some great ideas that can help you pair up with your partner and make your look more interesting and exciting on your special day.