Top 50 Bridal Mehndi Designs You Should Try in 2019
By Get Your Venue | 14 Feb, 2019
Wedding season is just around the corner and preparations are in full swing. Endless details scream for attention, hundreds of last minute things to do and countless trips to the market. One of the details that deserve unwavering attention is finalizing the perfect bridal mehndi design that completes and complements the bridal look. Mehndi or Henna has always been an inherent part of Indian culture and traditions. Soon-to-be brides adorning hands with beautiful patterns of mehndi is considered auspicious.
Selection of Suitable Bridal Mehndi Designs
Looking for a quintessential bridal mehndi design that offers you an eclectic mix of contemporary and traditional designs? Here, we have curated top 50 mehndi designs that are trending right now. Bookmark this page to check out some of the most "in" mehndi designs for the year 2019. Adorn your hands with any of these designs and become a trendsetter.
Top 50 Bridal Mehndi Designs 2019
So, the wedding bells have started ringing, and you are all set to tie the knot! We understand that being a bride, you have to get involved in the most exhausting, exciting and at the same time extensive wedding prep to do before this special day arrives. Since mehndi is one of the most significant and traditional rituals of Indian weddings, we are sharing some of the top trending mehndi designs that are expected to continue ruling in the year 2019.
   Rajasthani Mehndi Design- Royal As Ever

Are you a traditional bride? If yes, Rajasthani mehndi design is perfect for you. This evergreen mehndi design has always been trendy and in vogue year after year. You will love having intricate designs drawn on your hands with peacocks, images of the bride and groom and "Kairi" designs accompanied with a lot of embellishments. It covers almost half of the arm, front and back giving you a perfect "bridal" look. Designs
Classic Indian Mehndi Design- Forever Stylish

If you are looking for something stylish and elegant, why not go for classic Indian mehndi design? It has a lot of paisley, trails, motifs, leaves and flower-based design. This design is elaborate, stunningly beautiful and traditional in its truest sense. Check out Priyanka's mehndi design. Being a desi girl, she decided to go for this mehndi design that has left a lovely amber color on her hands. Designs
Full Hand Mehndi Design For those who love extravagance

How elaborate and intricate you want your mehndi to be? If you would love to don amber-colored hues of henna covering your arms, front and back till elbows, this mehndi design is just meant for you. Add lattice design to your mehndi which will look more attractive once it dries leaving rich hues of orangey color. You can also go for lovely nail art that complements mehndi designs for the wedding. Being a 2019  bride, you can also take out a leaf from Deepika Padukone's wedding album and go for this mehndi design. Check how she has gone complete traditional with intricately designed mehndi right up to her elbows. Designs
Soon-to-be wedded Couple Mehndi Design- In tune with each other

If you would love to match your mehndi design with your fiance, have a look at some of the mehndi designs curated by our experts just for you. You can ask your mehndi artist to draw the images of bride and groom on your hand surrounded with intricate patterns. Your groom can also go for the same mehndi design. Adding each other's name on your palms can also add a fun element to your wedding wherein both of you can try looking for your names skilfully hidden in the design. Augment the beauty of your mehndi by covering your fingertips with thick mehndi paste which leaves a vibrant orange color. Designs
Floral Mehndi Design for nature loving brides

If you are a die-hard nature lover, ask your mehndi artist to draw beautiful floral patterns on your hands. The crisscrossing floral motifs would look genuinely stunning on your beautiful, dainty hands. Sometimes, less is more, and this is evident in this graceful mehndi design. Designs
Go Spiritual with mantras in your mehndi design

Mantras and shlokas etched on your palms are quite "in" these days. If you want your union to be blessed amidst shlokas, chants, and mantras, you can add them to your bridal henna design. An undoubtedly simple, graceful, but elegant mehndi design with spiritual connotations will attract a lot of admiring glances to your lovely hands. Designs
Varmala Mehndi Design- Taking Vows Together for a better tomorrow

Off late, adding wedding ceremonies like varmala in mehndi design for brides has been catching up with brides. If you wish to be seen as a trendsetting bride, go for this latest bridal mehndi design wherein mehndi artist draws bride and groom with garlands in their hands facing each other. This design has captured the imagination of girls getting married this year. You can ask your henna artist to go all out with his creativity and cover your hands front and back with henna till elbows. Designs
Hanging Beads Bridal Mehndi Design- Creating Graceful Patterns

Falling strings or beaded strings look quite elegant and is perfect mehndi design for graceful and chic brides for whom simple is elegant. If you are one of those, go for this mehndi design where your henna artist can create full coverage mehndi design in the front and draw hanging beads or string design at the back. Bringing appreciative glances to your hands is sure. Designs
Fuss-free mehndi for a simple bride

How can we forget to mention a fuss-free mehndi design for a simple bride! If you are not a big fan of getting your hands entirely covered with mehndi, go for this fuss-free mehndi design which looks so damn elegant. It showcases minimal designing and is less detailed compared with many other mehndi designs. It will leave a lot of skin showing and will have more lacy patterns that will enhance the beauty of your manicured hands. It gels perfectly well with the idea of keeping things simple yet graceful. Designs
Mandala Bridal Mehndi Design For Tradition-Loving Bride
Mandala bridal mehndi design will bring a sense of tranquility to you as mandalas are associated with peace and serenity. If you are spiritual-minded, this mehndi will truly reflect your calm personality. Here, you will find your mehndi artist taking inspiration from intricate, round, mandala designs. It looks classy and extravagant. If you want to keep it basic, go for an intricate covering just on your palms. If you want elaborate designs covering your arms till elbows, ask your henna artist to adorn your hands with concentric circles moving outwards.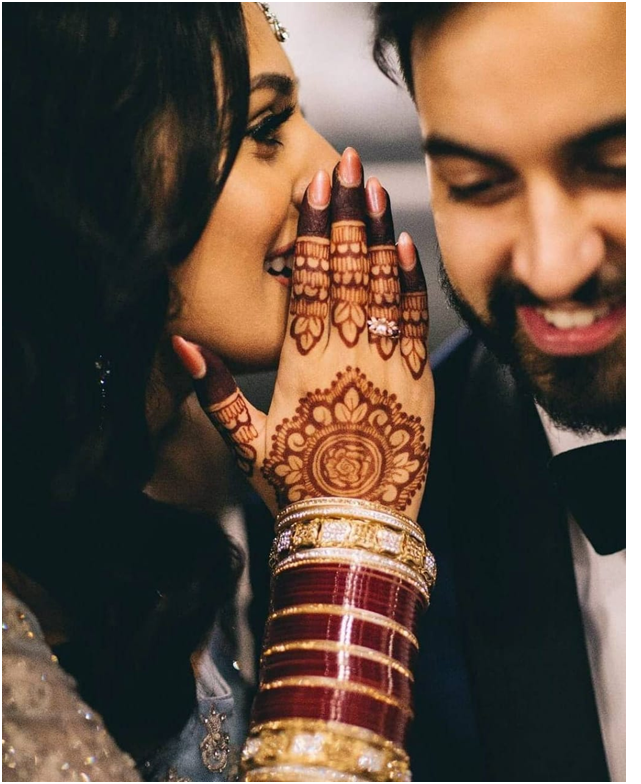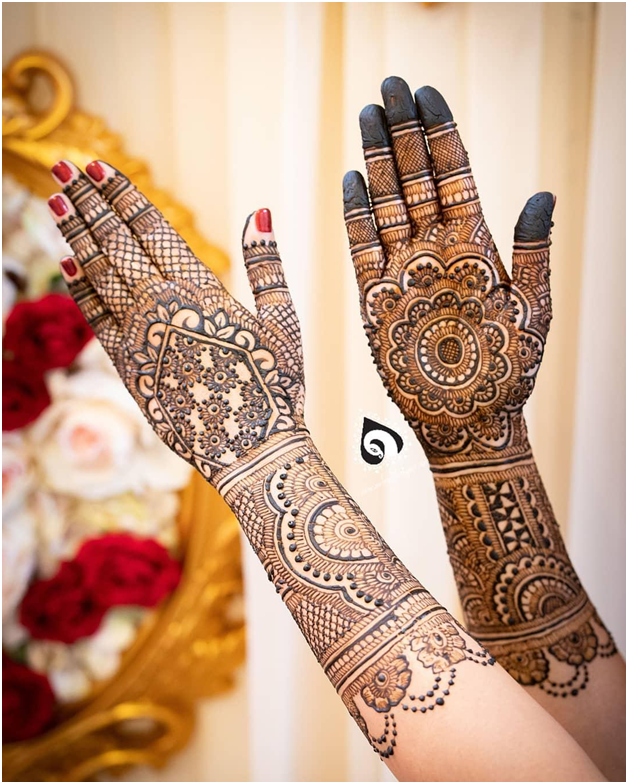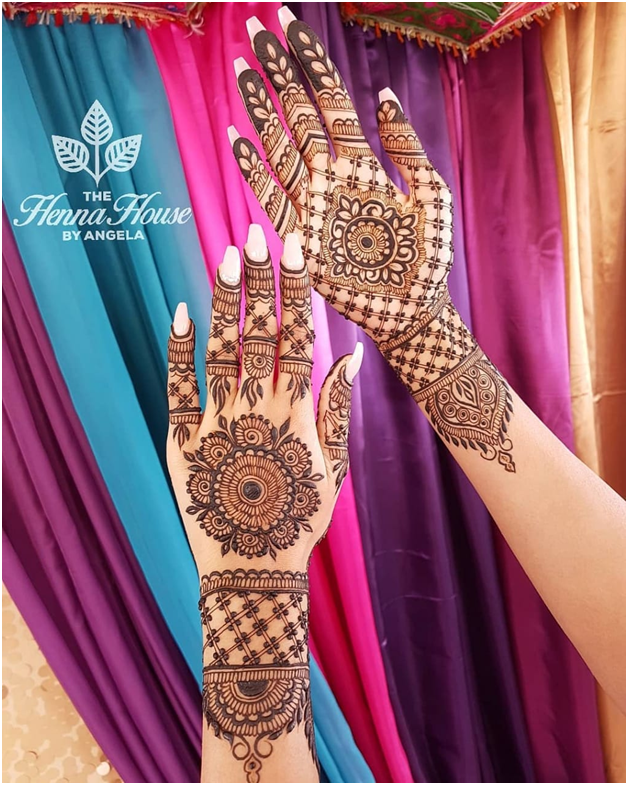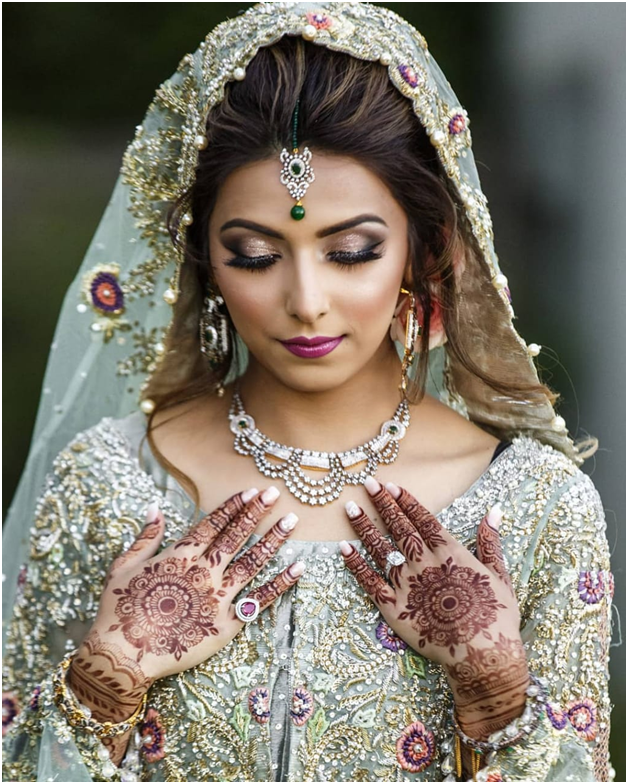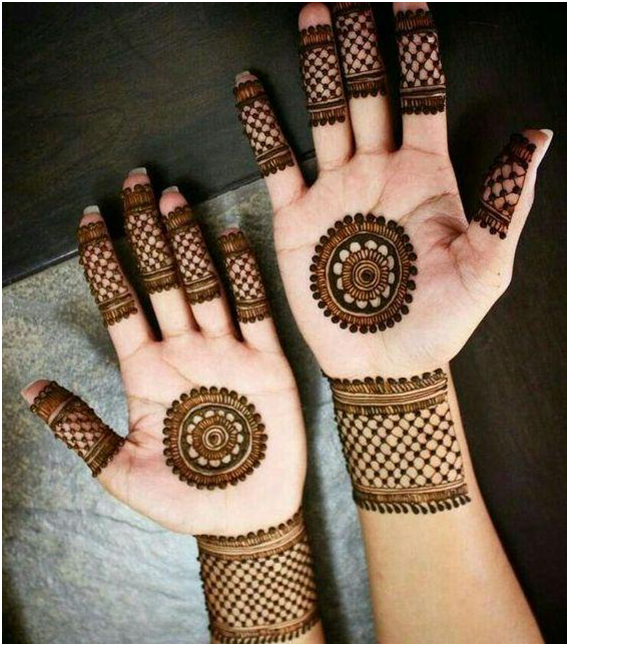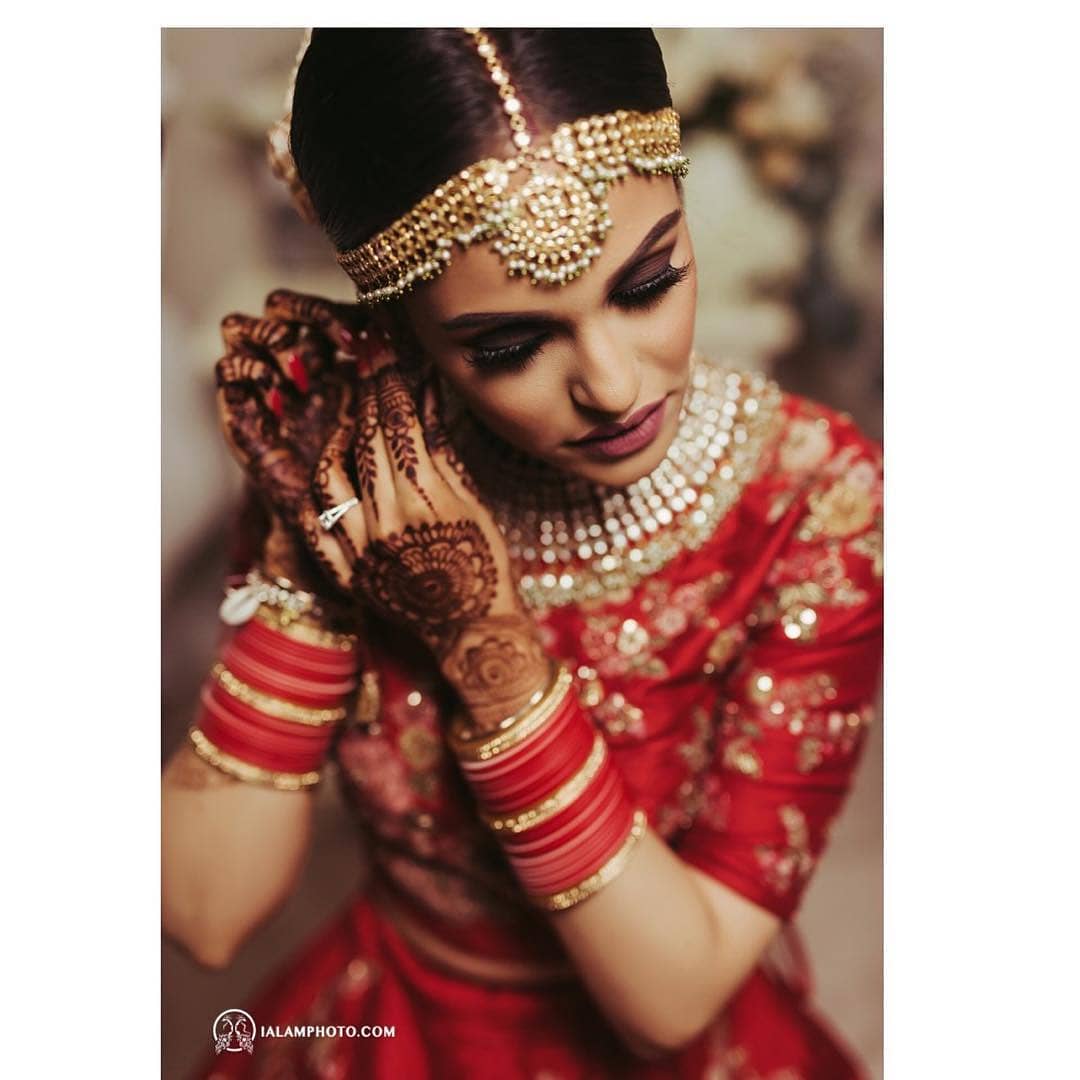 Hope these mehndi designs will help you choose the one that best suits your personality and make you look more ravishing and stunning on your special day.