Unboxing Akash Ambani and Shloka Mehta's Wedding Card
By Get Your Venue | 21 Feb, 2019
Makar Sakranti has heralded the beginning of the Wedding Season 2019 and guess what, we already have a lot to look forward to with Akash Ambani, son of Mukesh Ambani and Neeta Ambani getting married to Shloka Mehta, daughter of diamantaire Russel and Mona Mehta. The wedding parties of Isha Ambani and Anand Piramal has just come to an end and already we have a lot to look forward to. It is going to be a lavish affair setting new benchmarks for other celebrities to match. Here, we bring you the details of the much-awaited wedding invitation card of Akash and Shloka. The wedding card of Akash and Shloka is something you may never have seen before. It is not only extravagant to the core but has a long message written over it.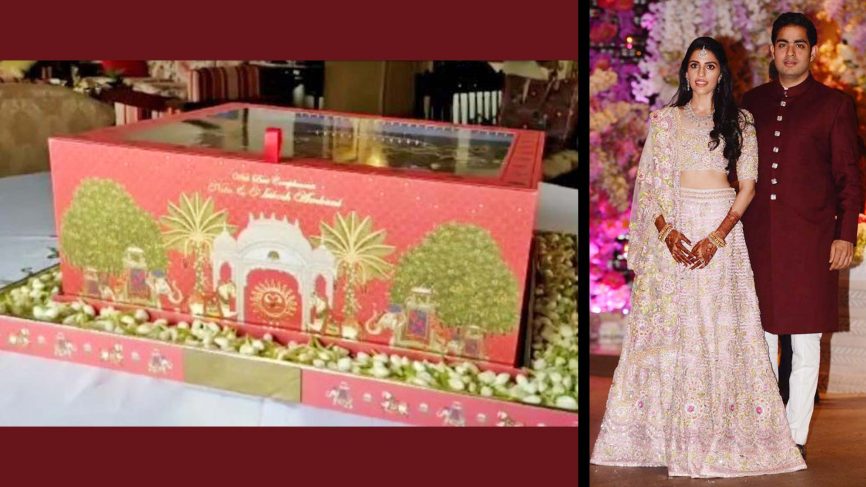 Stunningly Beautiful Packaging
As soon as you hold the wedding invitation card of Akash Ambani with beautiful Shloka Mehta, you will find your curiosity level scaling new heights. It is a lovely pink coloured box which looks more like a folded board game. The box has images of Lord Krishna and Radha surrounded with lovely lotuses and peacocks dancing around. The box comes surrounded with fragrant mogra or Arabian jasmine flowers.
Spiritual Connotations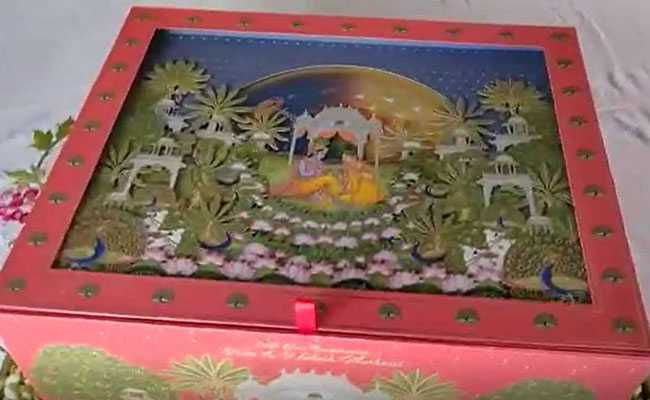 The card comes inside this pink box which has an animated disc of Lord Krishna and Radha on the front which lights up as soon as the box is opened. As the box is opened, a lovely rendition of the popular bhajan, "
AchutamKeshwam"
starts playing and you can see separate chambers with more silver-framed images of Radha and Krishna over it. An amber-coloured wedding note can be found in the inner chamber with the beautiful inscription, "
O Suryadeva, you are the light in our Akash. You illuminate our every Shloka." 
Blessings From the Proud Parents
The box also has a handwritten note penned by Mukesh and Neeta Ambani that describes their heartfelt joy. It reads-
"
With prayers to Lord Krishna, with blessings of our parents, and with immense joy and happiness, we invite you to the marriage of our beloved son Akash with his soulmate Shloka.
Marriage is a bond made in heaven, an eternal promise of love and companionship. As Akash and Shloka turn their childhood friendship into eternal love, they also turn our long and deep friendship with Mona and Russell into the loving bonds of family.
We are overjoyed to welcome Shloka in our family as out dearest daughter-in-law, and we wish her and Akash the most glorious life together.
As parents our wish for them is for their love to grow stronger, their friendship deeper and their smiles brighter, every single day. May their path ahead be abundantly and eternally blessed.
As Akash and Shloka set forth on this divine journey, we look forward to celebrating this most joyous occasion with you and creating memories that will last us a lifetime.
We seek your blessings and good wishes for our children. With love, affection, and our warmest regards."
-- Nita & Mukesh
Details of Functions and Rituals
The card has all the details of the wedding functions in detail. It looks lovely and has spiritual connotations, seeking divine blessings on the couple.
Mangal Baraat- 9th March 2019, Saturday
Location: Trident BKC Mumbai Time: 3.30pm High tea served at 6.30pm Wedding ceremony at 7.30 Dinner- Jio World Centre, BKC, Mumbai Attire: Indian Ceremonial
Mangal Parv- 10th March 2019, Sunday
6:30pm – Commencement of Wedding celebrations Followed by Dinner Location of the Celebrations: Jio World Centre BKC Mumbai Attire: Formal
Mangal Ashirwad- 11th March 2019, Monday
7:30pm - Wedding reception begins Followed by dinner Location of the receptionJio World Centre, BKC Mumbai Attire: Lounge Suit/Indian Formal
The First Wedding Invite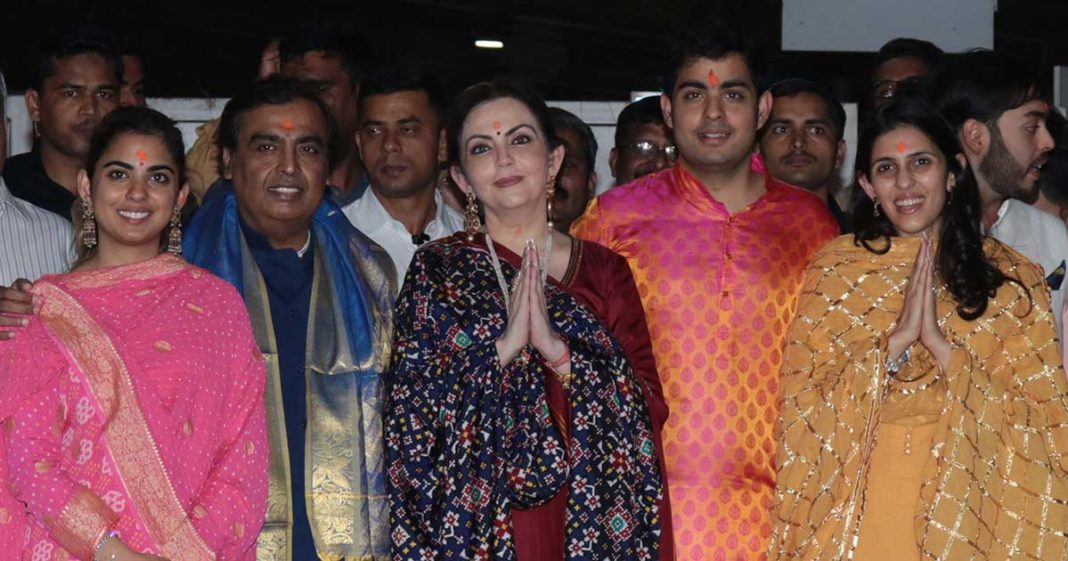 Mukesh and Nita Ambani visited the famous Sidhivinayak Temple located in Prabhadevi on 12
th
February at 4:30pm to offer the first wedding invite to
VighnakartaSukhkarta,
Lord Ganesha. With this, wedding preparations and pre-wedding festivities have started in full swing in both the families. A few of the parties will be taking place in Switzerland. Approximately 500 guests are expected to attend the parties and they will be flown to the destination in two private aircraft. So, brace yourself and tighten your seatbelt to enjoy getting the first account of the wedding of the year at
Get Your Venue!