10 Stunning Looking Christian Wedding Sarees That Makes You Look The Perfect Blushing Bride
By Get Your Venue | 29 Feb, 2020
Christian Weddings have always been all about grace, elegance, and style rolled into one. The whole ambiance is perfectly romantic and serene and is a subtle celebration of two souls coming together. Grooms look dapper in their finely cut suits or tuxedos and brides look stunning in their pristine Christian wedding sarees. Every Christian bridal saree is unique in terms of colours, style, work, textures, and fabric. Intricate work on the sarees is so beautiful that it is difficult to take eyes off the resplendent bride. Here we bring you top ten Christian Bridal Sarees that wows with its sheer sophistication and style.
1. Off-White saree with fine embroidery all over
This saree is nothing but sheer elegance. Off-white in colour, intricate gold thread embroidery all over is perfect for a Christian bride. Worn with a lovely gold necklace set gives an understated style to the entire ensemble. It is a perfect blend of traditional with contemporary giving a perfect look to the blushing bride.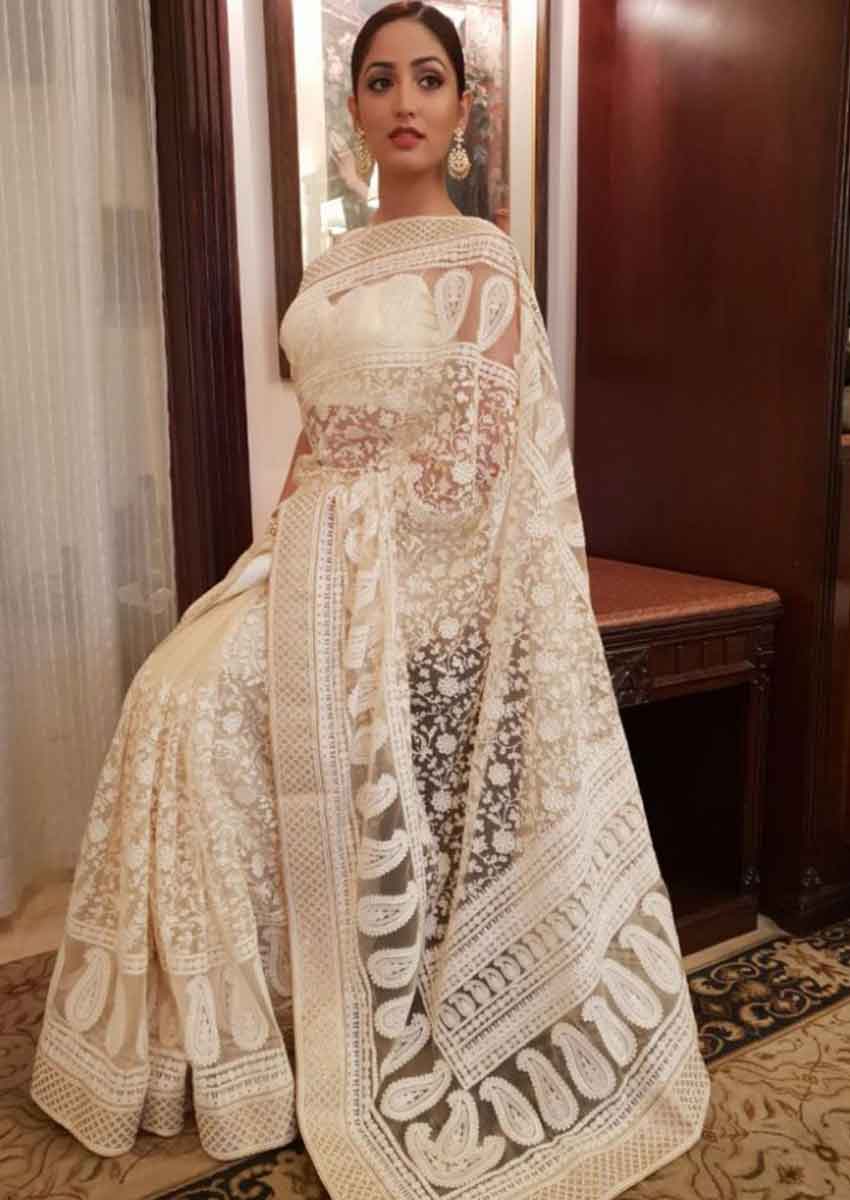 2. Classic White Saree with Intricate Work on Borders
If you wish to wear traditional white at your wedding, check out this classy saree in purest of pure white with its lovely stonework border. Wear this saree with silver, platinum, or diamond jewellery and sport a messy bun. The sheer simplicity of the saree will make the bride look ethereal.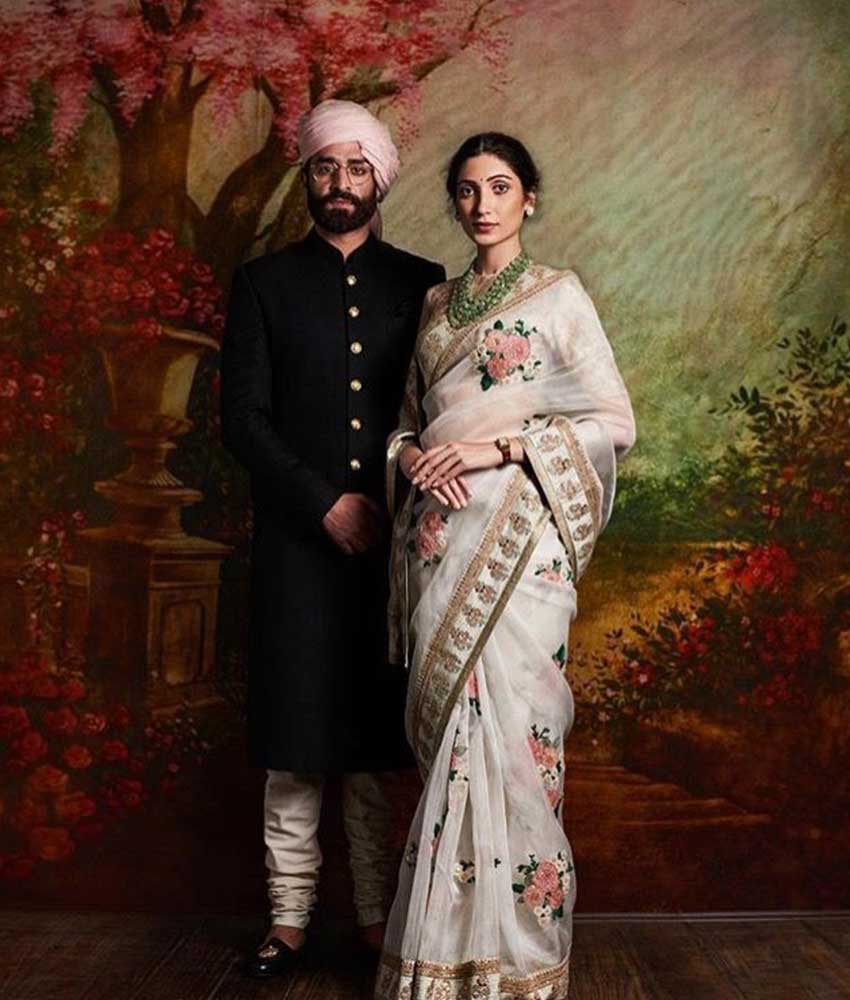 3. Modern White Saree with Net Border
This is a beautiful, delicate-looking saree with a simple yet attractive net border. Light in weight, it is effortless to carry. The simplicity of this saree can be balanced with a pair of heavy diamond chandelier earrings giving a complete look. Wear flowers in your messy bun and carry a few in your hands when walking down the aisle. We promise you there will not be a single person who can tear off his eyes from your stunning looks.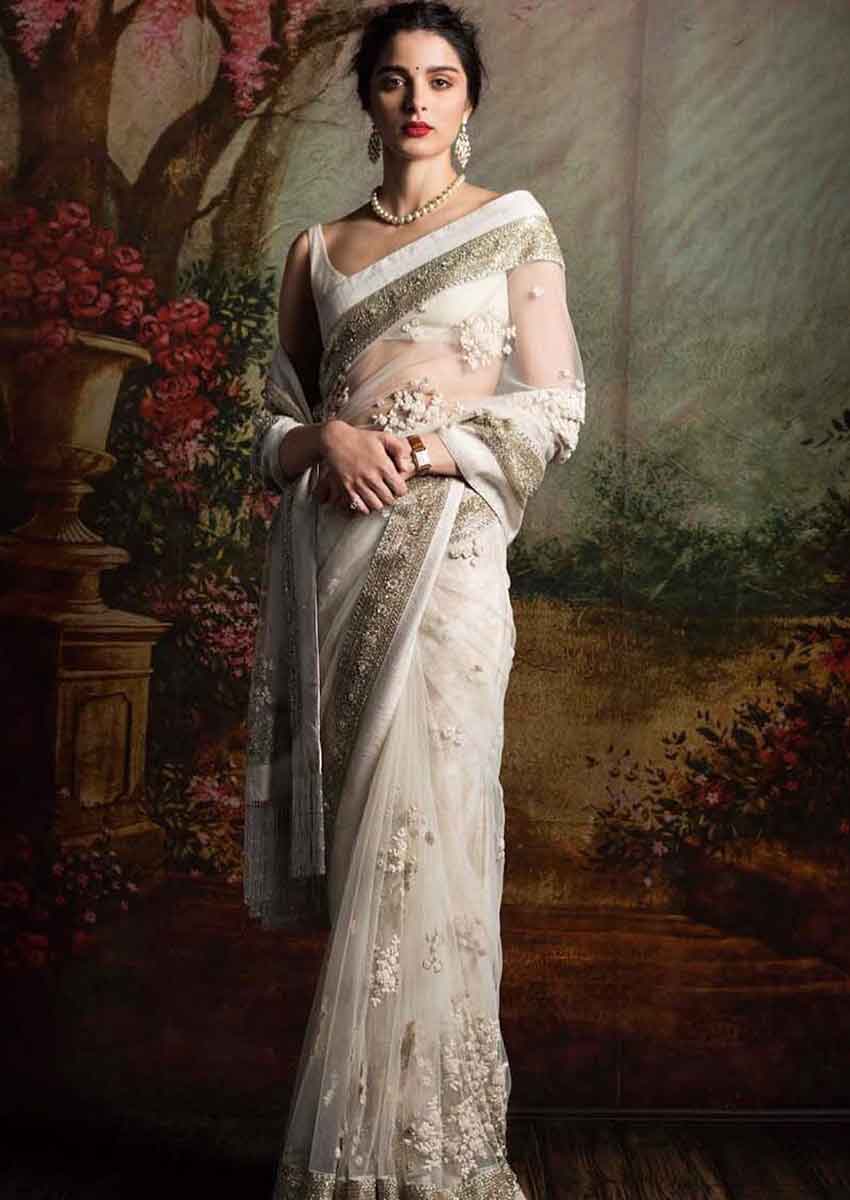 4. Palest Peach Saree With Applique Work
This palest of pale peach coloured saree with delicate applique work on its borders is a modern and unconventional look in case you are looking to achieve a unique look. Tie your hair in a beautiful bun and hold them together with a lovely piece of a hair clip. Wear lovely, intricate bridal jewellery and a matching blouse.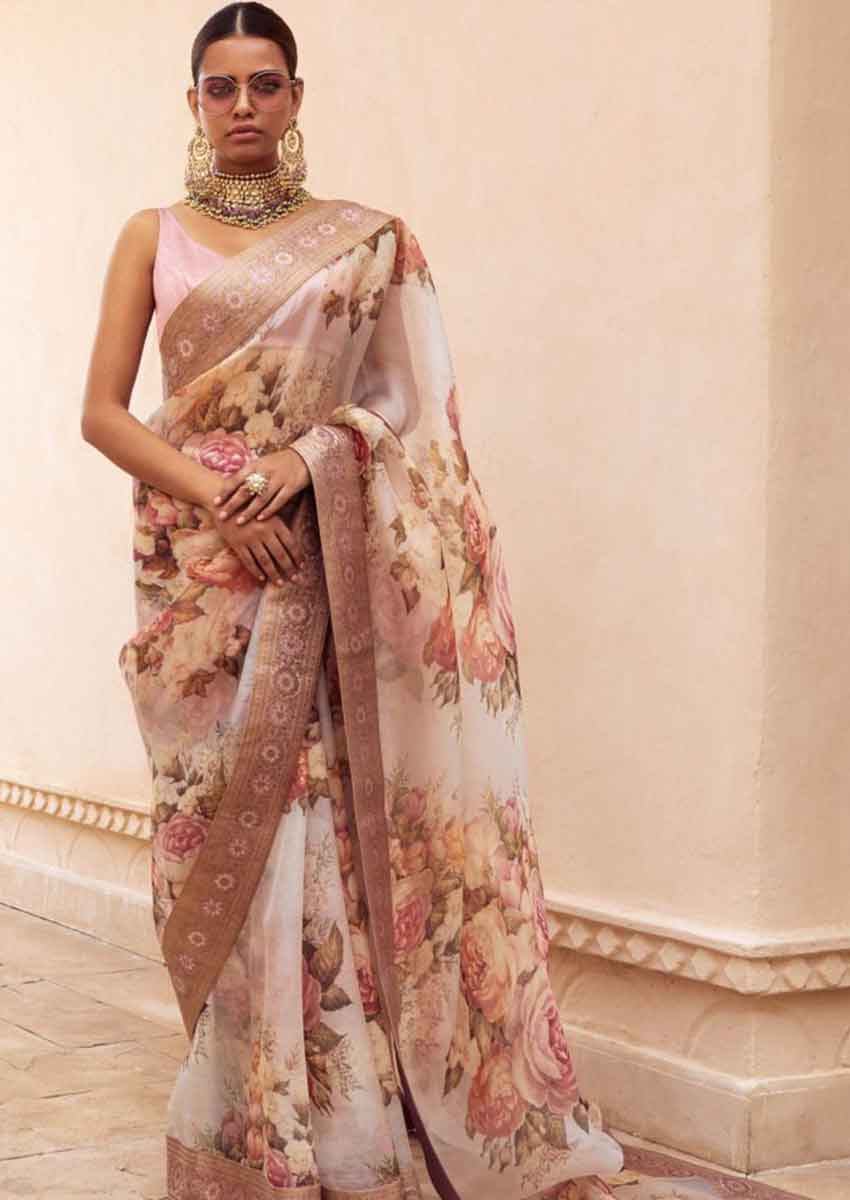 5. Pista Green Saree with Intricate Overall Embroidery Work
Pista Green is a lovely and cheerful colour. You can choose a delicate, georgette saree with overall embroidery. Check out stunning Christian wedding saree blouse designs that go perfectly well with this saree. Go for an elegant but understated hairstyle and dainty jewellery. The entire ensemble will make you look classy and extravagant.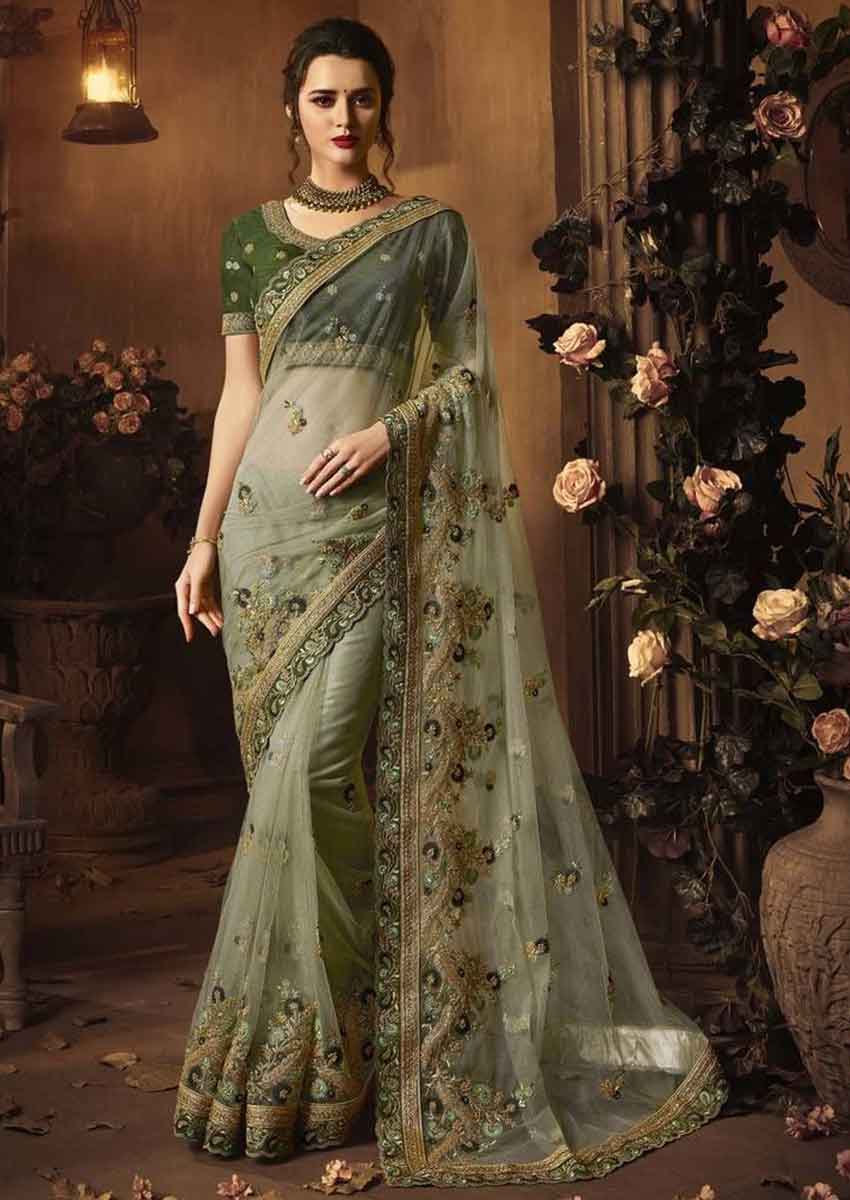 6. Slay in Off-White Silk Saree
If you are a winter bride, you can go for silk saree in a regal looking off-white shade with intricate gold jewellery on its borders. Pair it with gold jewellery and this is going to give you a unique, traditional bridal look. Carry a bunch of delicate flowers in your arms and walk the aisle with basking in appreciative glances coming your way.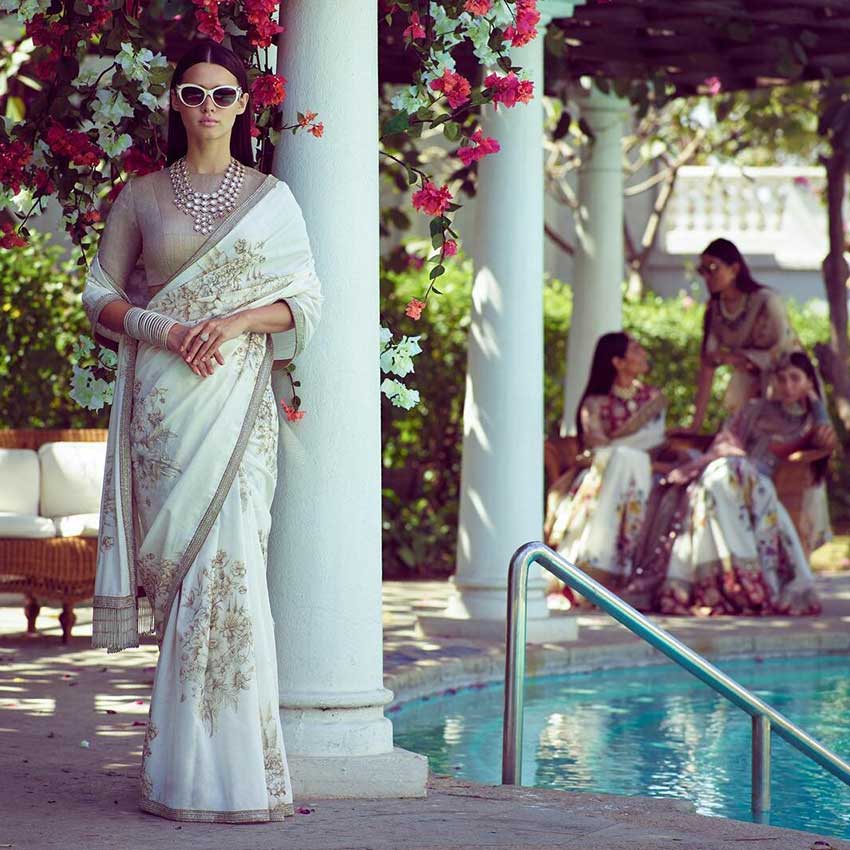 7. Brilliance of Pearl-studded Sarees
Yo, Christian Brides, check out delicate georgettes and other fabric sarees in pastel colours with heavy tiny pearl work all over. When sunlight falls on these pearls, it is going to reflect beautifully and make you look drop-dead gorgeous. Wear this lovely wedding Saree for Christian Bride with a beautiful pearl set and make a style statement.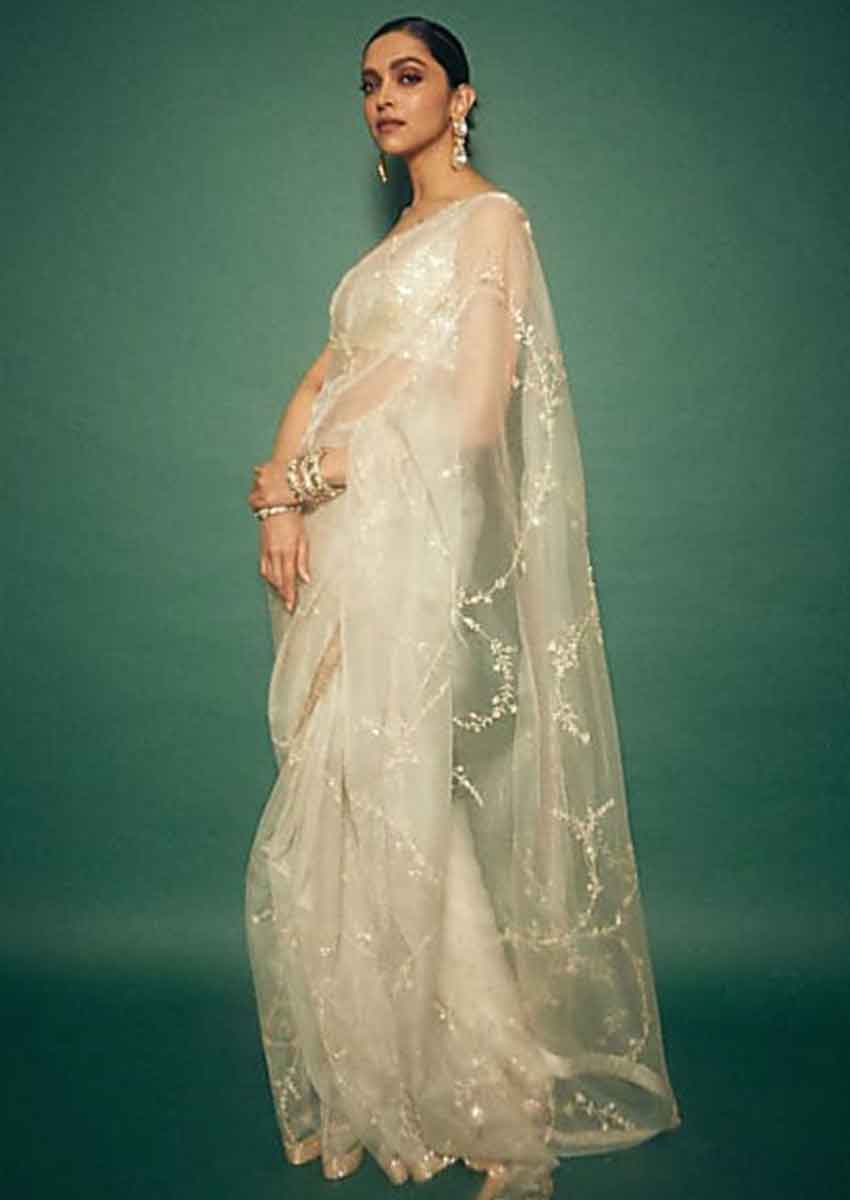 8. Off-White saree with full-sleeved heavily embroidered sleeved blouse
This is undoubtedly a very royal and elegant looking saree. Wear this off-white saree with embroidery all over with a blouse that has net sleeves with the same work interspersed all over. It is a heavy saree but perfect for a lavish Christian wedding. Pair it with equally royal-looking gold set and heavy danglers that complete your classy look.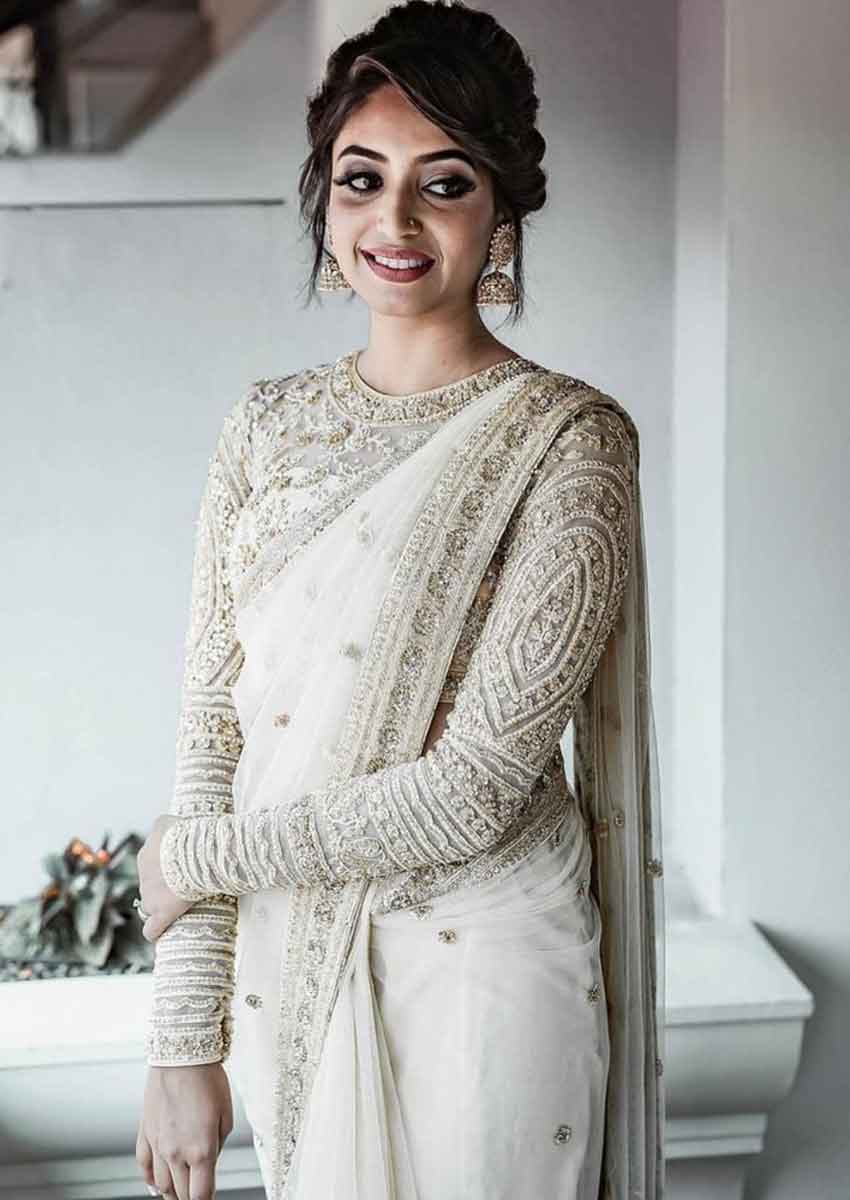 9. White Saree with a lovely tassel embroidery
White saree with heavy tassel work and full sleeved embroidered blouse will make you look stunning. Complement it with ruby set and you will surely be an absolute stunner on your D-Day.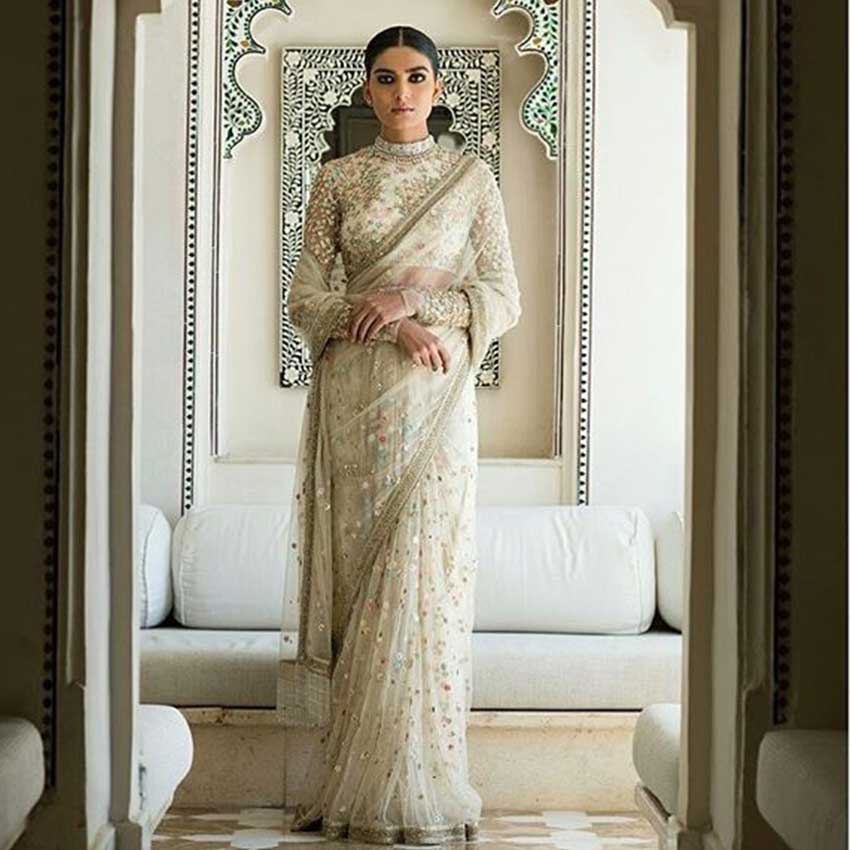 10. Saree with Lacework
It is another wonderful and gorgeous looking saree with lacework making you look stunning as ever. This choice of embellishments is sure to elevate your attire to a whole new level.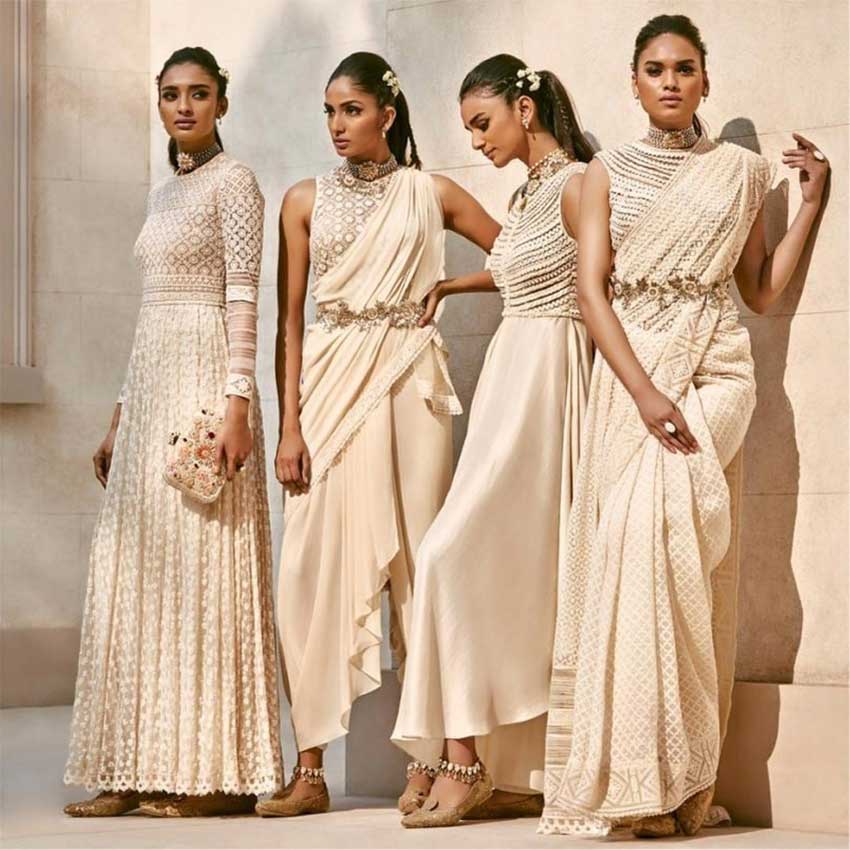 These lovely Christian Wedding Sarees for Bride are sure going to make you look gorgeous and stunning making this day memorable for you. You will always have fond memories and great pictures to remind you how cool you looked on this special day.