Best Wedding Dates For 2019 Wedding : Auspicious Hindu Marriage Dates
By Get Your Venue | 30 Jan, 2019
Confusion! Commotion! Indecision! Which day to pick? Which to avoid? Is it auspicious? These thoughts and emotions trouble the mind of every wedding host who has yet to find auspicious wedding dates in 2019.
At GetYourVenue, we try to help our customers by making the wedding planning process as easy as possible; which is why we have created this post. It contains every auspicious wedding date from January 2019 to December 2019. Now, no more searching on the web or calling your elders for some guidance. All you need is to bookmark this page!
Even better, you can download the calendar for your convenience!
Key points to remember while looking for auspicious wedding dates in 2019 for your marriage:
A Shubh Muhurat is not a date or a day. It's a time on a day that is considered highly auspicious for a Hindu wedding.

The below-mentioned dates might not be considered auspicious by some, as different subcultures and subcastes follow different customs and practices, and have diverse opinions.

The general practice followed while deciding on a date is to consult a

pandit

(Hindu priest) with few date choices as well as the

Janam Kundalis

(birth charts) of the bride and groom. The

pandit

then provides the families of the couple with few Muhurats out of which, one is selected.

Individuals or families who are either looking for 'perfectly safe' dates can go for

Abhuj Sava

dates – certain days in the calendar, that are considered so auspicious that one need not consult a pandit.

Wedding dates that coincide with public holidays or weekends (Friday, Saturday & Sunday) provide ample convenience to guests; which is why these dates are sought after highly, not just by the Hindu community, but everyone.

Wedding venues in Delhi

, as well as vendors, remain fully-booked for these dates, that too in advance.

The days between 15

th

December and 30

th

December are highly favored for NRI weddings or weddings with many foreign guests.

Below-mentioned auspicious dates are provisional and may vary depending on the Hindu calendar.
Dates considered inauspicious for a wedding:
Considered unlucky, unfavorable, or detrimental, the following days are avoided by the Hindu community.
Shraadh - 13

th

Sept to 28

th

Sept' 19

Tara Asta – July 9th to 19

th

Sept' 19

Chaaturmas – 7

th

July to 11

th

Nov'19

Kharmaas – 15

th

March to 14

th

April' 19

Surya Grahan and Chandra Grahan days
All Auspicious wedding dates in 2019 for your marriage function: 
Below is a month-wise list of all auspicious wedding dates in 2019. These have been sorted into basic (auspicious), Shubh Muhurat (high demand) and highly auspicious (Abhuj Sava).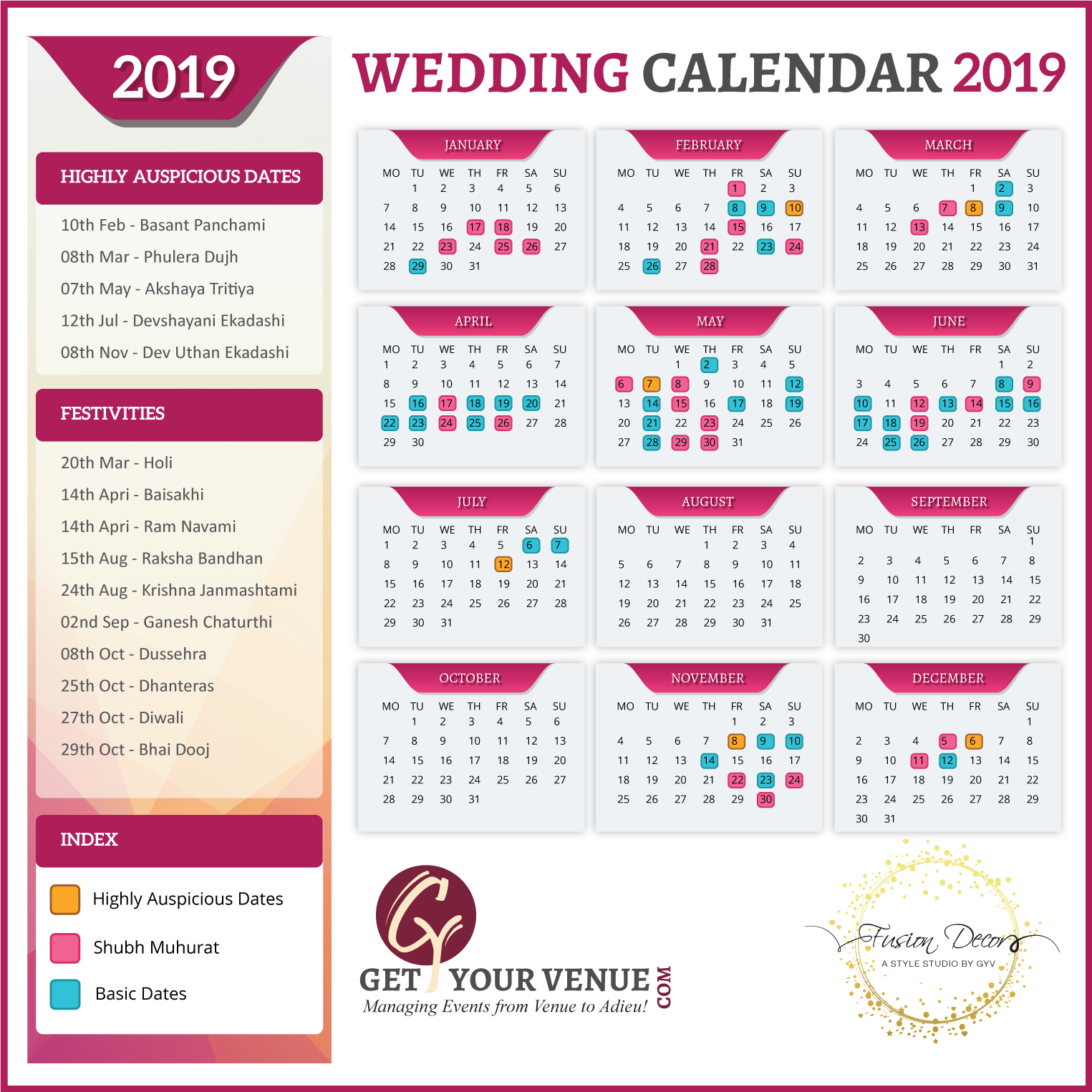 Wedding Dates in January 2019
Basic Dates – 17th, 18th, 23rd, 25th, 26th, and 29th January'2019
The month of January mark change in season and winters start giving way to Spring season. It is the time for new beginnings, new relationships, and new hopes. Appreciate nature, make new resolutions and look forward to a new, forever after relationship. It is the perfect month to tie nuptials though a little busy as malmaas comes to an end on 14th January. Many couples plan to get married in this month as the weather is delightful. It brings good fortune, wealth and health to the families involved as this is the first auspicious month of the year.
Wedding Dates in February 2019
Basic Dates – 1st, 8th, 9th, 10th, 15th, 21st, 23rd, 24th, 26th and 28th February'2019
The month of February is synonymous with the celebration of love and is very significant, especially for millennial couples. Save any of the dates mentioned above if you wish to get married in the month of love. If you are keen to get married as per muhurat, you can choose any of the auspicious dates. If you wish you can pick any date from the Valentine's Day week and enjoy celebrating your anniversary year after year remembering this glorious day when you took vows to live a happy life tomorrow.
Wedding Dates in March 2019
Basic Dates – 2nd, 7th, 8th, 9th, and 13th March'2019
March is the perfect time to get married as winter wedding season comes to an end for the first half of the year. If you would like to go for a destination wedding, March is the perfect time when temperatures are not too high or low, and the weather is pleasant. You can plan a beach wedding or exchange vows in prominent desert cities. Hill stations like Ooty, Kullu, Manali, Shimla, Kashmir and more hosts a lot of weddings in this month. Moreover, Holi festival falls in this month which enhances the fun of getting married in March with vibrantly-colored themes to keep things exciting. Another factor that favors getting married in March is the weekend muhurats that are perfect for people in jobs finding difficult to get leaves.
Also Read : Best Hindi Wedding Songs for Your Marriage Function
Wedding Dates in April 2019
Basic Dates – 16th, 17th, 18th, 19th, 20th, 22nd, 23rd, 24th, 25th, and 26th April'2019
This month has a lot of auspicious days and muhurats. Many couples love to get married in this month as the temperature is not too high and still bearable. Weekend dates also make it perfect for couples and families hard-pressed for time and who are looking for a weekend wedding. This way, the work schedule of guests planning to attend the ceremony can be planned out easily. These weekend muhurats also allow avoiding exam dates. Check out cool spots like Munnar, Ooty, Kullu, Manali, etc., for a private wedding ceremony amidst friends and relatives. Just check the dates of General Election 2019 which are soon going to be announced to avoid any last-minute changes.
Also Read: Sheena Bajaj and Rohit Purohit Wedding Celebration
Wedding Dates in May 2019
Basic Dates – 2nd, 6th, 7th, 8th, 12th, 14th, 15th, 17th, 19th, 21st, 23rd, 28th, 29th, and 30th May 2019
If you are looking forward to becoming a beautiful summer bride, you can check out May month for auspicious days. You will find a lot of options to choose from. Since this month marks soaring high temperatures, it is better to go for an indoor wedding or pick cool spots like prominent hill stations to get married. There are several resorts, banquet halls, and hotels that arrange beautiful weddings. You can also go for a pool-side wedding in any luxurious hotel or resort. Instead of sweating out with your makeup running on your face, it is better to be safe and choose a nice, cozy cool place for a wedding.
Wedding Dates in June 2019
Basic Dates – 8th, 9th, 10th, 12th, 13th, 14th, 15th, 16th, 17th, 18th, 19th, 25th and 26th June'19
At this time and month of the year, temperatures are freakingly high and thinking about getting married outdoors is an idea that you should immediately rule out. There is no point in making yourself and the guests gracing the occasion uncomfortable. Think hill stations or indoors and get wedded in style amidst scenic locales or beautifully decorated spaces. There are ample muhurat options available in this month giving you a free hand to choose whichever date you wish for. Families with kids can attend a wedding being solemnized in this month as schools are over and summer vacations are going on in June. Book your wedding venue today to beat the rush.
Wedding Dates in July 2019
Basic Dates – 6th and 7th July 19
It is the last month when you can get married before Hindu Calendars' "no sava" period begins and continues during August, September and October months. There are only two muhurats considered auspicious to get married in this month. Choose quickly and book your wedding venue before the further delay. This month marks the onset of monsoon, and you need to be prepared for a sudden shower on your wedding day. Moreover, humidity levels are very high. Thus, it is better to choose indoors for the ceremony and reception.
No Wedding Dates in August, September and October
Wedding Dates in November 2019
Basic Dates – 8th, 9th, 10th, 14th, 22nd, 23rd, 24th and 30th
Auspicious marriage period begins in November after a long gap of three months. At this point, the weather is pleasant with warm afternoons and cool nights. There are two weekend muhurats available, giving suitable options for planning various wedding events. It is also the perfect time for outdoor weddings. Choose a charming venue that offers a combination of an indoor banquet hall and sprawling gardens for main events like wedding and reception. Guests would love getting all dressed up and show their wedding finery to all to admire. Stunning evening décor and twinkling lights can create a perfect ambience for the "do."
Wedding Dates in December 2019
Basic Dates – 5th, 6th, 11th, and 12th
There are only four Hindu wedding muhurats in December as malmaas is all set to begin. Excited bride and groom can beat winter blues and head to popular wedding destinations like Jodhpur, Udaipur or any South Indian destination to get hitched. Many celebrity weddings are taking place at these royal destinations giving serious wedding goals to other couples who are soon going to get married. It is the perfect time for amazing outfits, superb food and late-night partying.