Fun & Overtly Funny Wedding Invitation Ideas to Send Your Friends & Family
By Get Your Venue | 30 Jan, 2021
Any bride or groom-to-be would understand the excitement that designing a wedding invitation card holds. When it comes to the wedding invitation, more than the outlook and the design, it is the content that takes a lot of time to finalize. And since it is the content through which you express your emotions and invite your special ones to be a part of your celebration, it has to be unique, fun, and special. Moreover, it must speak for your style and personality. So if your friends define you as humorous, creative, and fun, we have got you covered!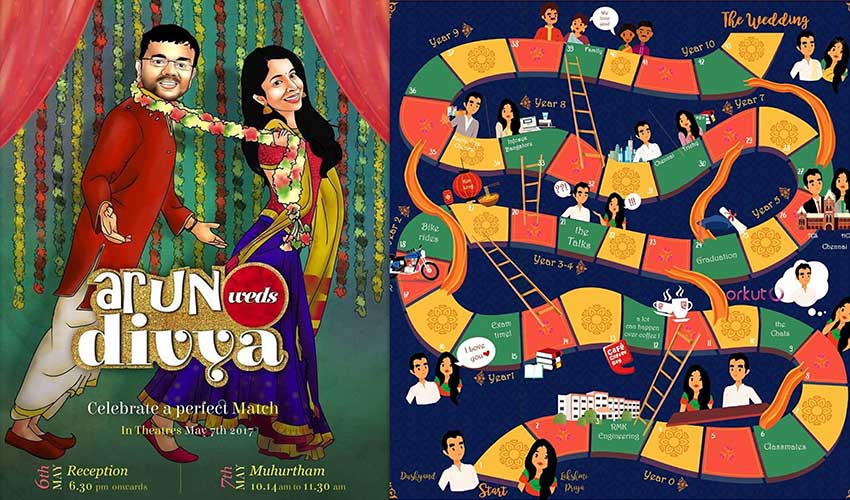 Here we have some fun and overtly funny wedding invitation for you to consider:
#1 If you are all set to marry your best friend and are thinking to invite your common friends or close friends, this wedding invite would make a perfect pick.
If free booze, partying all night, lots of good food, and music pleases you, we invite you to join us on our special day. We have decided to tie the knot and are all ready to take this rollercoaster ride called life together.
We hope you will join us in the fun!
Love,
Date:
Time:
Venue:
#2 In case, you can't think of anything creative, it is always wiser to take some funny quotes by celebrities or writers for your wedding invite, just like this witty quote by Judith McNaught.
"The groom always smiles proudly because he's convinced he's accomplished something quite wonderful. The bride smiles because she's been able to convince him of it." 
Now that we both are smiling, our smiles will only get bigger if we'll have our dear friends by our side on our big day.
Come join us for the fun as we begin our happily ever after!
Love,
Date:
Time:
Venue:
Read: 8 simple ideas to make your wedding eco-friendly
#3 Filmy yet fun, this wedding invite is sure to bring a smile to all your invitees' faces.
Since I am all set to become Simran to my Rahul, we would love to have you by our side as we roll on our Dilwale Dulhaniya le jaayenge journey. We promise you the celebrations will be as fun for you as it is for us.
Looking forward to seeing you all on our big day!
Love,
Date:
Time:
Venue:
#4 If you are looking for an overtly funny yet emotional wedding invite for your friends, this would do the job for you.
Unlimited Alcohol- Check
Lip-smacking food- Check
Dance & Music all night- Check
My Idiot friends- Missing!
Since we can't imagine celebrating any special day without you guys, we would be delighted if you can join us to celebrate our big day as I & Rishabh are all set to exchange the vows.
So please complete the list and be there with us.
Love,
Date:
Time:
Venue:
#5 Are your parents or elder siblings going to send an invite on your behalf? If yes, here is the perfect wedding invitation message for you!
Banno Re Banno Meri Chali Sasural Ko...Ankhiyon Mein Paani De Gayi...Duaa Mein Meethi Gud Dhaani Le Gayi!!
As the day we have been waiting for is finally here, we invite you all to come and bless our dearest Megha as she is all set to fly away to her new home and begin the new life with Anshuman. We request the pleasure of your company at the celebration of Megha & Anshuman. 
Date:
Time:
Venue:
For more amazing bridal trends and wedding invitation ideas, contact our experts at Get Your Venue.  You can also contact the best wedding planners in Delhi at Get Your Venue.