How to involve guests in your Virtual Lockdown Wedding?
By Get Your Venue | 05 Oct, 2020
The world has changed due to COVID-19, and so the idea of a celebration for most of us. The pandemic has made our world go upside down, but many of us are still trying to put our best feet forward and trying to keep sane. Instead of a big fat Indian wedding, couples are now going for intimate celebrations to ensure the safety of their loved ones. So, if your wedding is just around the corner and you are confused about whether to put your guests at risk or not, we have some fabulous ideas for you to celebrate your big day. Yes, now you can virtually include all your guests at your wedding with these super cool ways. Don't believe us? Here have a look at some of the fabulous virtual wedding ideas we have listed for you: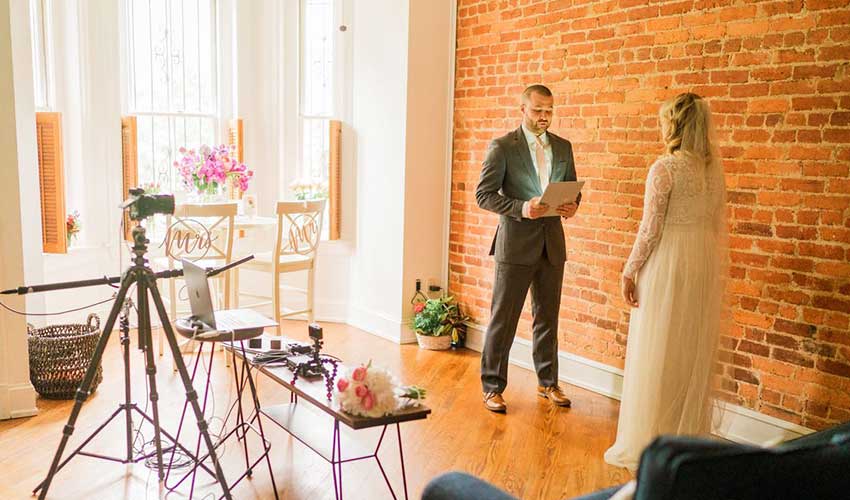 Organize a bachelorette virtually
Yes, you can throw a pre-wedding bash virtually and have a gala time with your friends. Plan a regular virtual pre-wedding bachelorette or go for a theme-based bash; you can do it all to live your wedding dreams. Just get dressed, plan a zoom party, get drunk, and play fun online games. You can also play Pictionary or any of your favorite games with your squad.
Invite your virtual guests to your Sangeet Ceremony
Sangeet is the most celebrated nuptial of any wedding, and who wouldn't want to have their dear ones involved in the ceremony. Worry not, you can celebrate it online. Create a group and invite your friends, and ask some of your friends to prep a dance and perform it online during your group call. You will all definitely love the experience of celebrating your sangeet ceremony online.
Decide the theme & dress code for your wedding
Don't avoid this vital aspect of the wedding just because you are planning it all online. Set the dress code and theme for your big day and ask all your friends to join virtually. Make sure all your guests are dressed as per the theme and connect with them virtually.
Read: Best Indoor Games for Newly Married Couples to cope with the ongoing home isolation
Order Pastries for your guests & have it together
Can you imagine a celebration without good food? Of course not! To make your celebration more fun, you can order pastries and snacks for your guests. Adding tempting flavors to your celebration will jazz it up for both you and your guests. The best part is that it will not cost you much and would make you and your guests enjoy the celebration to the fullest.
Apart from doing all these fun things, you can also create memories for a lifetime using Facetime photography on call. You can also hire a professional photographer who will capture your precious moments with utmost perfection even when you are connected with your dear ones over a video call.
For more fun ideas and arrangements for your intimate celebrations, you can also contact our team at GetYourVenue. They will surely come up with fabulous and super fun ideas to make your celebration more fun and exciting. Wait no more and contact our team today.