Best Hindu Wedding Dates For 2020: Pick the Best Date for Your Marriage
By Get Your Venue | 27 Jan, 2020
With New Year comes the new excitement, plans and of course the new dates for the wedding. Weddings are one of the most sacred occasions where two souls unite to be one. It is not just the union of two people but two families as well. Since it is such a momentous occasion of one's life, it is vital to pick the right date for the wedding, especially if it is a Hindu marriage. No matter if you believe in auspicious marriage dates and shubhmuhurats or not, they play a massive role in making your marital life successful. At GetYourVenue, we do not just help our clients to find the best wedding venues, but we have also curated the list of auspicious wedding dates available in 2020. Our team at GetYourVenue strives hard to make your wedding planning as much easier as possible, hence sharing this calendar with upcoming auspicious wedding dates. Don't forget to bookmark this blog or save the calendar for your convenience!
Hindu Marriage Dates in January 2020
January is undoubtedly the best time of the year to host your wedding. The pleasant cold weather adds so charm to your celebration and the clear skies make it the best month to pick for outdoor weddings. So, if you are a winter person and love an outdoor wedding, here are the best marriage dates in January 2020 for you:
| | |
| --- | --- |
| Basic Dates | 22nd January, 25th January, 28th January |
| ShubhMuhurat | 26th January |
| Highly Auspicious Dates | 15th January, 16th January, 17th January, 18th January, 19th January, 20th January, 29th January, 30th January, 31st January |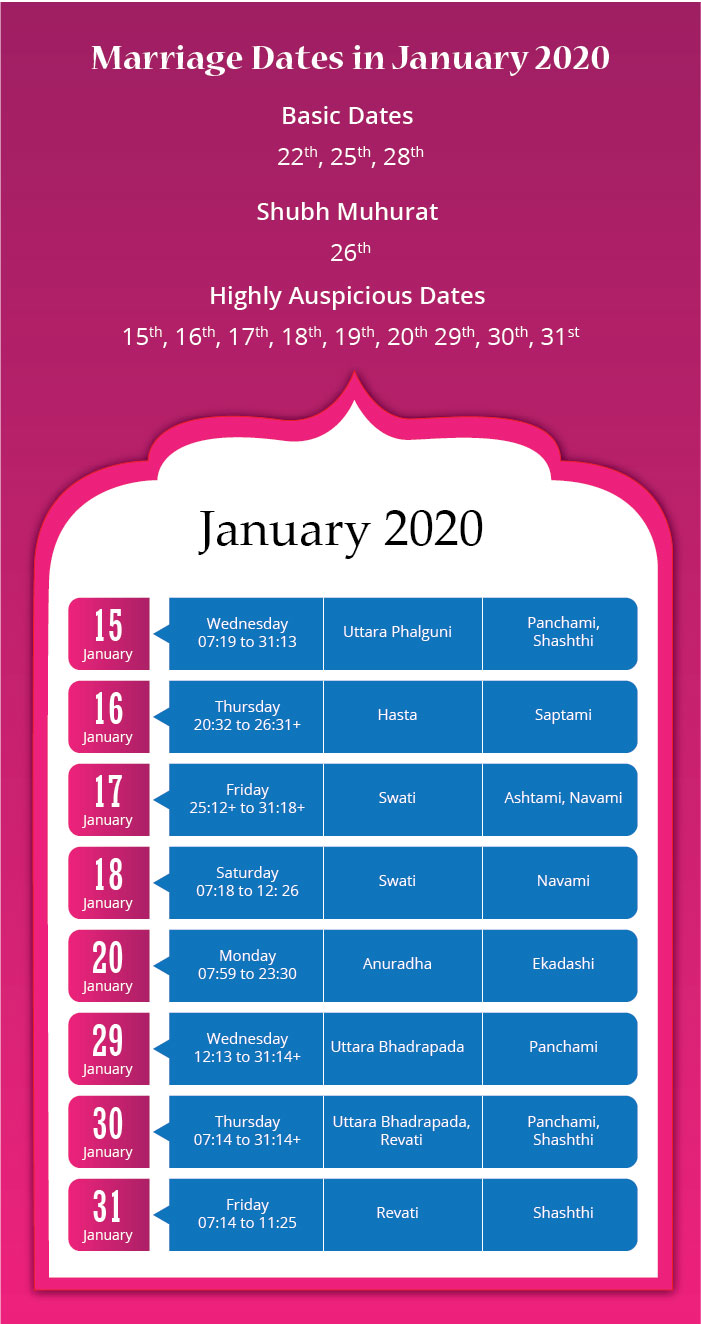 Hindu Wedding Dates in February 2020
The month that all couples wait for, February is undoubtedly one of the best months to get married. There are many auspicious dates in 2020 available for Hindu weddings. Here are some of the dates you can pick from:
| | |
| --- | --- |
| Basic Dates | 2nd February |
| ShubhMuhurat | 1st February, 4th February, 5th February, 8th February, 14th February, 15th February, 20th February, 28th February |
| Highly Auspicious Dates | 3rd February, 9th February, 10th February, 11th February, 12th February, 16th February, 18th February, 25th February, 26th February, 27th February |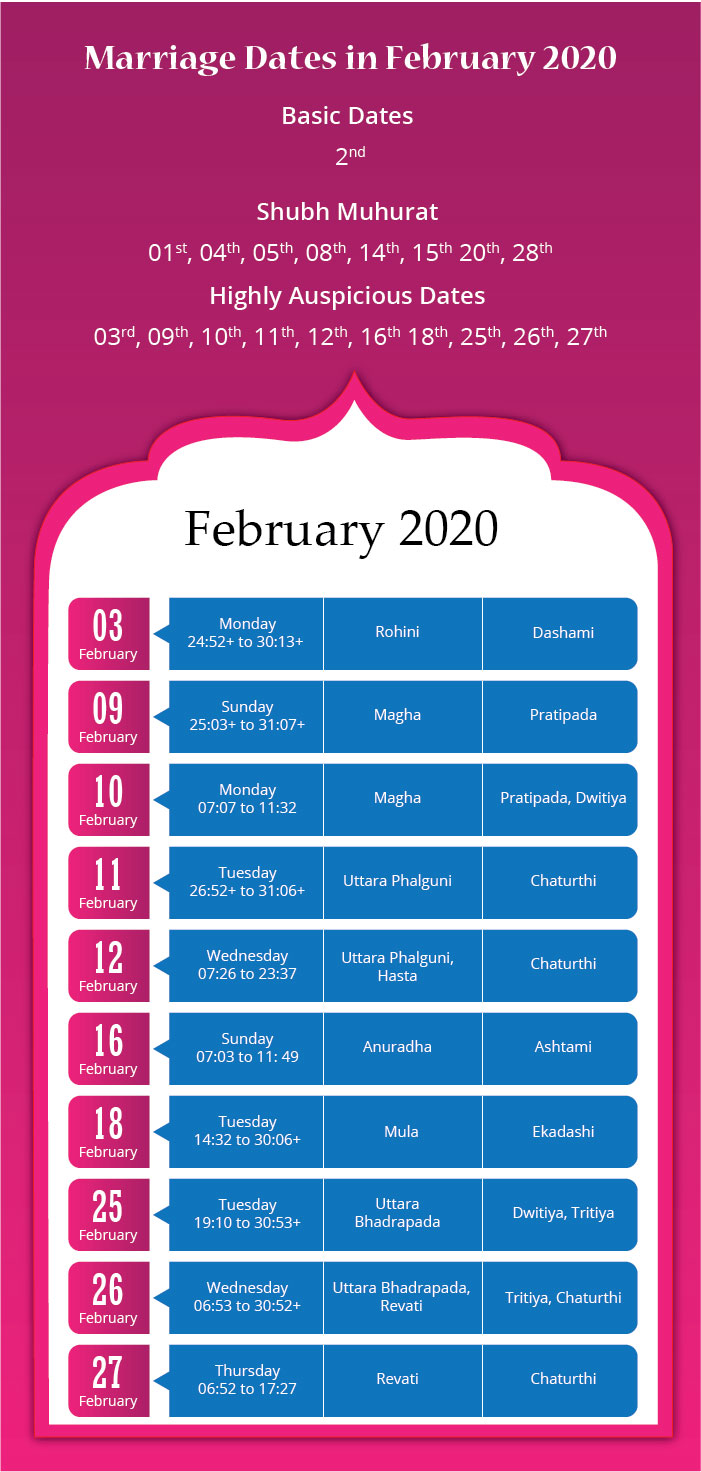 Hindu Marriage Dates in March 2020
The Holi month is holy enough to plan your wedding. The month of March has lots of shubhmuhurat and auspicious dates for your wedding nuptials. Check out the dates below and pick the one that best suits you.
| | |
| --- | --- |
| Basic Dates | 13th March, 22nd March |
| ShubhMuhurat | 10th March, 19th March |
| Highly Auspicious Dates | 2nd March, 3rd March, 4th March, 8th March, 11th March, 12th March |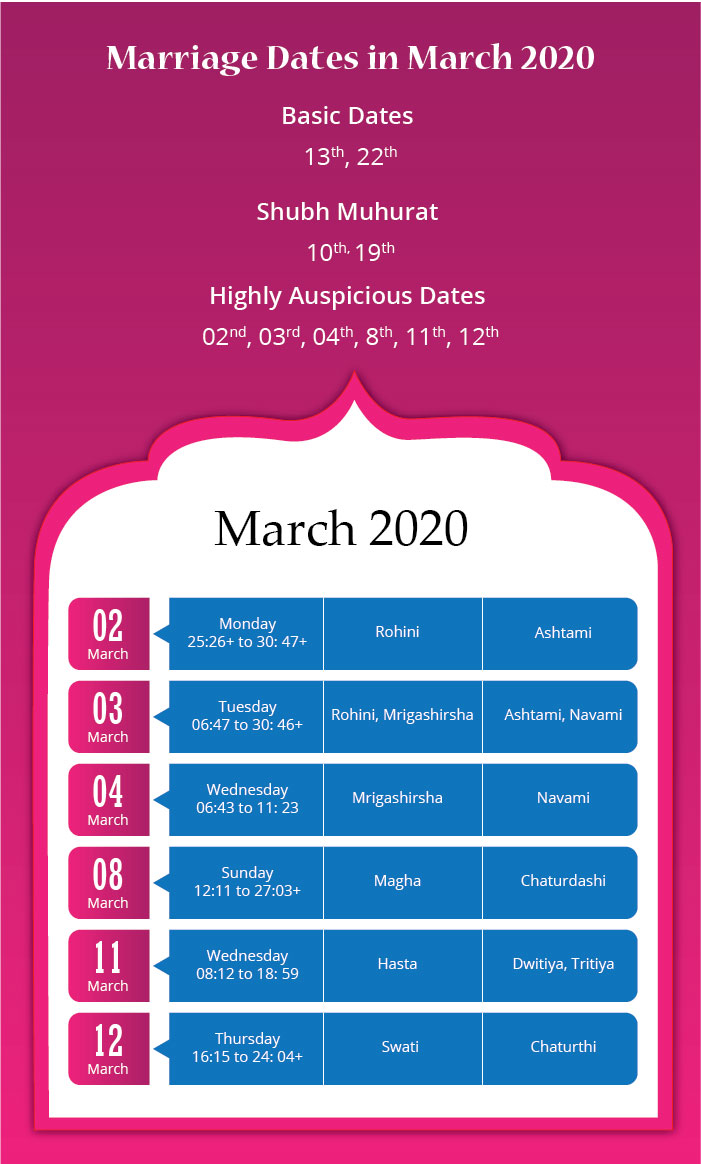 Hindu Wedding Dates in April 2020
The onset of summers makes for the perfect month for your wedding as the weather is amazing to use pretty pastels, sorbet colors and seasonal flowers. The fresh breeze would add a new charm to your outdoor celebration.
| | |
| --- | --- |
| Basic Dates | 1st April, 19th April, 27th April |
| ShubhMuhurat | 16th April, 17th April, 18th April, 20th April, 24th April |
| Highly Auspicious Dates | 14th April, 15th April, 25th April, 26th April |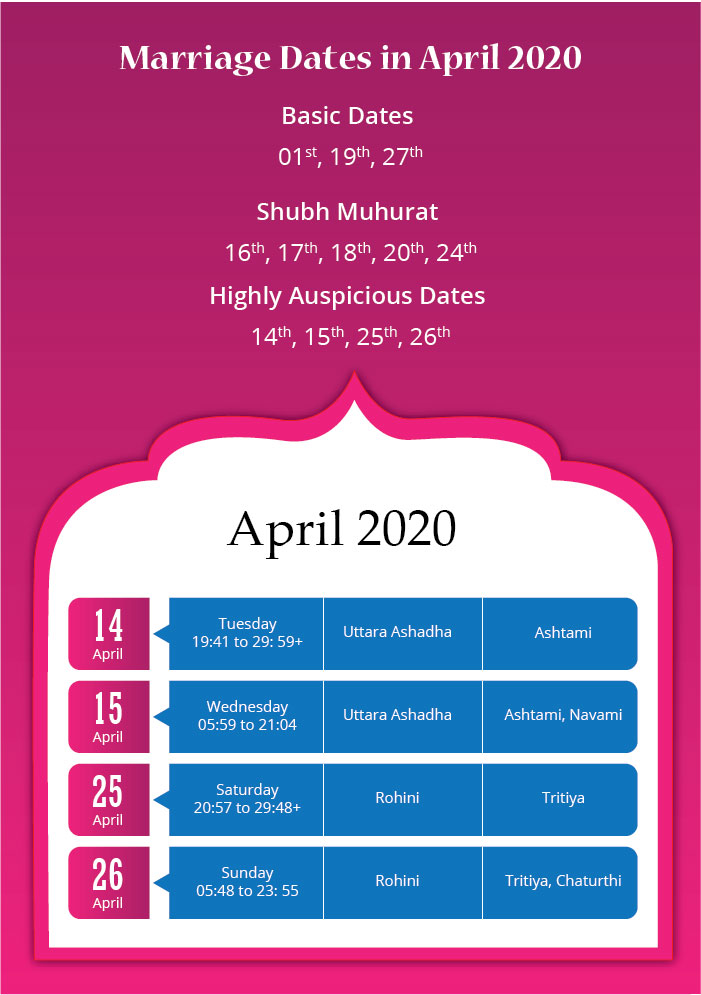 Hindu Marriage Dates in May 2020
May is one such month, where you will get many dates to pick. From ring ceremony,
sangeet
, mehndi to all other wedding nuptials, you can plan it all this month. If you like to save yourself from scorching heat, you can plan your wedding in any tropical place.
| | |
| --- | --- |
| ShubhMuhurat | 1st May, 3rd May, 15th May, and 16th May |
| Highly Auspicious Dates | 2nd May, 4th May, 5th May, 6th May, 8th May, 10th May, 12th May, 17th May, 18th May,19th May, 23rd May, 24th May |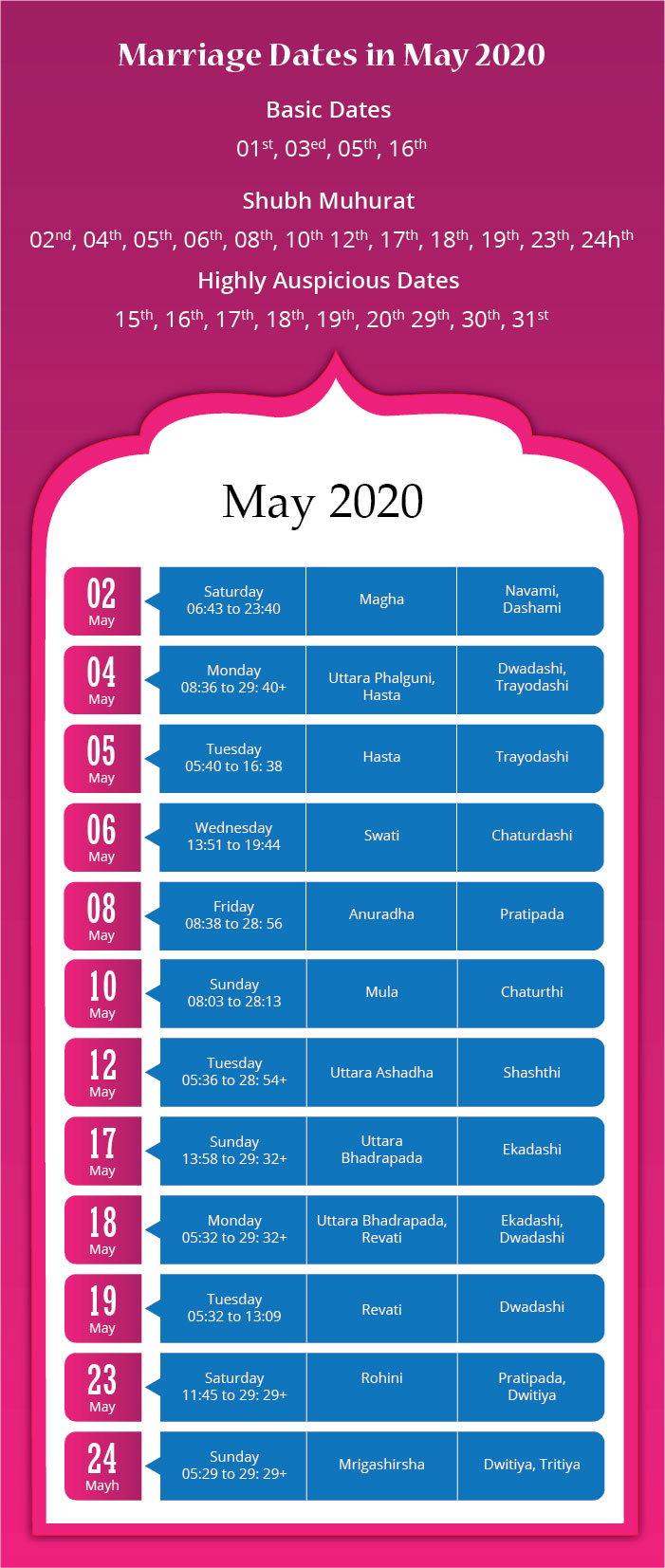 Hindu Wedding Dates in June 2020
June is another great month that is ideal for hosting your wedding. This is also a perfect
time for a beach wedding
 or destination wedding. So if June is your pick, don't think much and go for these highly auspicious wedding dates.
| | |
| --- | --- |
| Basic Dates | 3rd June, 7th June |
| ShubhMuhurat | 11th June, 17th June, 27th June, 29th June, 30th June |
| Highly Auspicious Dates | 9th June, 13th June, 14th June, 15th June, 25th June, 26th June, 28th June |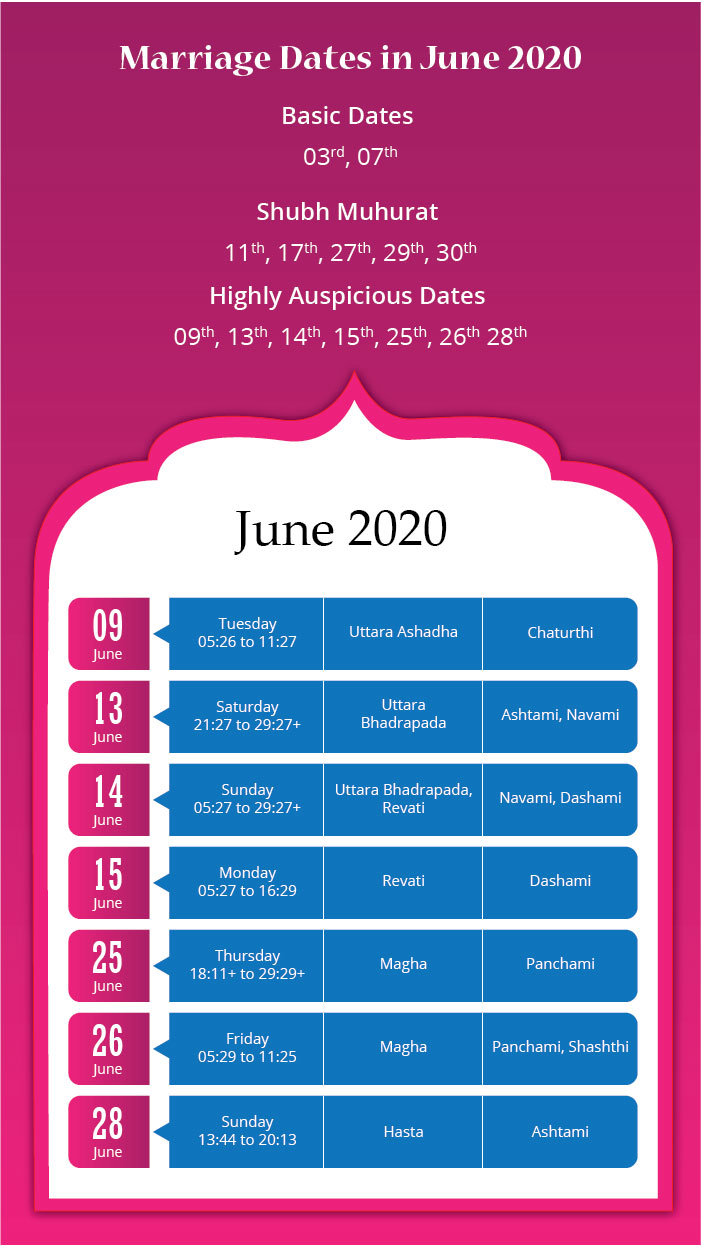 Hindu Marriage Dates in November 2020
If you want your wedding to take place in not-so-cold and pleasant weather, November is the best month of the year. It is one such month where most of the people plan their wedding. So, please don't wait and book your favourite venue now before it goes unavailable.
| | |
| --- | --- |
| Basic Dates | 1st November, 2nd November, 6th November,7th November, 10th November, 11th November |
| ShubhMuhurat | 27th November, 29th November |
| Highly Auspicious Dates | 25th November, 30th November |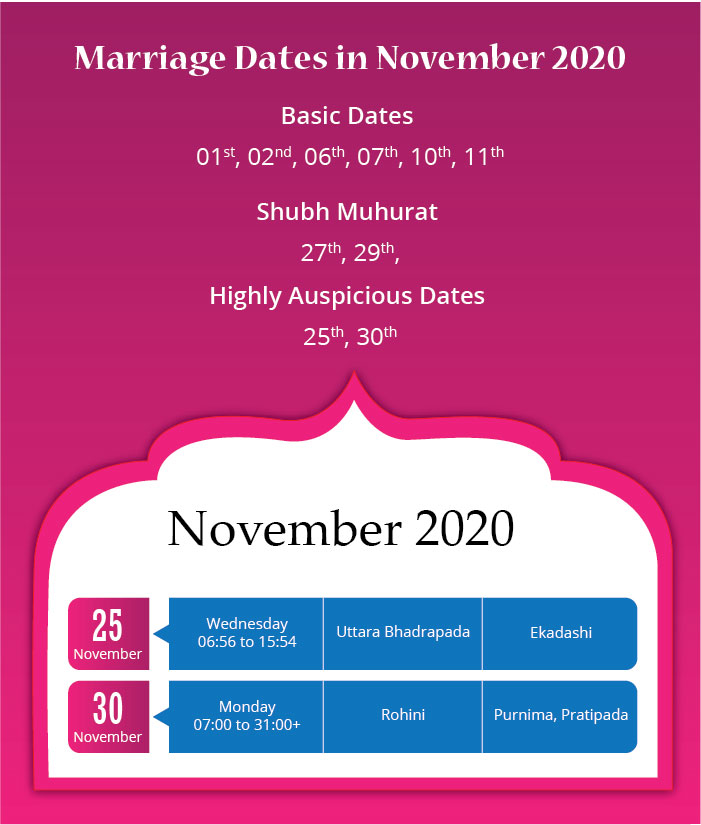 Hindu Wedding Dates in December 2020
December is the perfect time for your wedding due to the fantastic weather and a clear sky. It is when you can enjoy the winters at its best. So if you wish to get married in this month, these shubhmuhurats is undoubtedly the best days to host your wedding nuptials.
| | |
| --- | --- |
| Basic Dates | 2nd December, 6th December |
| ShubhMuhurat | 10th December |
| Highly Auspicious Dates | 1st December, 7th December, 8th December, 9th December, 11th December |