Summer Wedding Trends Expected to Rule 2019
By Get Your Venue | 03 May, 2019
So, you have decided to be a summer bride! The best part about getting married in summers is that it is reliable; there are no sudden surprises in terms of weather change. And, it is the perfect time to make the most of outdoor venues. Let us have a look into some of the trendiest summer wedding ideas in 2019 that are sure to get you inspired.
Plants to add a dash of colours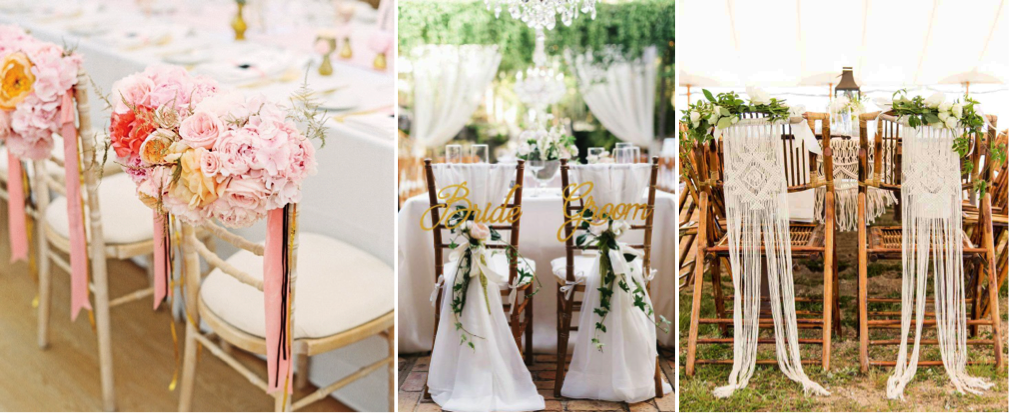 You can choose any of the vibrantly verdant foliage and tie it at the back of the chairs to make it look summery!
Bring Freshness to the 'do' with fresh blooms

Place a lovely ensemble of fresh flowers on the tables and use it liberally in over-all décor for a colourful touch. Blooms are sure to bring cheer to the ceremony.
Cool Drinks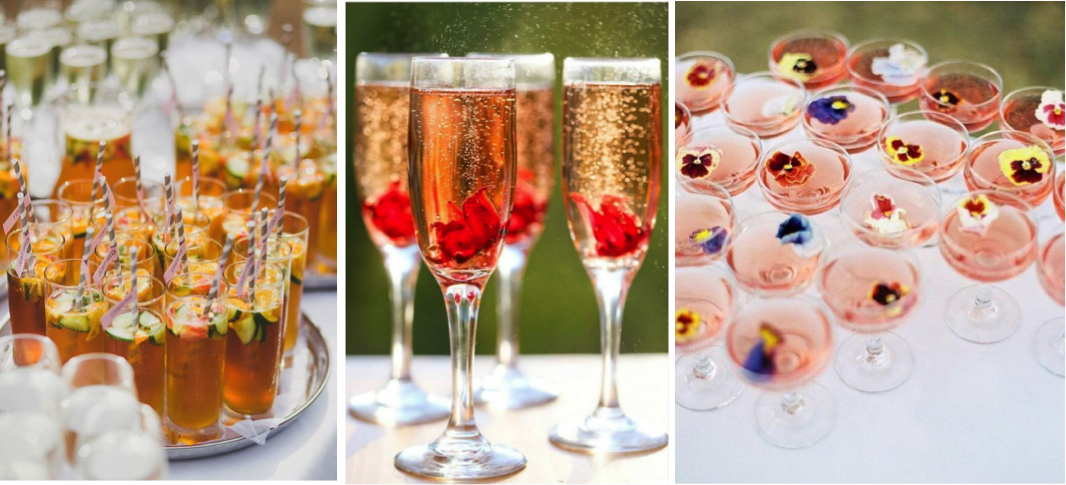 Take a sip of icy, cool drink stylishly served in an elegant glassware and stay cool and fresh all through the ceremonies.
Also Read This: 10 Best Wedding Mocktail Recipes to Your Caterer
Imaginative Wedding Themes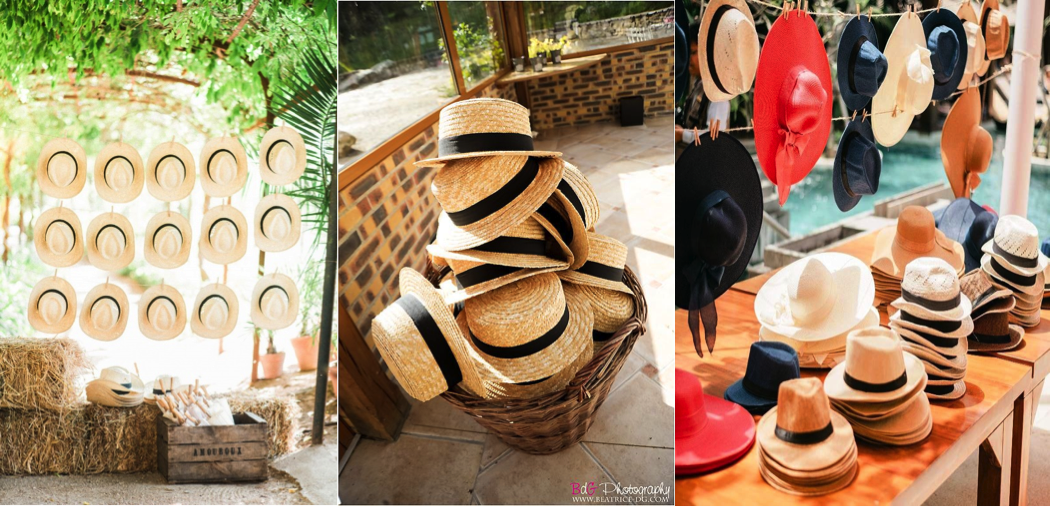 Why not give a hat to each of your guests that will keep them protected against hot sun and will also prove to be an imaginative wedding theme?
Dip your finger into delectable wedding desserts

A wedding ceremony is incomplete without desserts that just seem to melt in your mouth! Served with panache, these delights are served with dripping cream and cherries.
Sweet and Tangy Summer Drinks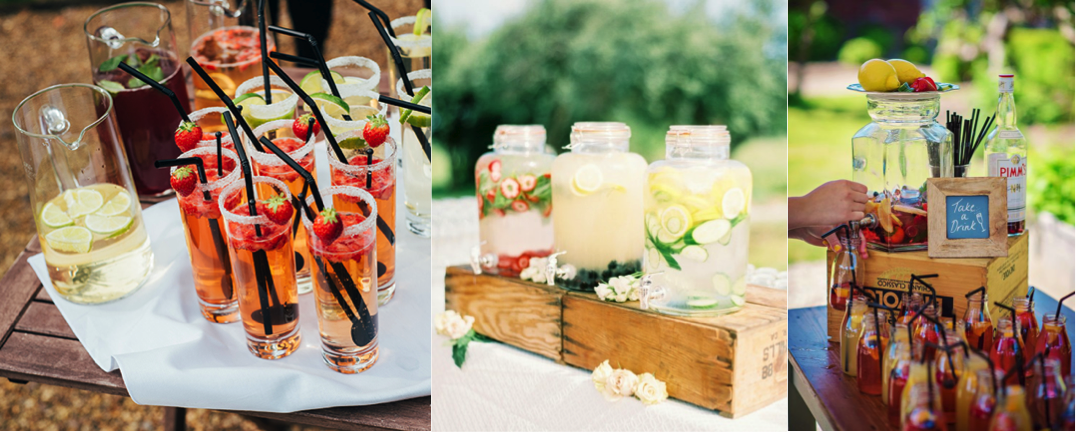 Sip the tangy-sweet flavored summer drinks that are perfect to beat summer heat while letting you have loads of fun in the summer wedding.
Pretty Floral Envelopes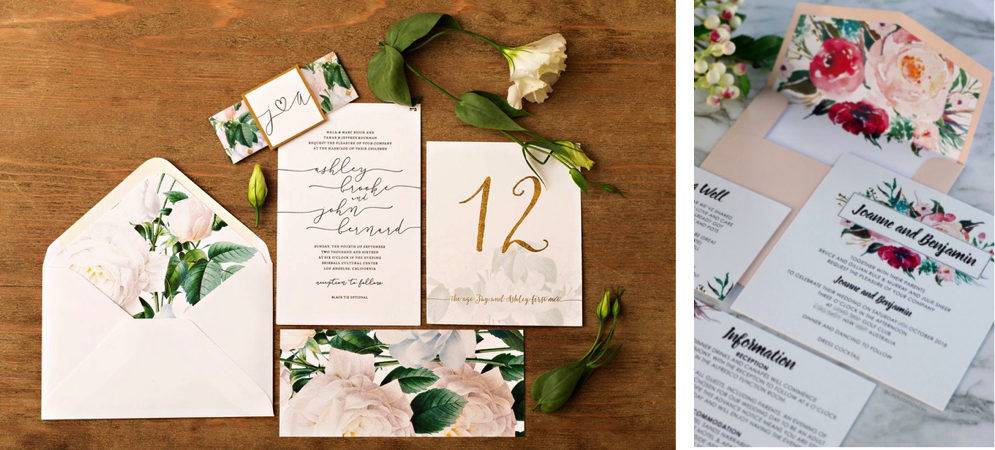 Stretch your imagination a little further and get attractive, floral envelopes designed in muted colors with a beautiful card tucked in.
Exchange Wedding Vows at Beach-side venue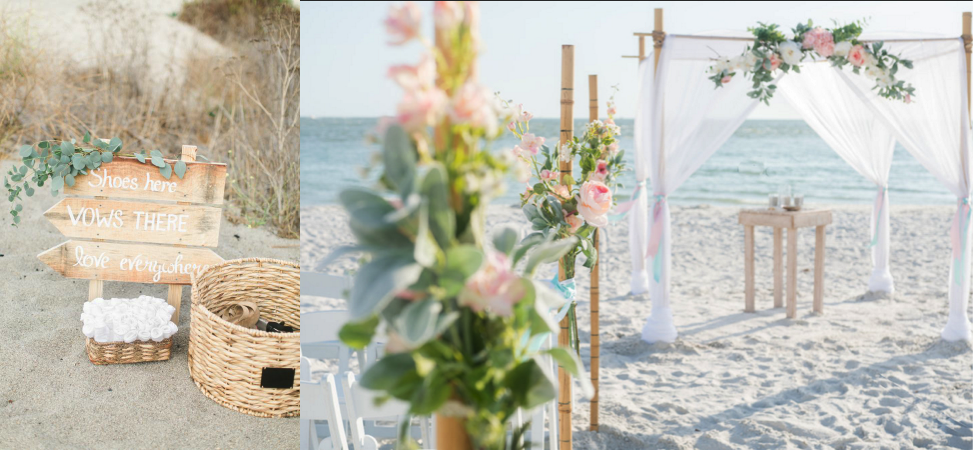 Summers are the best time to make the best use of outdoors venues. If you are water-person, choose any beach destination for your wedding decorated with vibrantly coloured trusses.
Also Read This: Farmhouses in NH8 To Make Your Summer Wedding More Bright
Give a Rustic Touch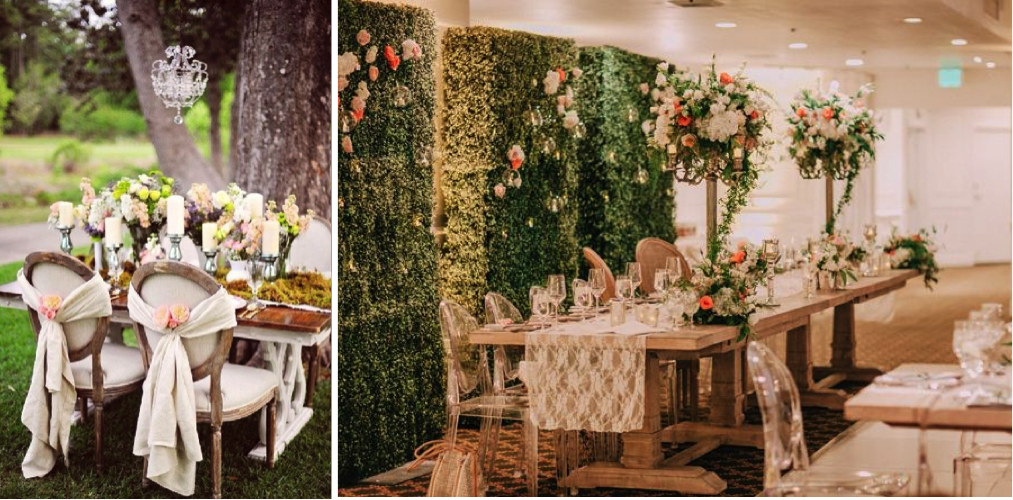 You can add a rustic touch to the wooden or cane furniture by decorating them with attractive, crocheted hangings.
Suck on Ice Lollies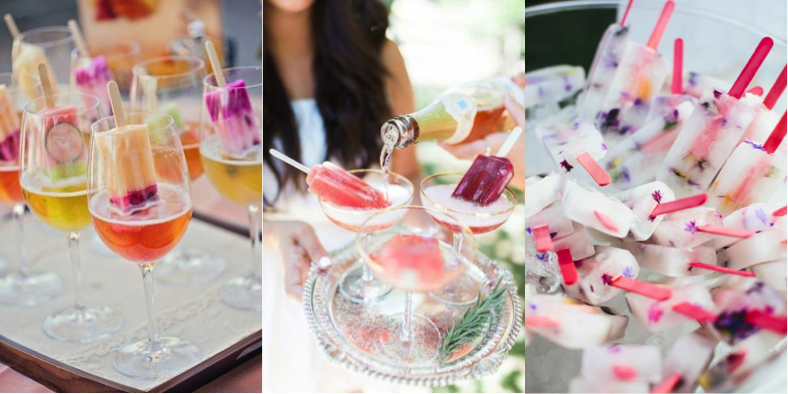 It is the best time to enjoy the sweet, cool taste of ice-lollies served in wine glasses.
Interesting Signages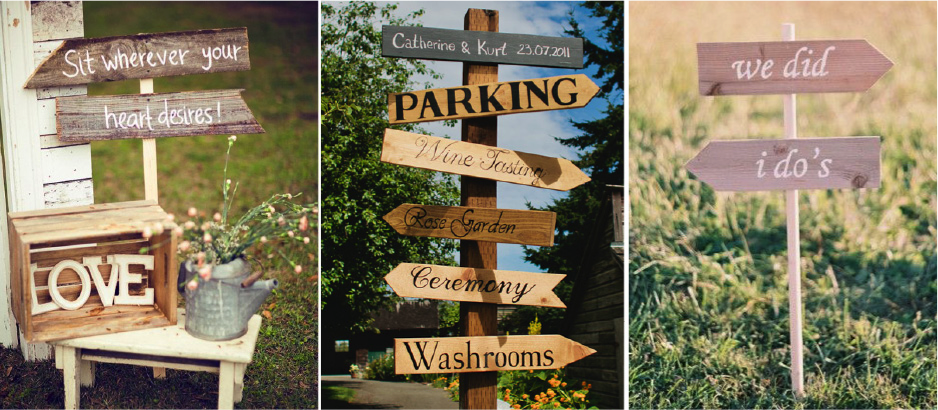 Enthrall your guests with interesting and humorous signages informing them of the ceremony schedule.
Chilled Beer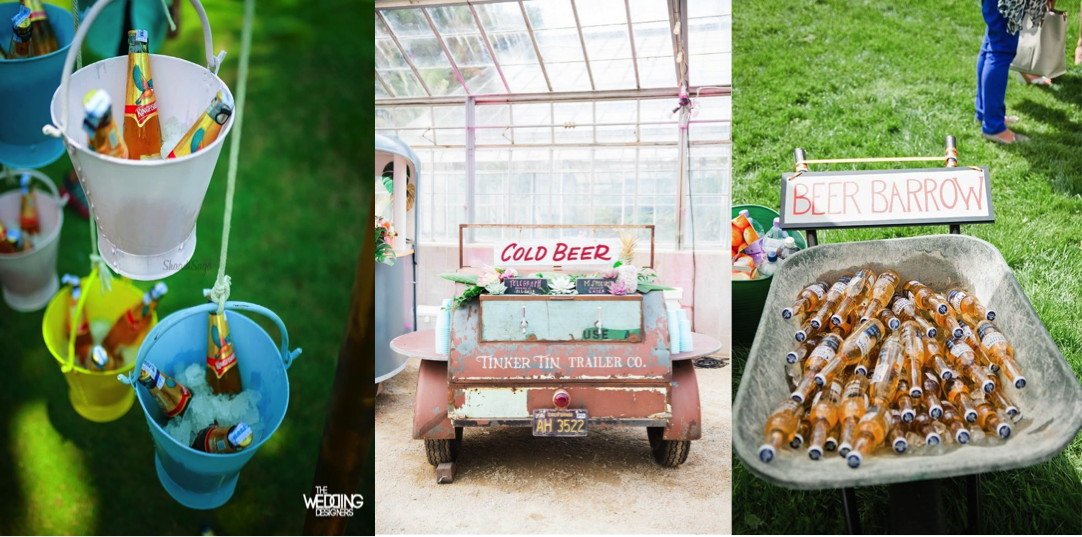 Place beer bottles in vintage buckets filled with ice here and there for the guests to pick up and enjoy and quench their thirst. You can also put chilled beer bottles in colorful buckets and hang them from tea branches or turn vintage car into a beer bar
Floral Centerpieces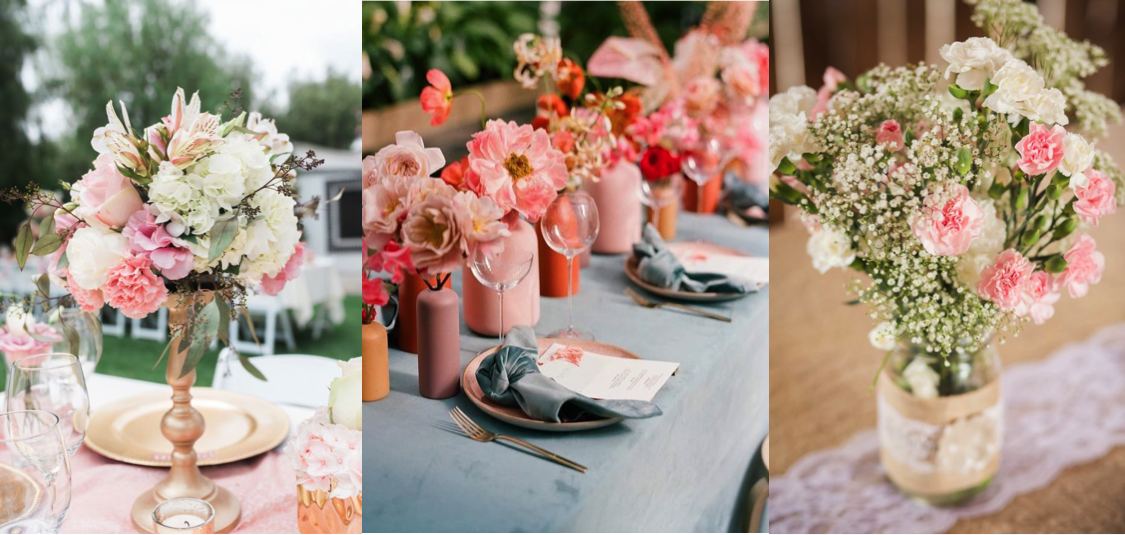 Choose an eclectic mix of whimsical carnations, pastel rose petals and lovely eucalyptus to create an attractive floral centerpiece.
Go Succulents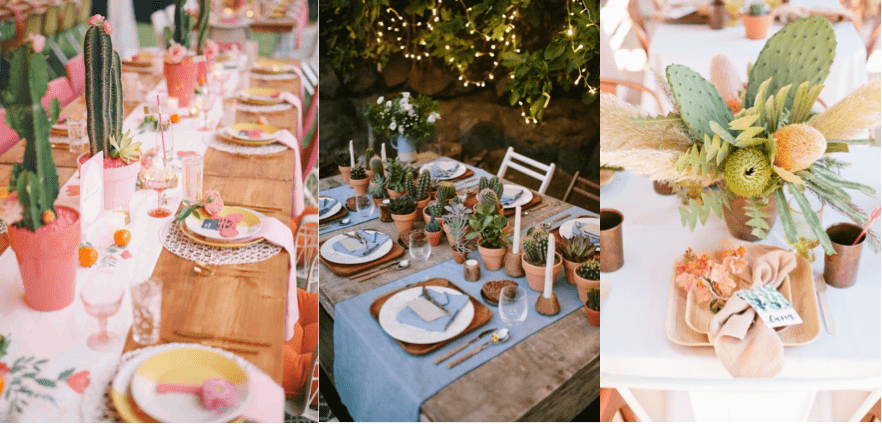 You can even choose lovely succulents with vibrantly coloured blooms for table decorations.
Cool Coconut Water in vibrantly colored Coconut Shells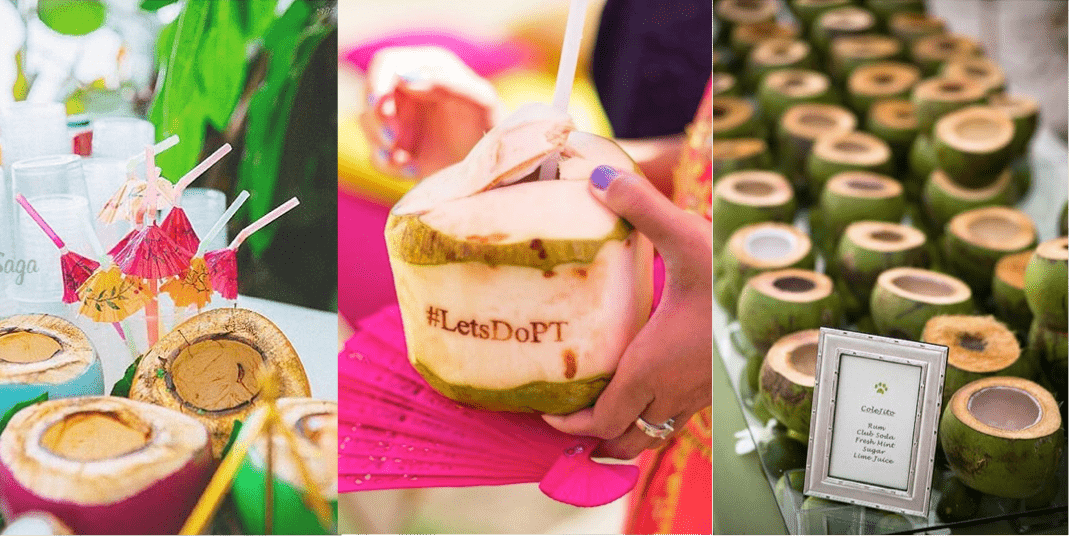 Coconut water is best liked in summers. Serve this cool drink with a complementing décor in vibrantly coloured coconut shells.
Attractive Giveaways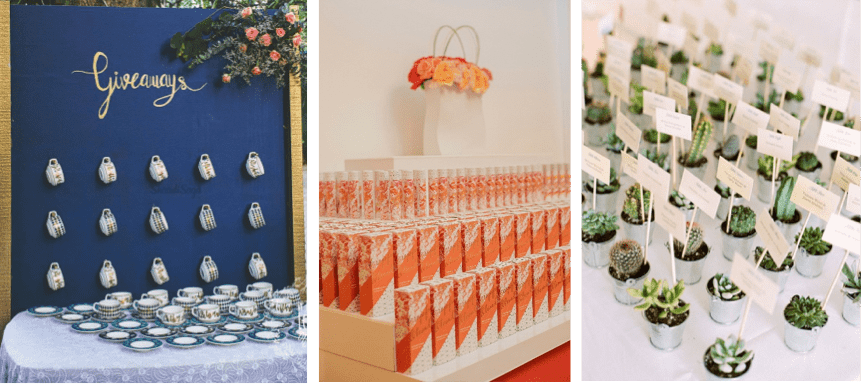 Create a wall with impressive and attractive giveaways like dainty mugs and saucers hung on it making it a focal point of the décor.
Peonies Everywhere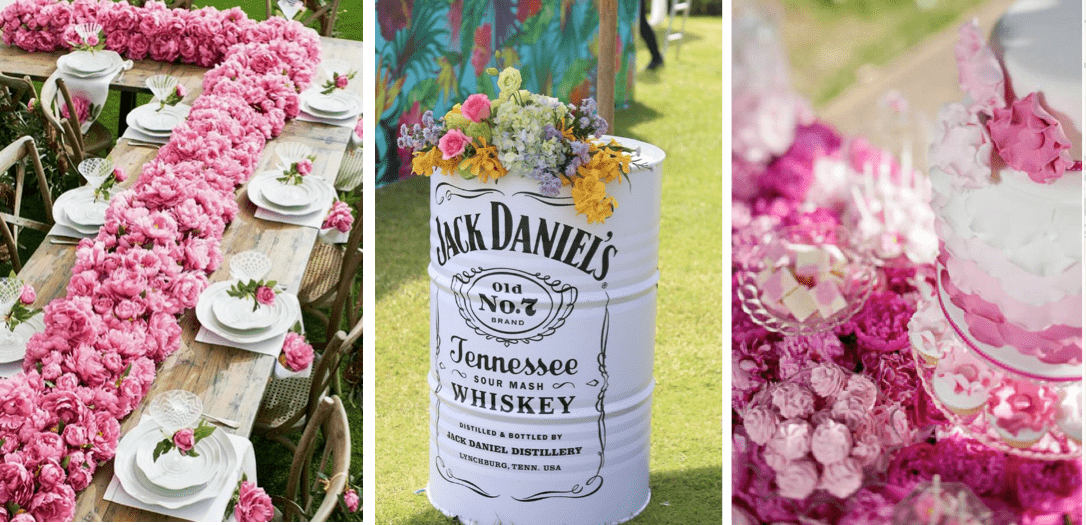 Place huge, discarded Jack Daniels Drums here and there at the vast expanse of outdoor venue filled with vibrantly coloured peonies bringing colour and cheer everywhere.
Vibrantly coloured Marquee
Erect a huge marquee with vibrantly colored trusses creating a perfectly cheerful ambiance. Exchange garlands under the canopy of lovely colourful chandova.
Lovely Potlis as hanging décor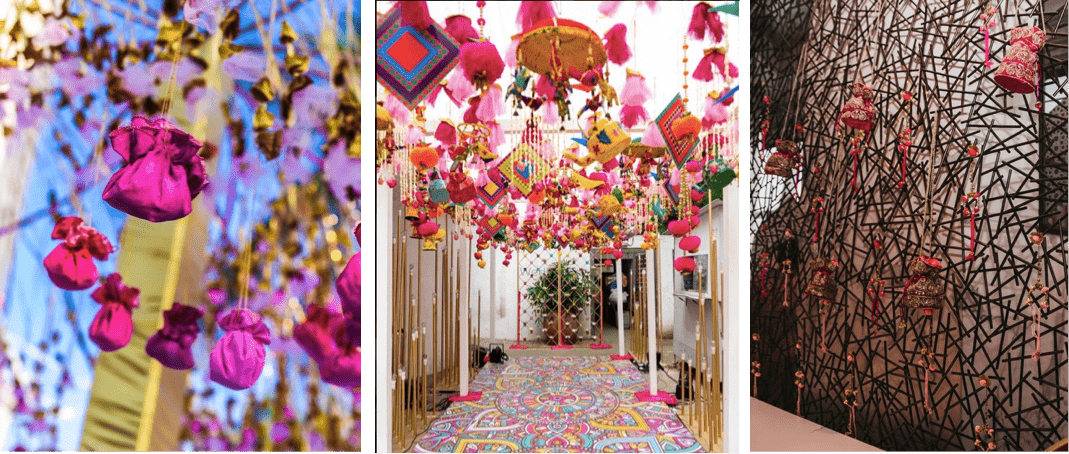 Hang colourful potlis on tree branches as hanging decorations to create a snazzy feel to the place.
Bloom Baskets Hanging Upside Down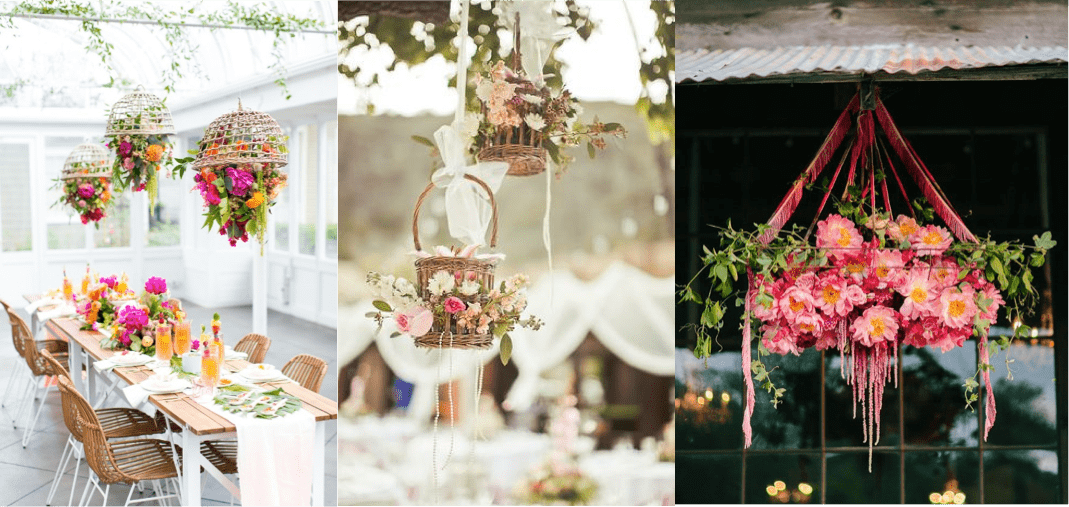 Channel the garden style with bloom baskets hanging upside down, right above tables in all its splendor and style.
Thoughtful Gifts

Choose a suitable pastel shade like muted mauve and put together a collection of hat, glares, cosmetics, lotions and more for your guests.
Go all Floral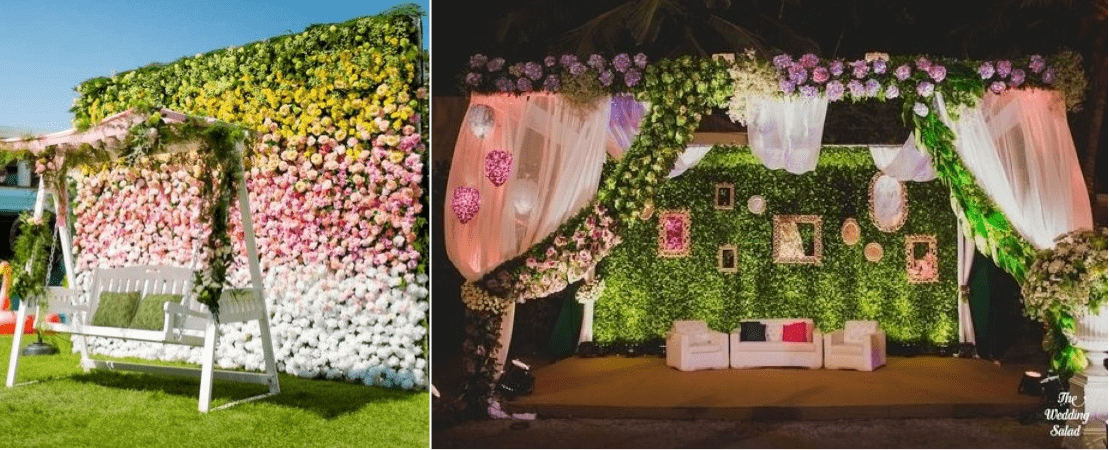 You can also get a truss erected decorated with red and pink and green hues of fresh blooms all over providing shade to the guests sitting below on wicker furniture
Water Bottles on Rocks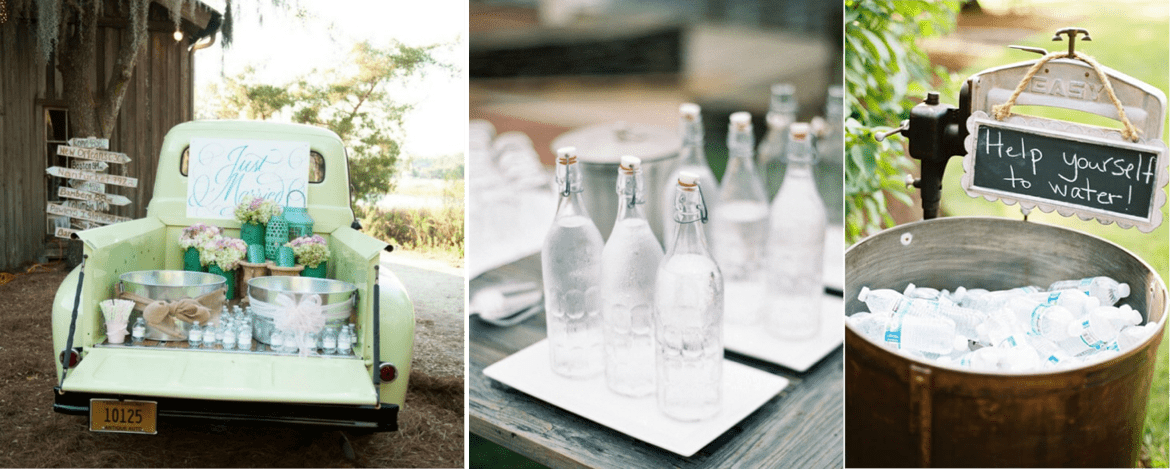 Place ice-cold water in bottles perched atop rocks or artificially created rockeries here and there.
Mason Jars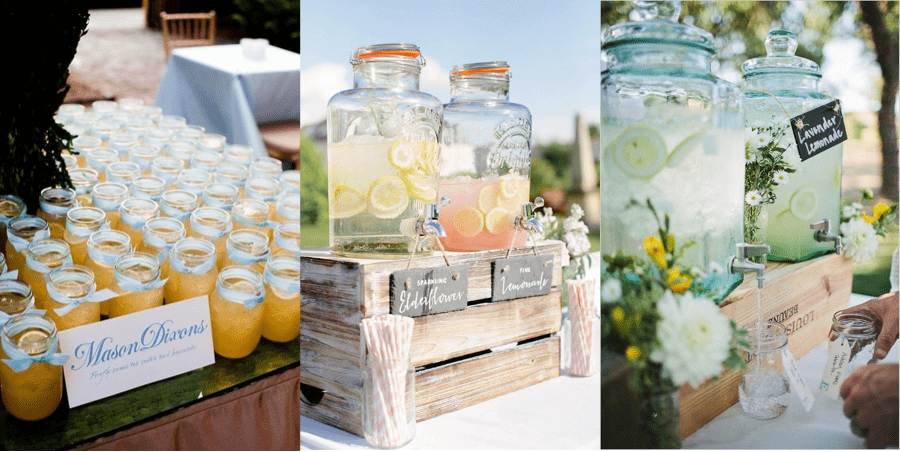 Keep mason jars with refreshing water and cut fresh vegetables or fruits placed on tables.
Glass Display Counter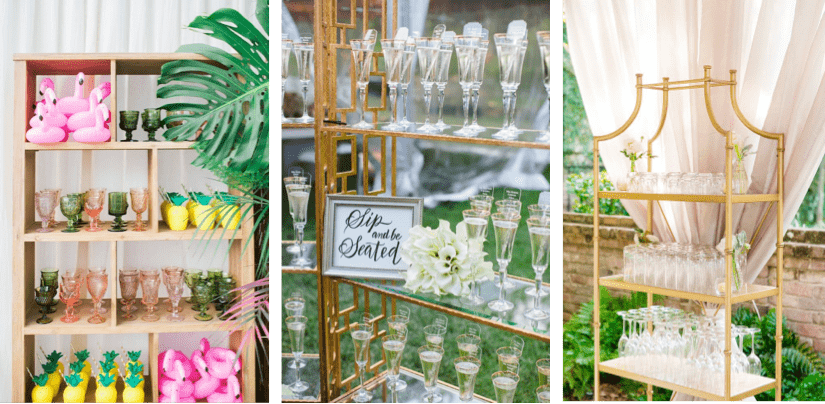 Place wine goblets, glasses and other serving wares on a wooden bookshelf counter for an attractive look.
Comfort Food on Sticks Brings Comfort to You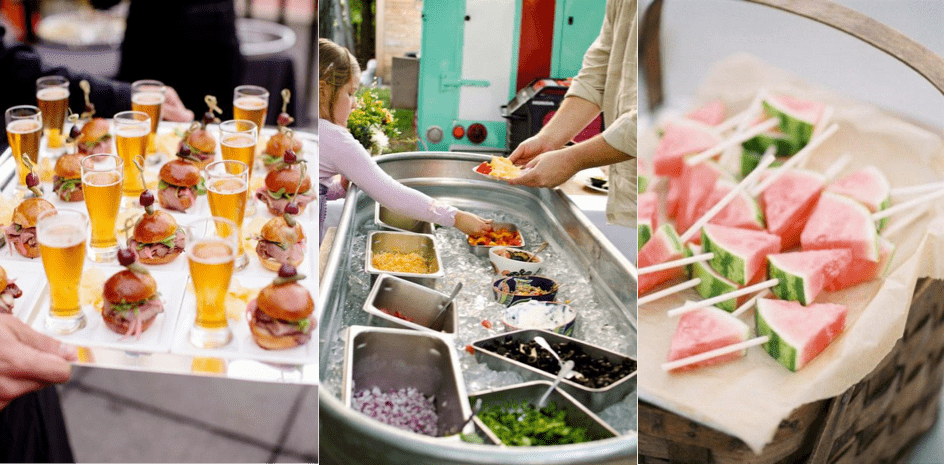 Watermelons cut in attractive dices on sticks and mini burgers can be arranged artistically to be served to the guests.
Extravagant Floral Mandap

Create a lovely stage for the couple to seat beneath hanging florals in myriad hues and colours creating an enveloping blanked overhead.
Relief Station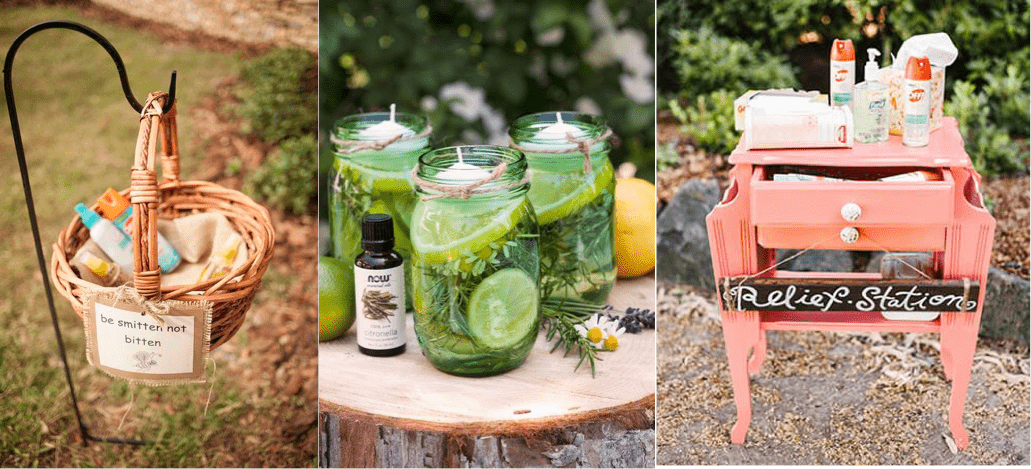 With summers, another problem that comes up besides braving high temperatures is the wrath of mosquitoes, which can get too irritating at times. Place mosquito repellants, soothing candles with natural herbs in a basket or even better makes a relief station.
Sunscreen  & Heel Protectors

With summer weddings, a major issue you face is burned skin. Place sunscreen lotions, heel protectors and more for the guests helping them handle these dual challenges.
Wedding Parasols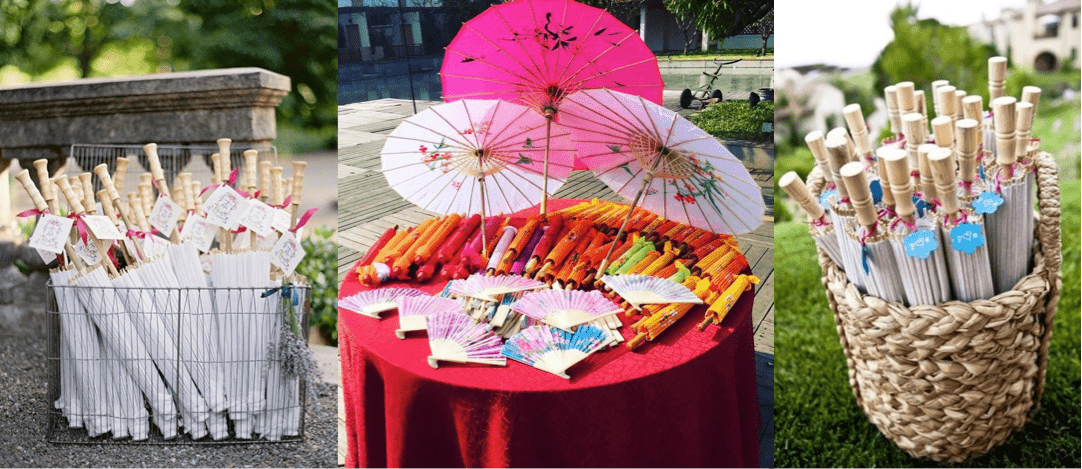 If organizing an outdoor event, why not invest in stylish wedding parasols stuffed in a basket or a bucket kept to be used by the guests to block harsh sunrays beating down on their heads?
Hand Fans & Sunglasses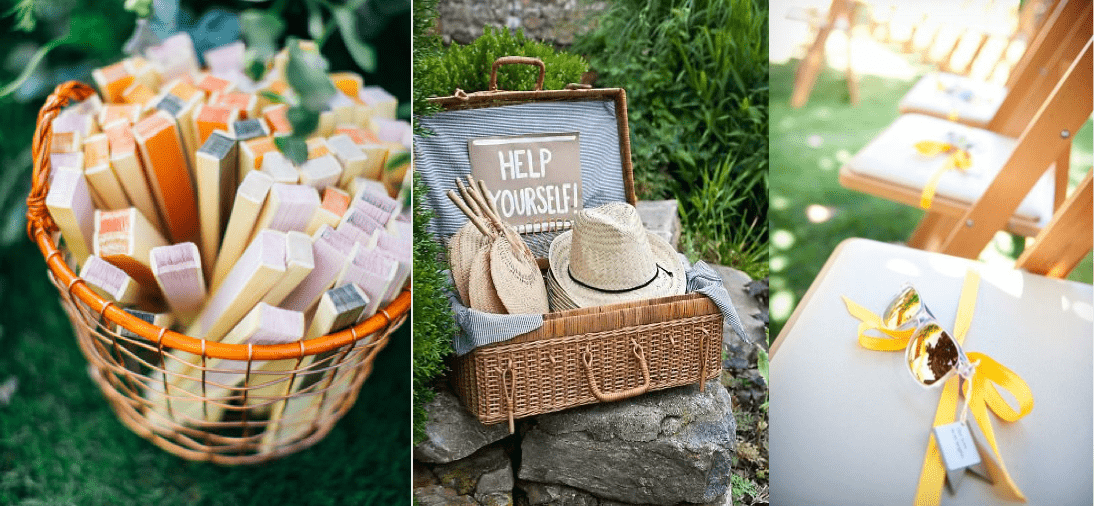 Getting married in peak summer means preparing well to enjoy the event without getting bogged down by scorching heat. Keep classy-looking glares, hats and more for the guests to help them handle the heat of the day.
Wedding favours
Think out of the box to come up with unique and quirky wedding favors ideas that increases the fun element of the wedding and brings smile on the guests' faces.
Summer Décor Ideas

When it comes to summer décor trends, nothing can beat floral and pastel-coloured motifs that are soothing to the eyes and are all-season appealing!
If you want to follow any of these happening and interesting summer wedding trends, get in touch with us at +91-880093444. We will be happy to help organize a lovely summer wedding for you!